2010 Thruhiking the Pacific Crest Trail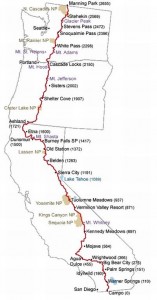 Check out our documentary Discovery on the Pacific Crest Trail & journal entries from our hike on the
PCT – 2,663 miles from Mexico to Canada.
Below is a list of journal entries in descending order. See the celebration of Canada at the top and the beginning preparations & footsteps in Mexico recorded at the bottom of this list.
*If you ever have any questions about hiking the trail do not hesitate to contact us!*
Documentary:
InspireOut.com brings you a fun look at why we "thruhiked" the Pacific Crest Trail – a 2,663 mile hike from Mexico to Canada.
Journal Entries:
Blog Posts from the Journey: