Adventures
We love adventure and can never sit still for too long.  Below you will find information about adventures and races we have been a part of.
---
ADVENTURE HIGHLIGHTS:
In addition to offering programs in both the back country and front country, founders Melissa and Justin have completed major expeditions by foot and bicycle!
RACE HIGHLIGHTS:
---
SEATTLE TO ALASKA BY BICYCLE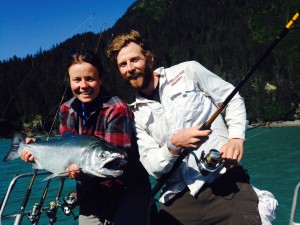 Founders Melissa and Justin rode their bicycles 2,139 miles through the Pacific Northwest, spotting bears, eagles, and massive glaciers!
Learn more about their journey below:
---
SOUTH AMERICA BY BICYCLE
From 2011-2012, InspireOut Founders Justin & Melissa rode their bicycles down the continent of South America, 6,000 miles traversing the Andes Mountains! This documentary shares stories and images from their travels.
---
PACIFIC CREST TRAIL "THRUHIKE"
In 2010, Melissa and Justin walked 2,663 miles from Mexico to Canada on the Pacific Crest Trail to raise money so that children from low-income families could attend outdoor education programs.
---
GO JUSTIN GO: 2014 KONA IRONMAN WORLD CHAMPIONSHIPS
Instructor and Co-founder Justin Smith raced at Kona Ironman World Championships on October 11, 2014 after qualifying getting first place in his age group at Lake Tahoe Ironman September 22, 2014.  Check out his story in the movie below!
Keep Going – Justin G Smith from InspireOut on Vimeo.