NOVICE
Beautiful sunrises coupled with magnificent sunsets.  Refreshing swims in crystal blue lakes.  Fishing, water-coloring, shelter-building.  The exhilarating feeling of summiting a mountain top with your own two feet.  Freedom to climb around a granite slab and simply play.  The ability to unplug from the daily demands at home and at school and just be myself.

~ Experiences youth cherish in their reflections of an InspireOut program.
---
REGISTRATION OPEN FOR SUMMER 2017 SEASON

Step 1: Complete Payment Form for program (link found to specific expeditions in table above)
Step 2: Fill out our Online Registration Form
Step 3: Sign our Waiver – to returned via old school mail or scanned & emailed.
(AS NEEDED) Step 4: Medication Authorization Form – IF your child takes any medications (EITHER PRESCRIPTION OR OVER-THE-COUNTER MEDICATIONS SUCH AS ADVIL) you must have your family physician complete and sign this form in order for your child to receive medication during program.  Mail or scan/email return. 
Mailing Address: InspireOut  17349 Parkside Ct. Monte Sereno, CA 95030
Email: info@inspireout.org
*Once steps 1 & 2 have been completed, you will receive within 2-3 business days a confirmation email from InspireOut as well as an InspireOut Trekker Guide (PDF).  We are available to assist you with any questions as you prepare for program.
---
Activities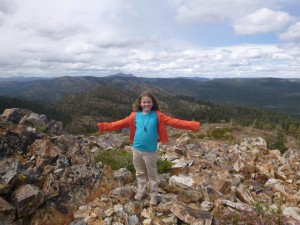 In our introductory 3 day/2night expeditions, trekkers learn and practice the basics of backpacking:  How to properly pack your backpack, how to set-up a tent, water filtration basics, and introduction to cooking in the backcountry.  Participants are expected to hike 1-3 miles per day with a weighted pack.
Each of our hikers is provided an InspireOut journal used for learning about plants, animals, and patterns observed in the outdoors as well as for personal reflection.
Trekkers return home with a new sense of confidence and understanding that any accomplishment comes with hard but truly rewarding work.
---
Food:
We strive to provide healthy, square meals & snacks in the backcountry with options so that all trekkers can enjoy.  Prior to program, participants complete our InspireOut trekker questionnaire so that we may get to know them better before program as well as learn their food likes and dislikes.  From this, we customize our program meals to best fit our trekkers' palates. Most dietary needs can be accounted for.
Food is cooked in small, pre-determined food groups with an instructor guiding preparation. Trekkers eat out of their own food bowls and are responsible for clean-up.
Please bring a packed lunch for first day.  All meals and snacks are provided, beginning with dinner the first day of program and ending with lunch the last day of program.
---
Transporation:
Transportation will be provided for program.  Trekkers will be picked up and dropped off at a specified location in Sacramento area that is disclosed once trekkers are registered for their expeditions.
---
Gear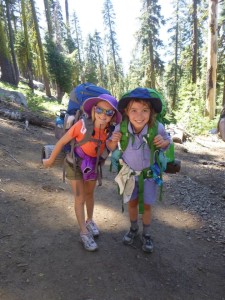 A gear checklist will be sent to you in your InspireOut Trekker Guide (PDF).  If you have any questions or need assistance in finding/renting gear, let us know and we can help!
BELOW ARE MANDATORY GEAR ITEMS: 
Outdoor Backpack with hip belt [Please contact us if help needed with finding a pack!]
Sleeping bag
Sleeping mat
Sneakers with tread or hiking boots
Wool socks (preferably a thin pair and thick pair)
Waterproof jacket
Warm jacket (if possible, down)
NOTE: Tents and stove/cookware are provided for by InspireOut.  Participants are divided into same gender tent groups.
In addition, our naturalist Buckeye shares some important gear examples and tips in the following 16 minute video:

InspireOut Backpacking Gear 101 from InspireOut on Vimeo.
---
A GLIMPSE INTO THE ADVENTURES AHEAD:
Below is a short video documenting a novice program.
InspireOut Backcountry Adventures with the 13 Purple Bug Baits! from InspireOut on Vimeo.
---