Adult Expeditions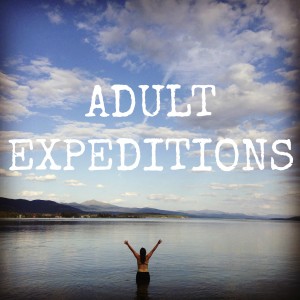 Have you always wanted to go on a big outdoors adventure but hesitated due to lack of experience?  InspireOut instructors are excited to show just how easy it is to explore in the backcountry, sharing the fundamentals needed to become your own guide in the wild.  Join us to explore and harness your young spirit!  Enjoy a refreshing dip in a crystal blue lake, admire the milky way far from city lights, and create lasting friendships with fellow adventurers in
the great outdoors.
CUSTOM TRIPS AVAILABLE PER REQUEST: CONTACT US
---
PROGRAM DETAILS:
ITINERARY: Primary focus on backpacking fundamentals (kitchen set-up, topo map reading, knot tying, proper packing of backpack), wildlife Identifications, cooking in the wild, and astronomy.  In addition, we provide time for reflection through journal activities & yoga.
GRUB:   Please bring a packed lunch for first day.  All meals and snacks are provided, beginning with dinner the first day of program and ending with lunch the last day of program.  Most dietary needs can be accounted for.
COST: See above dates for costs of programs.  Costs include meals, entertaining and experienced instructors, incredible nights camping under the stars, and priceless memories with new and old friends.
TRAILHEAD: Our office elves will give you all the details for how to reach program trailheads and where to park car prior to program start.
MILEAGE:  Hiking mileage for basic programs will vary from 3-6 miles per day.
---
GEAR ESSENTIALS:  
 A .pdf of your gear checklist will be sent to you in your registration packet.  If you have any questions or need assistance in finding/renting gear, let us know and we can help!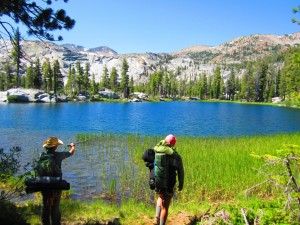 BELOW ARE MANDATORY GEAR ITEMS: 
Outdoor Backpack with hip belt [Please contact us if help needed with finding a pack!]
Compressible Sleeping bag rated for at least 30 degree Fahrenheit nights
Sleeping mat
Sneakers with tread or hiking boots
Wool socks (preferably a thin pair and thick pair)
Waterproof jacket
Warm jacket (if possible, down)
NOTE: InspireOut will provide tents and stove/cookware (if you have your own equipment you would like to use, please let us know and we will clear it before our trip departure). Rentals of other mandatory equipment can be arranged at minimal costs.