Programs
 

INSPIRATION THROUGH OUTDOOR EXPLORATION
InspireOut offers a variety of backpacking courses throughout the Sierra Nevada Mountain range. Our passion is exploration and we love to teach curious students how to enjoy in the wild. While hiking with all you need strapped to your back, enjoy a quick dip in a cool, blue lake, a climb to the top of a high mountain peak, and a campfire under our glistening blanket of stars. We are here to help encourage confidence for youth and adults to consistently find these awe-inspiring moments. We provide basic training in backpacking for beginners, as well as intermediate and advanced programs to fine tune skills.
CLICK HERE FOR INSPIREOUT CALENDAR OF PROGRAMS
REGISTRATION OPENS FEBRUARY 15, 2017 AT 5 PM

2017 SUMMER PROGRAM DATES:
*Click on program title for details.
*Per request by individual groups for 2017 season.
For youth under age of 10 – adults must be prepared to carry additional weight in backpacks to backcountry campsites.
Program
Dates
Ages
Max/Min Participants
Costs
Enroll
Status
Join us!
YBC-116 NOVICE
*Transportation provided
SUN JUL 16-
TUE JUL 18
Entering 5th-
6th grade
10 max,
5 min
$285
5/10
Enroll


YBC-216 NOVICE
*Transportation provided
SAT JUL 29-
MON JUL 31
Entering 5th-
6th grade
10 max,
5 min
$285
10/10
YBC-316 NOVICE/INTERMEDIATE
*Transportation provided


TUE JUL 25 -
FRI JUL 28
Entering 7th-
8th grade
10 max,
5 min
$330
10/10
YBC-416 INTERMEDIATE/ADVANCED
*Transportation provided
FRI JUN 9 -
MON JUN 12
High school
10 max,
5 min
$330
10/10
YBC-516 INTERMEDIATE
*Transportation provided
TUE AUG 1-
FRI AUG 4
Entering 7th-8th grade
10 max,
5 min
$330
7/10
Enroll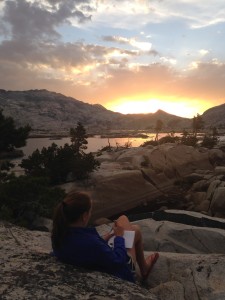 *Transportation: Trekkers will be picked up and dropped off at a specified location in Sacramento area that is disclosed once trekkers are registered for their expeditions.
*** Custom trips available per request for 2017 season.***
---
GEAR ESSENTIALS:
A gear checklist will be sent to you in your InspireOut Trekker Guide (PDF).  If you have any questions or need assistance in finding/renting gear, let us know and we can help!  

BELOW ARE MANDATORY GEAR ITEMS: 
Outdoor Backpack with hip belt [Please contact us if help needed with finding a pack!]
Sleeping bag
Sleeping mat
Sneakers with tread or hiking boots
Wool socks (preferably a thin pair and thick pair)
Waterproof jacket
Warm jacket (if possible, down)
InspireOut Backcountry Adventures with the 13 Purple Bug Baits! from InspireOut on Vimeo.