Final Map of Route Paddled: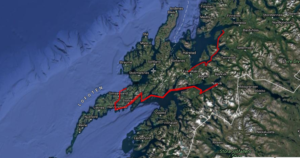 -Alpine start-
Through the kindness John and Ann-hilda, we had enjoyed a cozy lawn outstretched among a private peninsula as a place to call home while we rebuilt our kayaks after the decision to tuck back into fjords away from the open sea. We attempted to go to sleep early that night (which is really hard when there is no such thing as dusk here in summer time) in order to wake up and depart at 4am to catch a ride on the incoming high tide.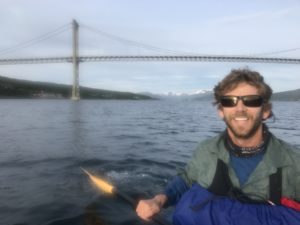 Paddling into the morning sun under the bridge was unforgettable and it felt great to be back on the water. Small dolphins danced around us as we rounded the point to see the large city of Harstad in the distance. We welcomed the glassy waters and paddled our standard 35 km (21 miles) in about 6 hours. When we paddled into Grovfjorden, we pulled up to the local dock in hopes to tie up our boats and find a grocery store. The town of Grov has two massive buildings on the waters edge where they build ships and many polish families call this fjord home as they are some of the most skilled aluminum welders and builders in the world.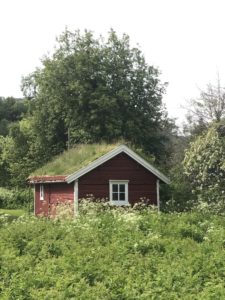 Docks have become a sort of safe-haven as gas stations are on a cycling tour.  First and foremost, with large tidal swings of sometimes almost 10 feet, you can count on the the water moving quickly up and down the beach – that is if you are able to find a beach or safe landing zone that doesn't include sharp rocks that could puncture the boat hull or slippery seaweed. Tying to docks save loads of troubles and usually mean some sort of civilization is nearby. We found ourselves locked behind a chained gate on the door to exit the dock but amazingly, as we were having a conversation on where else we could go to park the boats, someone rolled up to unlock the gate and invite us into the boathouse for coffee, waffles, and some relaxation. We meandered around the pier, strolled to the store, and were in awe of the nearby snow covered peaks towering over the fjord. At one point, an eccentric local fisherman and retired ship captain came and chatted for a bit about his wild sea adventures. He invited us to walk down the street and see his boat house and fishing gear. He told us of some his massive catches including a recent 64 kg (141 lb.) halibut! 

Another local came up to chat with us at a picnic bench a while later, and as we spoke about coming from Gusvik and staying with John, he gave a shocked smile as he stated "I know John!" We all raved about how amazing his place is and what a cool dude he is before this guy picked up his phone and called his buddy across the water who runs a campsite and told us we should stay there. We paddled across the fjord and met Tony and his family who were building a new dock. We showered, prepared our dinner in the kitchen, and sat on the shoreside lawn conversing about the day. Another joyous day of rewarding, unplanned and unpredictable traveling exploration.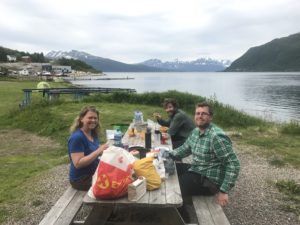 -Irony at a Fish Farm-
After a peaceful sleep in the quite camping village, we set off down the length of the fjord surrounded by snowy peaks. The chop slowed the boats a bit and the wind was chilly. 
Tom asked with a curious tone, "What is it about these adventures that you enjoy?"
We all burst into laughter, and then had a long conversation about challenging the body and the mind, day in and day out, and the growth and joy that it brings. We emphasized meeting new people and learning about the culture, and how this is always a refresher of the kindness of humanity.
The paddling was challenging, and it was time for a morning stretch break where we decided to pull up to a fish farm. We got out on the small walkway and while Melissa was exiting the boat she accidentally knocked the fishing pole into the water. It sunk like a rock. At the same time, the large boat that was parked at that fish food station fired up his engine and headed over. They quickly pulled up to us, causing Melissa to have a mild heart attack as the massive boat churned up a wake that could flip our boat and made standing on the fish farm floating ring a master level balancing act. Sophie and Tom had to turn into the wake on their boats and paddle away as fast they could to not flip either! The first thing the men yelled to us from their boat, in broken English, was, "Are you fishing?"
We laughed at the irony and simply said we needed to stretch and fix our boat.
The day got a bit easier, but long open water stretches sometimes feel like a treadmill. However, the final miles were extremely challenging as we turned into a gnarly headwind, our toughest yet, and there were no places to stop, with along large rock outcroppings at the mouth of the channel.
-Anyone Home?-
With our knuckles turning white from the constant battle of pushing through a headwind and gut sloshing chop, we saw the first open flat space that we could pull off to (with no other places visible in the next few miles). It happened to be a green lawn with an on unoccupied vacation home and we pulled up to rest for the night. As we pulled our maps back out, we realized that this place had no roads accessible to it, as it was surrounded by sheer cliffs. This home was built by having all materials brought by boat! No one seemed to be home, so we prepared tea to warm our bodies and have a think. Since we were all exhausted and could not see any other places within miles to stop, we decided to call the far end of the flat grassy field home for the night. After preparing dinner and setting up camp, we snuck into our tents right before a drizzling, constant rain started up.
-Rain Drops Keep Falling on our Heads-
The spitting rain continued the next morning as we made our way into the bay of Brostadbotn.   Here we parked the boats on the shore, as the only dock was for massive ferries, a wee bit too high for us to get out. We walked along the small, quiet road, about 5K (3 miles), into their quaint downtown for some groceries. Upon returning to the boats, we ate some lunch in the ferry waiting room, seeking shelter from the rain. We decided to paddle across the bay to a small island where our maps showed us a marina and forest next to it that we planned to camp at.
After docking and exiting, we felt defeated as we determined that there was no camping on the island, and with the wind and constant rain, we really wanted a place sooner than later to warm back up. We decided to walk on the road to scout other potential spots when we saw some guys building a new guesthouse.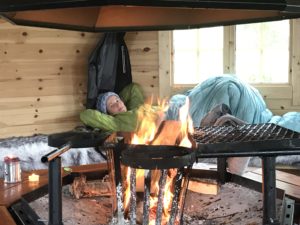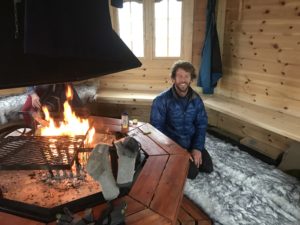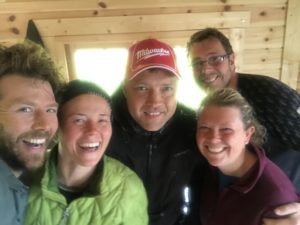 The man's name was Tom and he pointed us to his recently acquired campground that he was making improvements on. He had just built an octagon shaped building that was about 15 ft in diameter. It had a fireplace and vent system in the middle with benches covered in foam and fur surrounding the fire center place. We asked if it would be ok to sleep in it and he joyfully agreed.  We unpacked the boats and settled in for the evening, cooking in a proper kitchen, and gleefully watching the wind, rain, and waves whip the water in the nearby distance while staying warm and dry. 
-A Dark History Hiding in the Hillside-
The next day we walked into town from the opposite side of the large bay for more groceries and decided to stay another night as we were getting settled and making decisions about what the future would look like. Melissa made a delicious potato curry and our camp host Tom joined us for dinner on the picnic table overlooking the snowy peaks of the national park in the distance.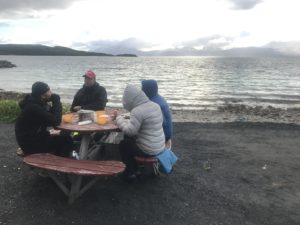 Tom had another couple parked in a camper in the park from Oslo and he obliged to give us a tour of the surrounding hills. These hills were home to many German bunkers, all part of the Atlantic wall, situated in a strategic point overlooking a critical fjord junction. The bunkers were overgrown with vegetation and upon entering you could feel your heart get heavy just thinking about the experiences that took place in here.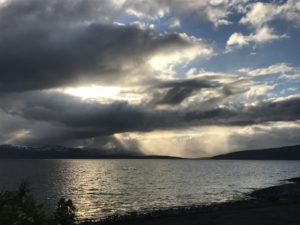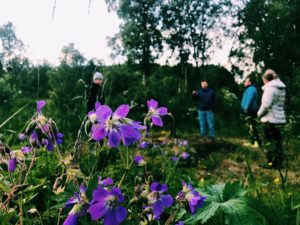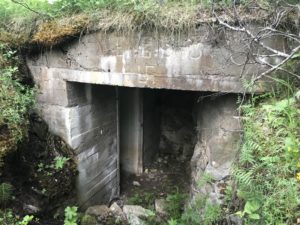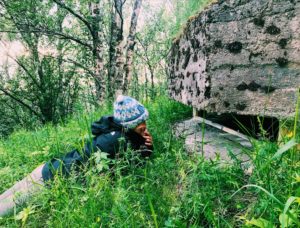 -A New Look for the Ford Fiesta-
We made the decision to ferry to Tromso from Brostadbotn to avoid some narrow fjords with nasty currents and massive wakes from the ships that constantly use this straight. The ferry would allow us more time to explore the Tromso area. Camp host Tom had a connection with a friend from hertz rental car, so we planned a short road trip, excited to be able to get a car to see some amazing sights.
We arrived to Tromso in the late morning and after leaving Melissa with all of our heavy gear at the tourist office, we headed to the car rental shop by foot. We enjoyed a long conversation with Ola, a nearly 40 year old, who was to ring in his birthday with a Lamborghini track drive session in Las Vegas in October. He charged us a for a Ford Fiesta while talking about the features of the diesel BMW M1 that we would be spending the next 3 days in!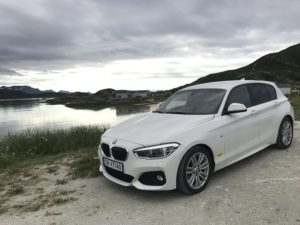 Since we do not have international licenses, Tom (whose license qualified with Britain not yet out of the EU…) took on being our chauffeur – a Brit driving on the opposite side than he is used to after rarely ever driving these days in his country and only ever driving manual (the BMW is automatic). It was fun while he was learning to not press the clutch (really, the brakes) when slowing down. He did a fantastic job though after a darn steep learning curve.
-SENJA!!!!!-
We left town with the trunk full and headed to Samoroy Island, a small island near Tromso. We explored the sandy beaches and hiked to the summit of the highest peak on this island, tugging on the fixed ropes and demanding our legs to press up the mountain after mostly sitting for 3 weeks… the top welcomed a massive 360 panorama of the distant sea, the small homes below, and the snow-capped peaks.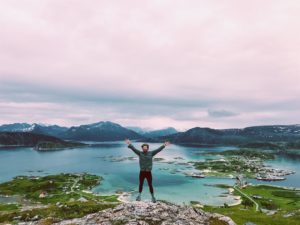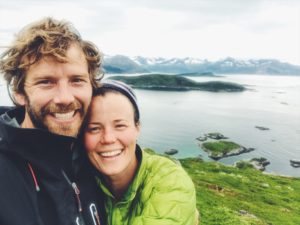 We camped carside on a dirt road and made our way to Senja island for our second day.  Senja is known as the "mini-Norway," home to Anderdalen National Park, a national scenic road (majorly coveted and difficult to acquire this honor in Norway), and incredible landscape.
We drove the island, popping in and out of the bays and stopping a few small towns to get a feel for the Senja vibe. It is true it is less travelled than the Lofoten island chain, and indeed every bit as spectacular in its beauty.  At one point we rounded a turn to be awe struck by a massive wall of granite rising straight up from the ocean. Little did we know we would explore this same granite the next day by summiting the tallest spire along the ridge!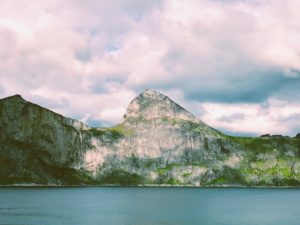 We camped in a small cove with other RVs and tents and had some awesome conversations with other travelers including two Germans who have been traveling by their custom Man monster tiny home on wheels for 5 years now.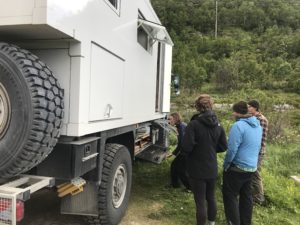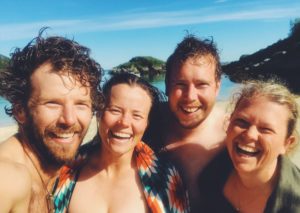 One local Norwegian recommended a hike up a peak with some amazing views nearby. We took the recommendation and found ourselves on the granite point, one of the iconic hikes of Senja!  Atop the summit we were overwhelmed with enthusiasm and joy. Being atop a summit brings a feeling of bliss that is hard to match, we felt so small compared to the towering distant snow covered peaks nestled below us with hanging glaciated valleys turned into lakes and waterfalls pouring over the sides. The view was spectacular and we both said how this was one of the major highlights of our trip.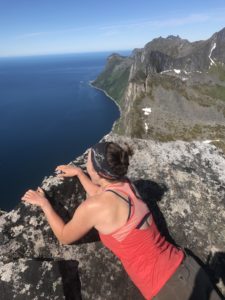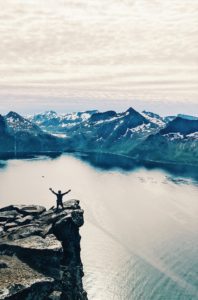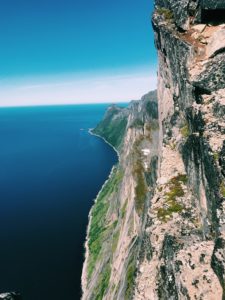 Following the hike we drove towards the Lyngen Alps, a small range of craggy saw-toothed peaks that are reminiscent of the alps, hence their name. We ate dinner beneath them alongside a fast moving river at the mouth of fjord. Our final night in our tent was spent in some thick moss tucked in a natural reserve beneath a giant glacier drooping from a peak. 
-Culture Connection ~ The Beauty of Couch Surfing-
We were excited to meet our couch surfing host the following day and explore the city of Tromso before our return to sunny California. As luck would have it, the sun made an appearance on our final two days and we made the most of it by wandering through the northernmost botanical garden in the world and hiking up another peak overlooking Tromso. We relaxed in the apartment and learned loads about Norway, beer brewing, skiing, hiking, and climbing in Norway from Lasse, our host.  He was so generous and hospitable as he made us strawberry whipped dessert and homemade Norwegian waffles (and tried out a vegan version for Melissa and I!).  This was an awesome opportunity for us to reflect on our time in this remarkable country and the special people who call it home. There is no doubt in my mind that we will return to this majestic countryside and do more exploration and possibly see some northern lights in the winter next time.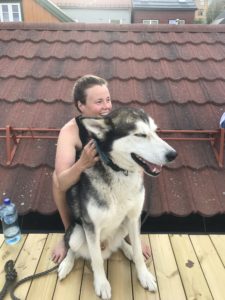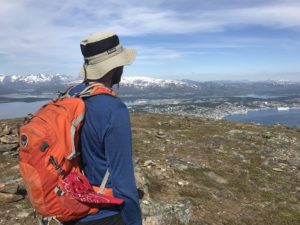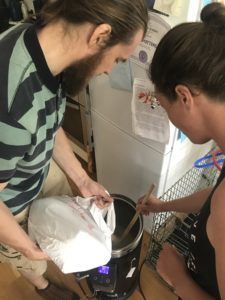 Until then, this land and its inhabitants have left incredible ripples on the fjords of our hearts.