Now that it has been two weeks, the numbness in my fingertips and the color in my skin is returning enough to sit down and write a race report.
 We descended and ended up in the town of Oracle. I dropped nearly $50 at Circle K and then polished off with some serious food at the delicious deli/restaurant.  Jason and I both talked to our wives and we set off to some more remote territory.
 I left Flagstaff and began climbing. Patches of snow, lots of water, and some mud slowed things down, and I was told to definitely take the second snow detour. There was so much snow!
I drank a bottles worth and took off as the sun was setting on the canyon walls. I started doing some math and began to get worried that I might not make the 8 am trail closure further up near the North Rim. I also wondered how far back El Freako was as I thought, boy it would get interesting if I get passed just miles before the finish.  As I ascended I passed three Southbound cyclists, and they said there was no water from there until the top except for a few trickles off the rocks. I thought for some reason that there was 14 miles to the trailhead, so I headed down a side trail to Roaring Springs about 1/2 mile down. I was able to set my bike down, but getting it back on after this extra mile without it really stunk. I later found out that as I left my SPOT tracker at the junction, Melissa became increasingly worried. She has a natural intuition and an incredible gut feeling.  This ride really tested her as much as it did me. I'm not sure I could have done it without her positive calls and excited spirit.
The switchbacks continued and eventually the moon rose which illuminated the cliffside. I wasn't sure where the top was, but I knew I had to just keep it together and if I removed the pack it was just that much harder… "Inertia," I said aloud, "anything in motion prefers to stay in motion."  At one point, I remember feeling like someone was ahead of me encouraging me, and I would take a handful of steps, stopped and bobbled around a bit, and then continued on. The one fortunate thing was I wasn't feeling the pain in my shins.
I slept for two hours in the bathrooms at the top, and woke up to put on all my clothes in the frigid morning air.  There was 3 feet of snow or so outside and the temps were low 30s at best.  It was around 3:30 am and with my leg warmers, wool top, down jacket, rain coat, rain knickers, and 2 pairs of wool socks, with bags over my feet… I headed out. I began to follow the track and tromped through the snow. I did not see tire tracks from the three previous southbounders. I got on the road and then regained the track about a half mile up. As I was marching through the snow, I punched about ankle deep through some ice and soaked my feet. A lightbulb went off in my sleep deprived state and I realized I had forgotten to load the snow detour track. "DUHHHH!" I thought. This was the detour that was the major talk as there had been concern it wouldn't be plowed.  After returning to the road with my tail between my legs, I was now pedaling, after probably waisting an hour going in circles.
I was a bit scared as my shoes were beginning to freeze and constrict my feet. My toes were beginning to get really cold, and I had no other dry socks. I rode for a half hour or so and the sun wasn't close to coming up. I knew I would need to do something. The road was closed so I knew I wasn't going to see anyone so I pulled out some TP and grabbed some dry grass to build a small fire. I sat down and was so exited until I could not find my lighter!! Ahhhhhh.
I managed to battle my shoes, tugging and pulling to get the laces untied (previous experience with frozen laces on the John Muir section of the PCT in 2010) and rubbed my toes for warmth.  The wind just nabbed any heat I was giving them, I decided to layer the socks and bags, and so I had a sock, a baggie, my shoe, then another wool sock, and another grocery bag.  This worked!  I pedaled in my moon shoes until the sun came up and I eventually reached Jacob's Lake.
I ate some awful french toast and bought 2 cookies for the road along the final stretch. I pedaled hard, and kept shouting for my wife "I am coming!" I knew she was waiting, I had no cell signal and figured she didn't either, and for some reason I thought I was late. After hitting some single track, I snapped my cable on my rear derailleur. Seriously?! I thought I would tough it out and go single speed, and after 5 minutes of pedaling in a high gear, my mind was changed. I pulled off my seat and grabbed out a cable that I had stashed in the post.
I took apart the shifter and replaced it. In a rush the shifter got wacky and so it wasn't working.  I took it apart again, and this time managed to get about 4 gears mid-cluster. This would work.
I pedaled and pedaled, oh and did some pushing (HAB even up to the very end) and eventually came the final switchbacks that ripped down to the stateline. I hollered and heard my wife shouting. I crossed the homemade toilet paper finish line and was greeted with a massive hug and smiles from her and our friend Katherine who Melissa had brought along.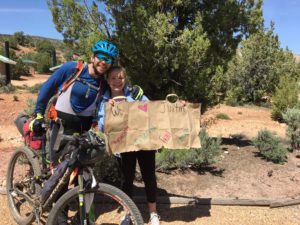 I was so stoked to finish.  8 days, 5 hours, and 15 minutes to cover just over 800 miles.
Massive thank you to everyone who makes this race possible and my family and friends for all the support.  Appreciations to Ron Salvatori for your investigative recon and a huge special thanks to my awesome wife and Katherine for the post race fun and trip through Zion.