Random fact about Himachal Pradesh state: There are NO topo maps sold to the general public! As we have asked around for a reason why, the only response is for safety so that detailed maps of the regions do not get into "the wrong hands." Melissa has such strong topo map reading skills, she can explore anywhere with access to one. However, we feel a bit restricted by where we can explore on our own with only limited, poorly drawn out town maps. With that, from local knowledge, we have pieced together a solo trek (without porters or guides) to a nearby cirque known as "Beas Kund" where the seven sisters massive peaks are found. Below are stories from our first Himalayan trek.
Manali to Solang Valley – 7 miles
Departing Old Manali with our heavy packs, Melissa and I set out on foot with one goal in mind – getting up into the mountains and camping beneath some snow covered peaks. We purchased spaghetti, Nutella, crackers, bread, and yak cheese to supplement the power bars, trail mix, and gold fish we brought from home for our solo trek. Prior to our departure, we enjoyed a final meal of omelette and a banana chocolate "pancake" (more like a crepe) at an awesome cafe nestled above the single lane concrete street that wound its way up to our guest house in Old Manali, atop the hill from New Manali.
As we left the (white) foreign tourist part of Manali, we started to get a little insight into daily village life when we walked past a school where students sat in rows on pillows, completing morning chants together. Beyond the mountain temple with dogs laying around, we found ourselves on a single trail that hugged the steep flanks above the valley floor. The trail was just a foot's width in places and had incredible views of the gushing Beas river hundreds of feet beneath us. We meandered past apple trees, small shacks, and onto a more proper road. This road led us through three small villages. The final village had a small store, at a Y intersection, where we enjoyed a cold lemonade beverage, bag of potato chips, and a choco ice-cream bar. This is where the real fun began, we inquired on how to get to Solang Valley by foot and locals pointed up a tiny road. A cobble stone path lead us through Burwa village. Many of the village elders could be found sitting on decks together, relaxing in the afternoon sun, simply chatting as water from nearby streams could be heard trickling through the canals carved around homes. As we climbed out of town, two women carrying huge bags of pine needles, used for kindling, came walking down the path toward us. One of them yelled out "Chocolate! Chocolate!" to us and we laughed. We soon realized they only spoke their village language and Hindi while we only knew how to say "Namaste" in Hindi. We still communicated with hand gestures and smiles before continuing on our separate journeys.
A winding path climbed up to Solang Valley, following a gorgeous rushing River, and when we reached this local tourist hot spot, we found shelter just in time before an afternoon monsoon downpour. A grassy field filled with Indian tourist cleared out in a matter of seconds when rain drops turned into buckets of water falling from the sky. I was a ways away from Melissa under a shelter when the downpour started, and we found ourselves smiling at each other across the way from each other as we huddled under a food court over hang with 100s of Indians all hiding from the rain. The only beings found out on the field were cows roaming around looking for abandoned food. As the rain subsided about ten minutes later, I walked over to Melissa with our soon-to-be infamous meal of fried rice…
With the clouds still thick and dark, we decided to stay in Solang for the night and had to decide whether or not to continue on our trek, with reports of heavy rain in the forecast.
~ Justin
Going for it – Bakarthach Base Camp 10,730 ft. 7 miles
As we adjust to life on the other side of the Earth, we find ourselves still waking up quite early. Groggy-eyed, I turned to look at our watch and jumped for joy when I realized I had naturally slept in to 3:50am. As a few clouds swirled around a massive peak in the distance, Justin and I decided to take our chances with the weather on hiking to Beas Kund, figuring out how to rainproof our packs with plastic bags we had for storage and our tyvec ground cloths.
By 6:15am, we set out once again, happy with our decision. The skies cleared as the sun rose over the mighty peaks and we were in awe of the lush green valley we were climbing up through. For the first four miles after Solang, we followed a paved road that was gated, only allowing trekkers by foot and workers by car who are completing a major tunnel project to bypass having to climb high mountains on roadways. As we walked, an occasional jeep filled with workers funneled by, going to just another day in the field.
The Beas River cut to the left of a major canyon intersection, and we followed it up steep dirt trails towards camp. During a snack break, two dogs sauntered up to us and just peacefully sat with us, similar to Spruce at Manali's temple. What is with the mellow dogs here?! As we heaved our packs back up, the dogs followed us on the trail, one of them even nudged my calves when I would slow due to the steep climb and heavier breaths as we gained elevation.
At one point the trail we were following turned up a creek away from the main Beas River. Justin and I were concerned we may have missed our trail, since we knew we needed to follow Beas River to base camp. I was thinking about how frustrating it was to not have access to topo maps! After climbing a ways more, we decided we must cross the fast-flowing creek and see if we could re-connect with a trail heading up the Beas River without losing any elevation. We changed into our water shoes and as we crossed the stream, our dog friends stayed on the other side looking confused at us with tilted heads. When we had successfully crossed, they both darted up the hill about 100 yards and crossed a bridge made of logs and thin boards. We laughed at our silliness, and we were grateful our shepherds were showing the proper way.
The steep valley was home to sheep and cow herders, who we passed as we climbed the trail. They stared at us with curiosity, and we with awe, as we watched them herd their animals to insane heights along these steep mountains without breaking a sweat.
The clouds started to pack in to the mountain basin, and I knew we needed to find a place to set up our tent within the hour before the afternoon rains began. Each step harder than the next, we both had our hearts set on getting to a saddle in the distance to see what was on the other side. Lo and behold, the view was beautiful, as the steep rolling hills were interrupted by a flat mound of lush green mountainside where tents were already pitched at Bakarthach Base Camp.
We skipped along the rolling hills, each with their own glacier run-off creek crossing, to the camp, and greeted the Indians there who were all part of a mountaineering basics camp. One of them asked, "How many are in your party?"
"Just the two of us" we replied.
His eye widened. "But who will cook for you?"
We chuckled a little and Justin said, "Oh we have a stove. We won't have fancy, delicious Indian food, but spaghetti and yak cheese will do."
He seemed shocked and said, "Woah. You guys are REAL trekkers!"
Ha!
We set-up our tiny black diamond "circus" tent as I like to call it. It is a floor-less shelter that you use your trekking poles to hold up. We love it for its light-weight and simplicity. However, it would not be our ideal choice if we had known we would decide to stay on the southern side of the Himalaya during Monsoon season, instead of the rain-shadow land of Ladakh. We dug out trenches around our tent as well as positioned rocks to catch and direct any rain splatter away from the inside of our home sweet home for the night. Once finished, we put all our gear inside and snuck in right before the heavy rains began. At first my heart raced, watching all of our drainages to make sure we had been successful in diverting the heavy rain water. When all seemed to be well, we relaxed, played cards, and read great books.
The next morning, we poked our heads out of our tent to be surprised by crystal clear skies and massive, jaw-dropping peaks surrounding us. We took off before 6am, scrambling over 1,000ft to the surrounding bowl of rocks, glaciers, and lake. With water all around us, we never thought it would be an issue to find, but as we reached the summit of the rim of the basin, we could not find any water near us. Walking was very slow-going, as each step was navigating boulders and scrambling rocks. After an hour had passed, we debated having to descend for water when Justin decided to explore a bit more on a glacier. We could HEAR water, but it was running 30+ft beneath the glacier! All of a sudden, Justin started sprinting across the glacier and stopped short at a thin patch of snow and started jumping for joy. With the exciting news, I jumped off the granite boulder I was perched on to run to our little oasis. We drank ice cold water from our Sawyer filter bags, and ate trail mix, feeling ever so small amongst giants.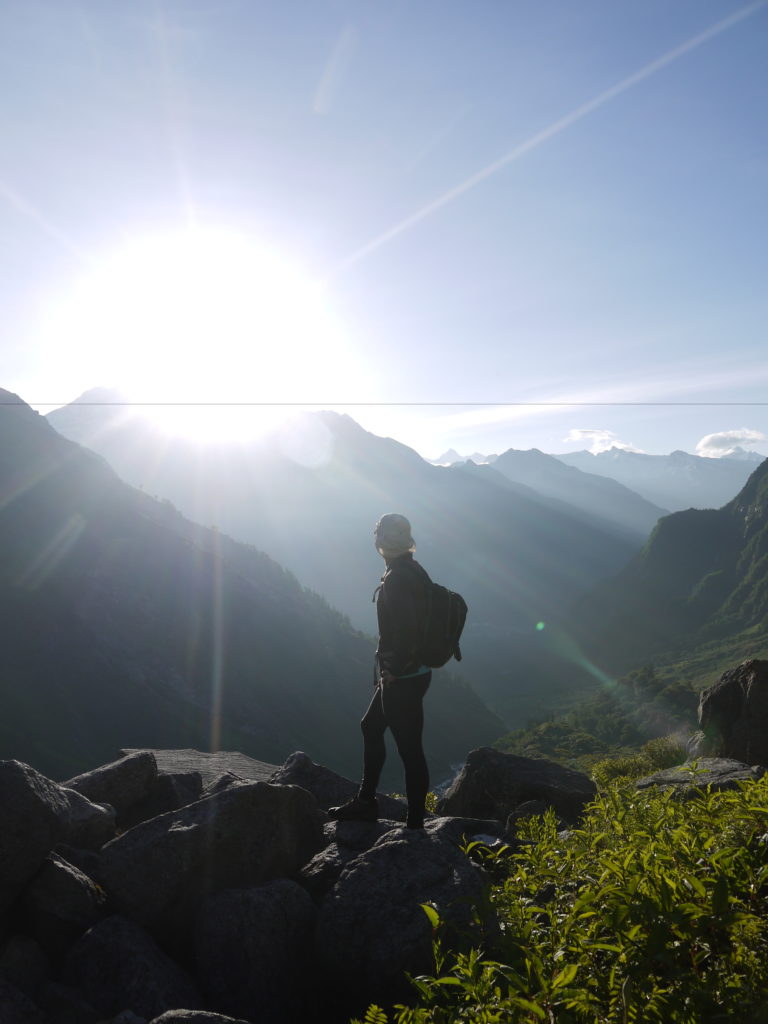 "Delhi Belly"
When we returned to camp, we stayed the remainder of the day hiding under rocks from the harsh sun, reading and simply acclimating to the land with less oxygen. Around 4pm, my stomach went from feeling slightly sore, to a gurgling mess. Intense pain and nausea over-took me and I had trouble even moving. I hid in bed, only able to find comfort laying on my back with my legs up on my pack. Justin kept encouraging me to drink water while I stared out at the distant mountains, dreaming and drifting away from the pain. Sleep was awful for the night, but by early morning, I found myself able to take small sips of water without any pain.
Justin, sadly, had just started his battle with the same beast. We knew we had to head back to town since we were out of food, but we both felt like puddles of our normal selves. I still can't imagine Justin hiking in the pain I had endured the day before, but he went into a cave, and we slowly descended back to the road that would lead to Solang, grateful that gravity was on our side.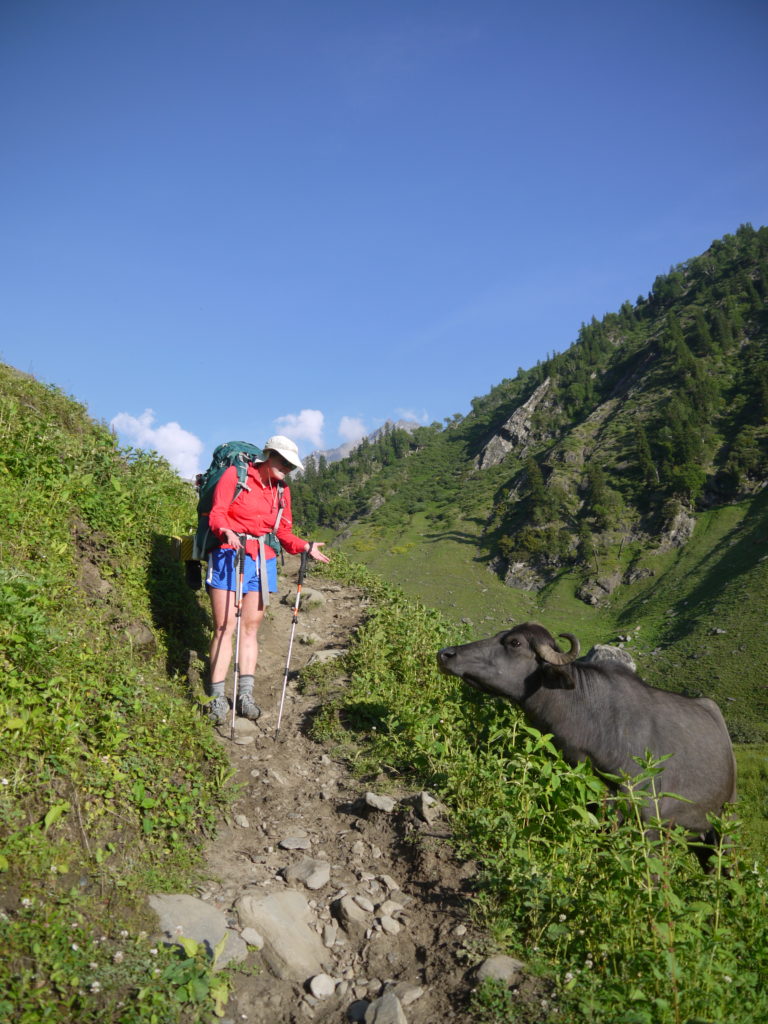 Once we reached the paved road for workers, I had Justin lean against a rock and tucked my sweatshirt behind his head. He looked terrible, and with big bags around his eyes and squeezing his stomach, I knew the last four miles on this road would be absolute torture if we had to walk it. As he lay there, I stood looking around the valley feeling a sense of hopelessness, the only sound to be heard was the rushing Beas River.
Three cars came rolling up the valley opposite where we needed to go, each filled to capacity (plus a few extra people) on their way to work. As it was 7:45am, what were the chances of someone coming the opposite way?! I quietly paced and wondered what on Earth to do next.
Another minivan came up from Solang. Not thinking much of it, I walked over to Justin and brushed the hair from his forehead to check on his fever. Surprisingly, the minivan stopped and three native women in their beautifully colored outfits, hopped out to hike to their tiny village. I ran up to the driver and said, "Solang?? Husband – stomach (pointed to belly) – sick – help!"
He shook yes and I clasped my hands in prayer position, immensely grateful. Justin got up and we heaved our packs into his tiny van and squished in ourselves. The road was bumpy and weaved its way back to the tiny tourist town of Solang. When we arrived, I tried to give the man 100 rupees, but he smiled and declined. I ended up convincing him to take a Powerbar as a token of our thanks. What an opposite experience to the chaos and corruption of Delhi!
Justin immediately ran to some bushes to throw up after enduring the road with an unsettled belly. I followed with clean water and wet wipes, relieved that we had made it town and were almost back to Manali where Justin would be able to rest. One more hurdle to cross was taking the public bus from Solang to Manali.
When the bus arrived at about 9:15, a crowd of people swarmed to board it. Justin stayed with our packs to make sure they were loaded onto the roof while I ran onto the bus to find us seats. As packs were heaved onto the roof, the bus started to roll away and I screamed for Justin. Fortunately, other Indians also loading their luggage screamed to the driver and he impatiently waited. Justin climbed on and we crammed into our corner of the bus. Since each row seated three, an Indian man sat next to us. Justin hung his head out the window, gasping for air as the bus jolted back and forth along the winding roads, honking incessantly as did every other vehicle on the road. No space to breath, over-heating, and battling car sickness with a sick husband, I didn't see this bus ride getting any lower. And then the Indian sitting next to me started professing his never-ending love for Trump because "he isn't scared to slap people" … I just about lost my inner peace.
After the longest 45 minutes I have endured in a while, we made it back to Manali and the kindest moto-taxi driver we have had yet (hallelujah) drove us up to old Manali to prevent Justin from having to fight the hill.
We went back to our original sanctuary here to recover once more, and as my stomach started to slowly rebound, Justin battled his fever for the remainder of the afternoon. We learned from a mountaineer guide who is quickly becoming a good friend, that bananas boiled in water help to provide nutrients needed while battling "Delhi belly" as travelers call it. I busted out our camp stove on our guest house deck and got right to making this magic potion. A few ibuprofen and banana waters later, Justin's fever broke and we were back in action.
As we reflected on what could have possibly caused our Delhi bellies, our mountaineering friend rolled his eyes at us. Solang valley is where local INDIAN tourist mainly go, so they do not prepare food with any intention of white foreigners eating it. Ultimately, the small pieces of cabbage, rinsed with tap water, found in the fried rice we ate in Solang, probably caused our crippling stomach wars.
We are now taking a "zero" day to hand-wash our clothes, reboot our stomachs, and prepare for a 9-10 day, 60 mile trek across a remote Himalayan pass with guides. There will be two Indians, one Japanese, and the two of us led by porters (mules/horses will not be used as they cannot cross pass). We will summit a pass that is 5400m (17,716 ft) before entering the Spiti Valley, the least populated area of India with magnificent temples.
We are signing off for a while but look forward to sharing where the journey leads us next with you upon our return to the Internet webs!
Smiles,
Melissa & Justin