This post shares stories from our stay in Valdez (absolutely unbelievable!) and our travels to get to Anchorage and prepare to head home.
OVERALL STATS (CYCLING COMPLETED):
Distance: 2,139 miles
Ride time: 1185hrs 29min
Elevation gain: 113,853 ft
Fish on its way home with us: 55lbs of salmon filet and one black bass 🙂
Day 34 Sunday July 19, 2015
Rest Day in Valdez
I couldn't sleep last night. After tossing and turning for quite some time, I got up about 3:30am and walked to the port rock wall to watch the sleepy town of Valdez start to wake up. The seagulls were already singing and dancing, excited for what fishermen would be bringing in for them to get the remnants of after they are filleted.
There was a light fog on the water that emphasized the stillness that surround me and it was quite peaceful to sit in quiet with only the harbor bell occasionally making its presence known.
At 6:30am, Justin woke up and we walked the grocery store and coffee shop to fill our bellies and revamp my energy. Late last night, after walking the pier debating what to do, we decided to take a day off just to be – no rushing to do anything but what comes up in the day. And so we did just that.
When we returned to our tent site, we said farewell to our Russian friend who was off to go on a kayaking adventure. As I walked to a restroom to refill our water bottles, I met a woman, from the Netherlands, who was traveling alone. Sitting at a picnic table, she invited me to enjoy a cup of coffee with her and cheese with crackers. I was immediately inspired by her stories of traveling the world. Her husband passed away 13 years ago, right before they were to retire and start traveling together. She decided that it was time to do just that, and so for four to six months each years, she explores the world on her own. We loved her stories of adventure and her encouragement to do just what we are doing, adventuring while we are young and not just waiting for retirement. I will never forget that cup of coffee with her.
After we parted ways, we went to a park in town to enjoy views of the peaks around us on a nice, freshly groomed, green lawn. The fact that I slept very little the night before led to me pulling out my sleeping mat and catching some zzz's under the shade of a tree. Justin started chatting with a gentleman who has been living in New Zealand but is originally from Brazil. He had decked out a mitsubishi van, turning it into the ultimate travel mobile, with a solar fridge, shower set-up, place for his blender (he has green smoothies everyday!), and so much more. Eric had great stories from the road and Justin immediately hit it off with him.
As our bellies began to ache once more for food, Justin and I parted ways with Eric, planning to reconnect later in the afternoon to go on a hike. We started to saunter around town, hungry and frustrated, unsure of what to do for tonight's sleep since the campgrounds were mostly booked up and very overpriced. Right then, my phone started to ring with an Alaskan zip code!
"Hello?" I asked, curious.
"Hi is this Missy? I am Ann, Wendy's friend. I hear you need a place to stay in Valdez! Did you really just ride your bicycle from Seattle?!"
My heart leaped with excitement and I immediately jumped off my bike and started walking in circles, chatting with Anne. Miraculously, the night before I had written a public post on facebook to a friend asking if he knew anyone in Valdez we could stay with since the costs for camping were so steep. Wendy, my rockstar counselor when I was a young little explorer at a recreation center in Menlo Park, California, saw the post and contacted her friend she knew from high school who lives in Valdez! While Ann and her family were not currently in Valdez, traveling themselves, Ann welcomed us to us her home while we explored Valdez. We cannot thank Ann, her family, or Wendy enough!!!
I raced to find Justin at the grocery store after getting off the bike and we looked at each other with joyful shock.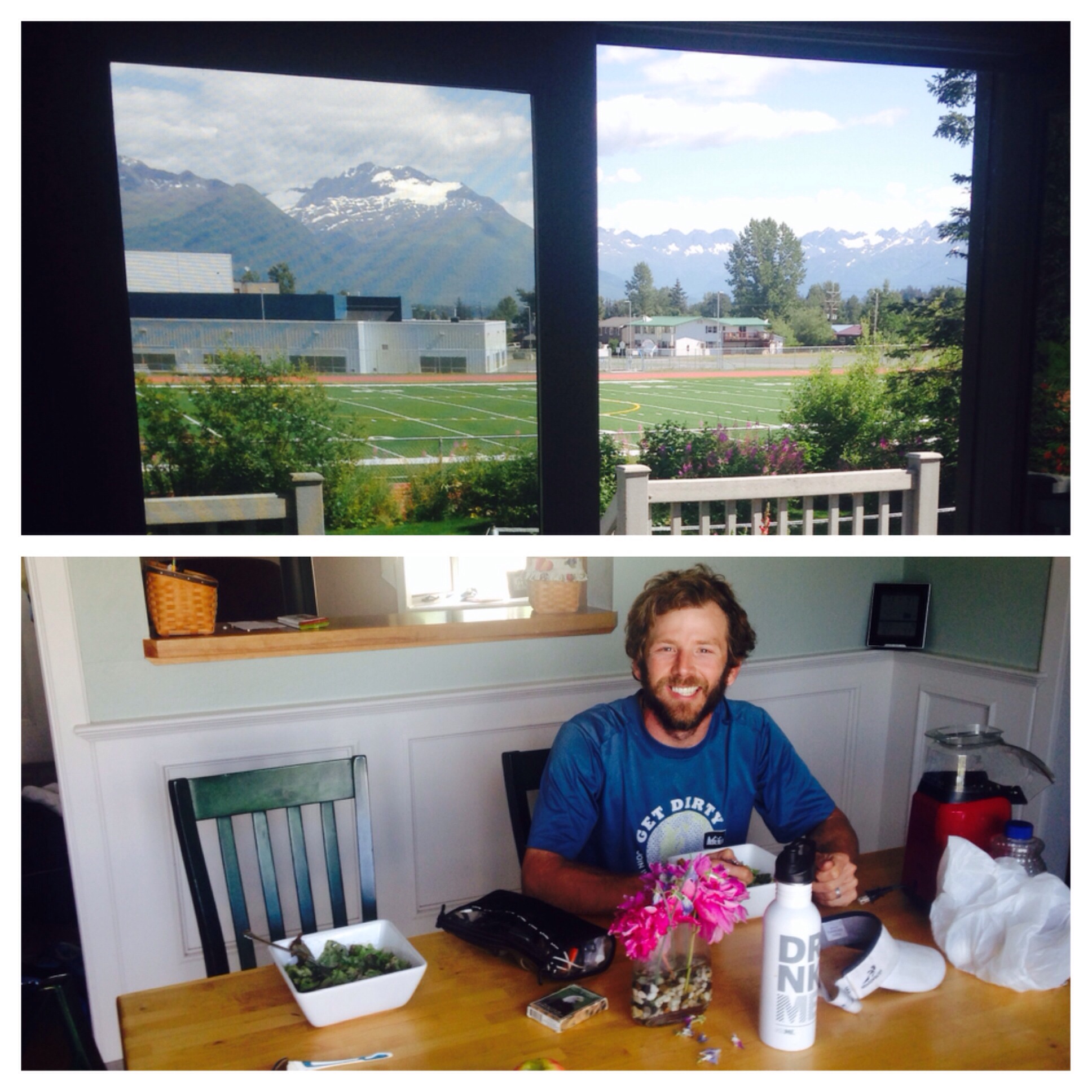 Ann's home was cozy, sheltered along the steep, mountainous cliffs of Valdez, with a view of the local football/soccer field and middle school. We enjoyed a hike with our Kiwi friend Eric on the nearby trails to see amazing views of the mountains surrounding Valdez. We could not believe our luck with cloudless views in a notoriously rainy area.
We enjoyed eating pizza, a treat I have been craving for 1,500 miles with salad and hot chocolates while watching a local football game from the dining room table. Happy as clams, we snuggled into our sleeping bags for a quiet, sheltered night of sleep on their living room floor, excited for our early morning fishing trip!
I am beyond overwhelmed with tears of joy and gratitude. Traveling, without a doubt, is the best way to see the magnificent beauty of humanity.
~ Melissa
Day 35 Monday July 20, 2015
COHO SALMON FISHING in Valdez!
I awoke at 4:50am, before the alarm, as excited as if I were a little boy on Christmas morning. I whipped us up some breakfast burritos and they were happily consumed before we rolled down the road on our bikes, without a cloud in the sky or a worry in the world… Well except I was a bit anxious since I didn't want to miss the boat despite the fact that we were 30 minutes early. We checked in and locked up our bikes before walking over to a coffee shop for Melissa to enjoy her morning coffee. At the harbor, we were greeted by a couple in their sixties who were just as eager as we were to get out on the water. Janice, a bubbly, sweet woman and her husband Doug, celebrating their 45 year anniversary.
We immediately spotted Doug's Wisconsin sweatshirt and new they must be good folks.
Shortly thereafter, Chris, our excellent, down-to-earth captain from Kingfisher's Perch arrived in a hot orange jet boat named Danger Zone.
Chris
took care of the licensing paperwork, we all used the restrooms, and loaded the boat before he fired up the Chevy 454 and we began to make our way out of the harbor.
This was one mean boat that began its life running river jet boat rides and now has a second career in the William Sound catching boat loads of fish. He demonstrated the single bar steering and ability to slide across the water. With our hearts pumping fast, we quickly zipped out the narrows, passing many slower boats heading out to do the same.

Danger Zone, Valdez AK from InspireOut on Vimeo.
Chris was from New Hampshire, but has been running trips for close to 10 years. From the get go it was clear he is easy going and just wants to catch some fish. The winds made for some quick moving water, so we quickly learned that this trip would be more of a drift trip. Melissa was the first to get her rod clipped and baited and she opened the bale and let the line out for a 20 second count. Before Chris could clip a second rod, Melissa jerked back and the pole bent as she squealed with excitement. She had landed the first of what would be a limit of six catches for each of the 4. Each catch brought the same excitement as we all loved the feeling of seeing the shiny silvery fish end up in the net that Chris would haul abroad.
A few other fish couldn't handle the temptation of the herring bait as I happened to land some smaller chummy fish that Chris laughed and said would be halibut bait. Melissa also caught a black bass rock fish we ended up filleting.
After many drifts with intermittent snacking we had caught our limits and zipped back to the marina where we snapped a few photos with our catch.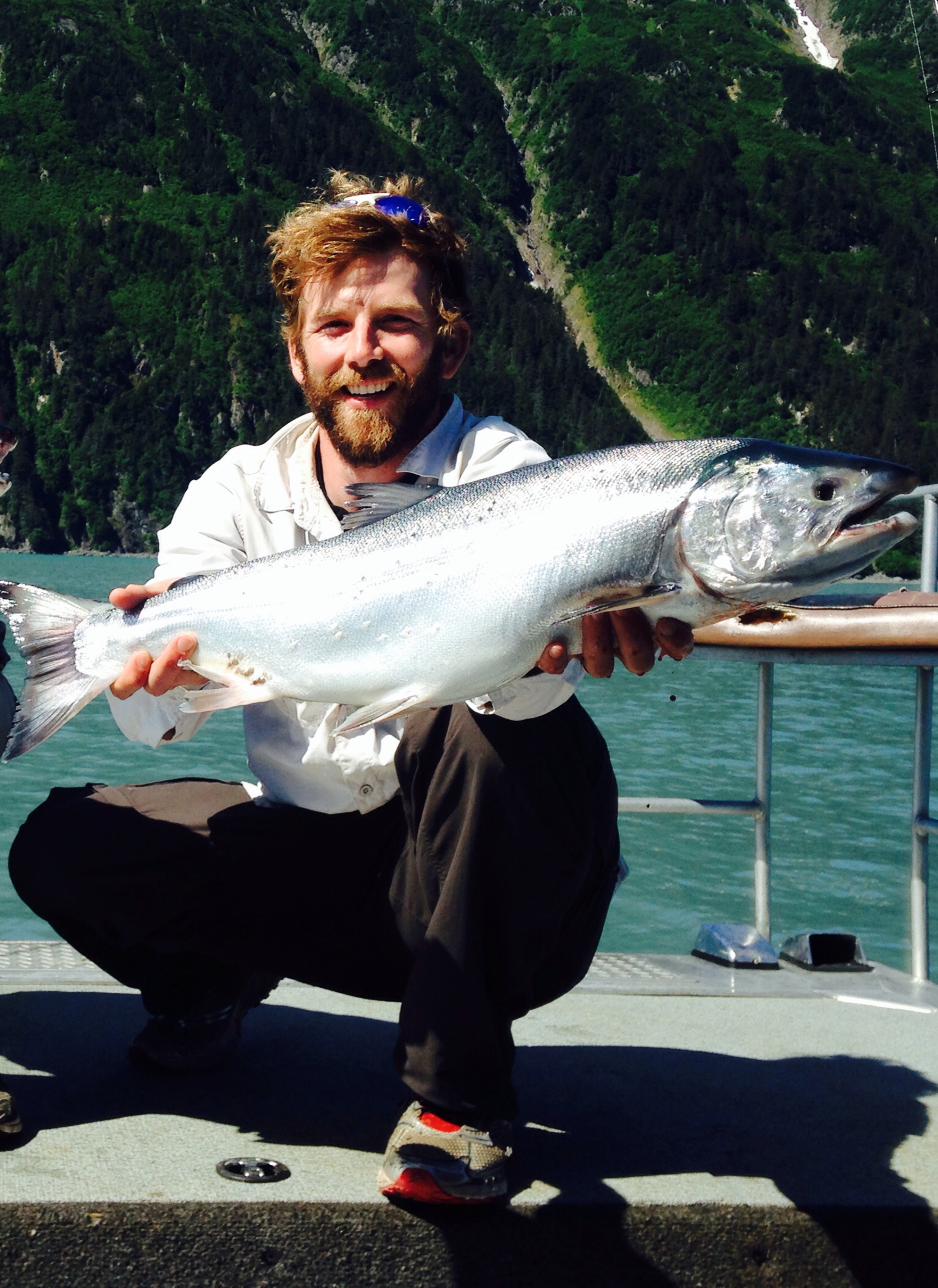 We were fortunate that Donovan, the fish fillet fella, helped Chris unload and helped set-up the fish for photos before he got busy.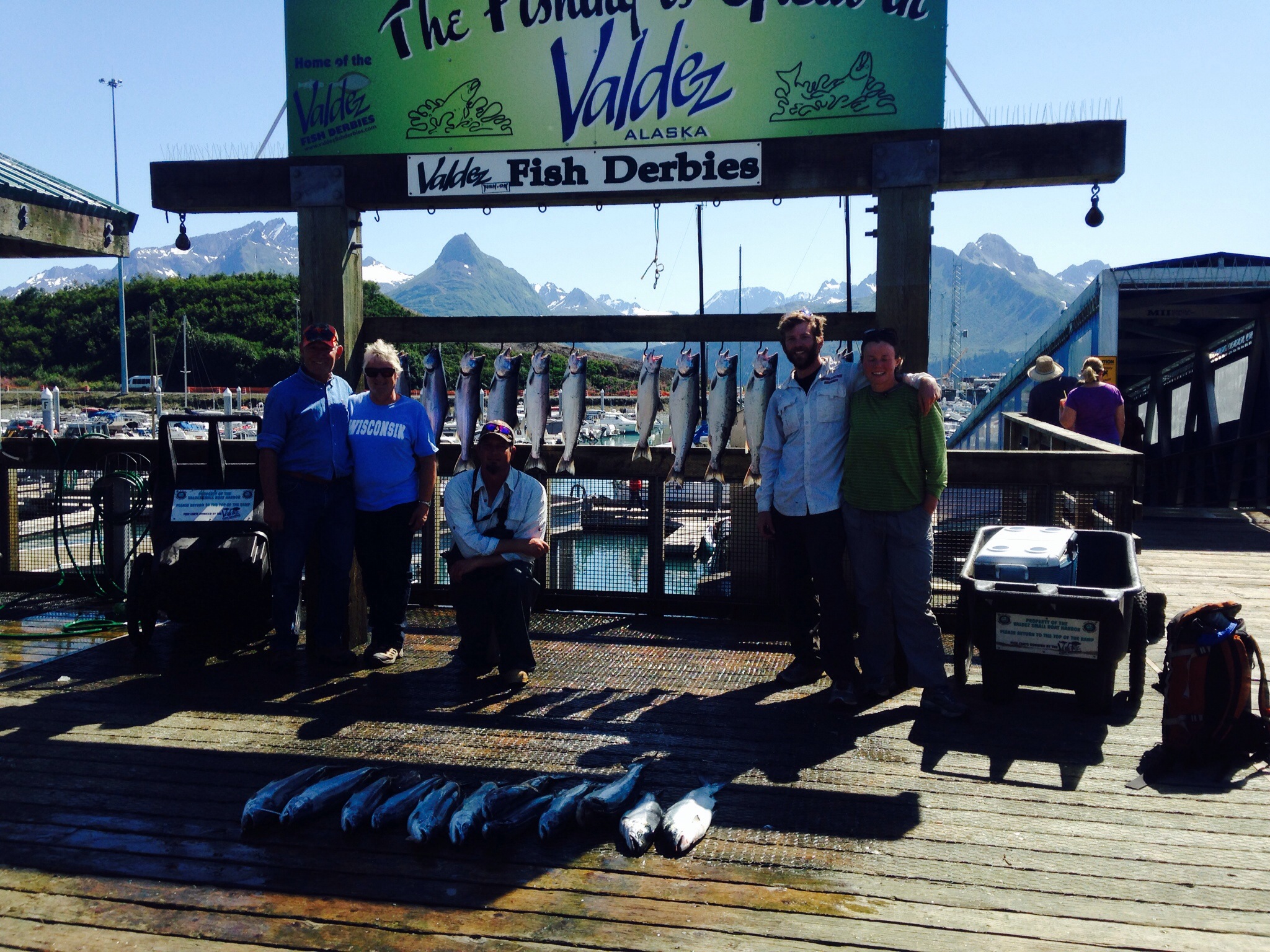 He didn't waste a single stroke of the knife as he had our 13 fish filleted in less than 15 minutes. We pushed our cart to fish central where they ended up vacuum sealing and freezing for pickup the following day.
Fish Central
was a terrific company with a hard-working crew that we will definitely be going out with again in the future.
Valdez Fish Fillet Fella
from
InspireOut
on
Vimeo
.
Donovan fillets our silver salmon catch in Valdez, Alaska.
We rode home with giant smiles before our adrenal glands slowed down and we felt exhausted. After a quick snack, we discussed how we would enjoy the freshest caught fish dinner I have eaten to date.
We invited both Captain Chris and Eric, the New Zealander traveling by van that we had met and were inspired by the day prior, to dinner. As we prepared dinner the neighbor poked his head over.
His name was Todd and he had come from Oregon for a summer trip 10 or so years ago and never left. He and his family loved Valdez and I don't blame them. He happened to be smoking some red salmon he had caught dip-netting. He had some salty niblets that he wanted to share and also gave us a frozen fillet as well. We spent time chatting and picking his brain about all of our Alaska livin' questions. He then offered the three of us a freshly canned jar of smoked salmon.
This day had gone from being incredible to beyond our wildest dreams. The fish, potatoes, and salad were savored before saying farewell to Chris and Eric and settling in for the night. We would need to get up early for the ferry, but neither of us could believe the turn of events for us in Valdez, and how without question we would have to return to visit our new friends and catch some more fish.
~ Justin
Day 36 Tuesday July 21, 2015
Valdez to Whittier, AK by Ferry
Whittier to Anchorage by car with the amazing Calliope!
It was another early morning wake-up, wishing for a few more hours of sleep, but anxious to pick-up our gold mine if salmon filets and hurrying to catch our ferry from Valdez to Whittier. We cooked up our remainder of eggs, wrote a note to our inspirational house hosts we hope to meet one day in the future, and took off on loaded bikes once more for town & the ferry.
Fish Central
ROCKS – at 5:45 we rolled up, and they helped us pack our rock-solid frozen & vacuum sealed salmon filets into a styrofoam travel box for our trip to Anchorage. Since we are flying out on Thursday early, we decided not to mail our fish home, but rather just take it with us for the journey! Anchorage has airport freezers to store for $12/day – much cheaper than shipping so fingers-crossed all goes smoothly!
The ferry ride was slow and steady, five hours across Prince William Sound to the tiny port town of Whittier. It is too difficult to begin to even fathom the vast, pristine mountain ranges spanning between these two port towns. I could take my backpack and get lost for years, a lifetime, in these mountains.
When we arrived, I was so excited to see a familiar face as I flew off the ferry pedaling to my friend Calliope! Calliope is an inspiration to us as she follows her dreams and recently moved to Alaska! A Sacramento native, she is now learning the ways of the wilds in Alaska and we couldn't be happier for her.
After grabbing a quick snack, we went through the longest tunnel in North America, 2.5 miles long right through a mountain!! It is a one-way road with traffic going through in fifteen minute intervals from either direction with time for the trains to get through as well.
When we arrived in Anchorage, Calli took us to the airport to store our salmon, and then we explored town, seeing the largest chocolate fountain in the world and hiking around a beaver pond at U of A at Anchorage.
Calli dropped us off at our warmshowers hosts Bill and Joireen's home – we wished to spend more time but know we will be back to visit in the future. Bill did not waste any time and took Justin to get two free cardboard bike boxes at his local bike shop (Sweet!). We then enjoyed a delicious home cooked meal from Joireen while hearing stories from their travels by bicycle.
Lights out by 9:30, we slept soundly on a mattress with cotton sheets (an experience we haven't had for weeks) reflecting on our magnificent journey.
~Melissa
Day 37 Wednesday July 23, 2015
Rest Day Anchorage
We woke up to eggs, reindeer sausage, and cast-iron apple pecan pancakes. Holy chipotle sauce – I had to pinch myself to make sure I'm still alive. I'm awake right?
Bill and Joireen prepared for work after a fantastic breakfast while Justin and I worked on packing our gear and bicycles for our flight. Joireen graciously gave us a suitcase they no longer need to help us reduce our baggage coming home. Bill gave us a ride to a classic coffee shop called
SteamDot Coffee
where we are now typing/posting/and eating one too many treats.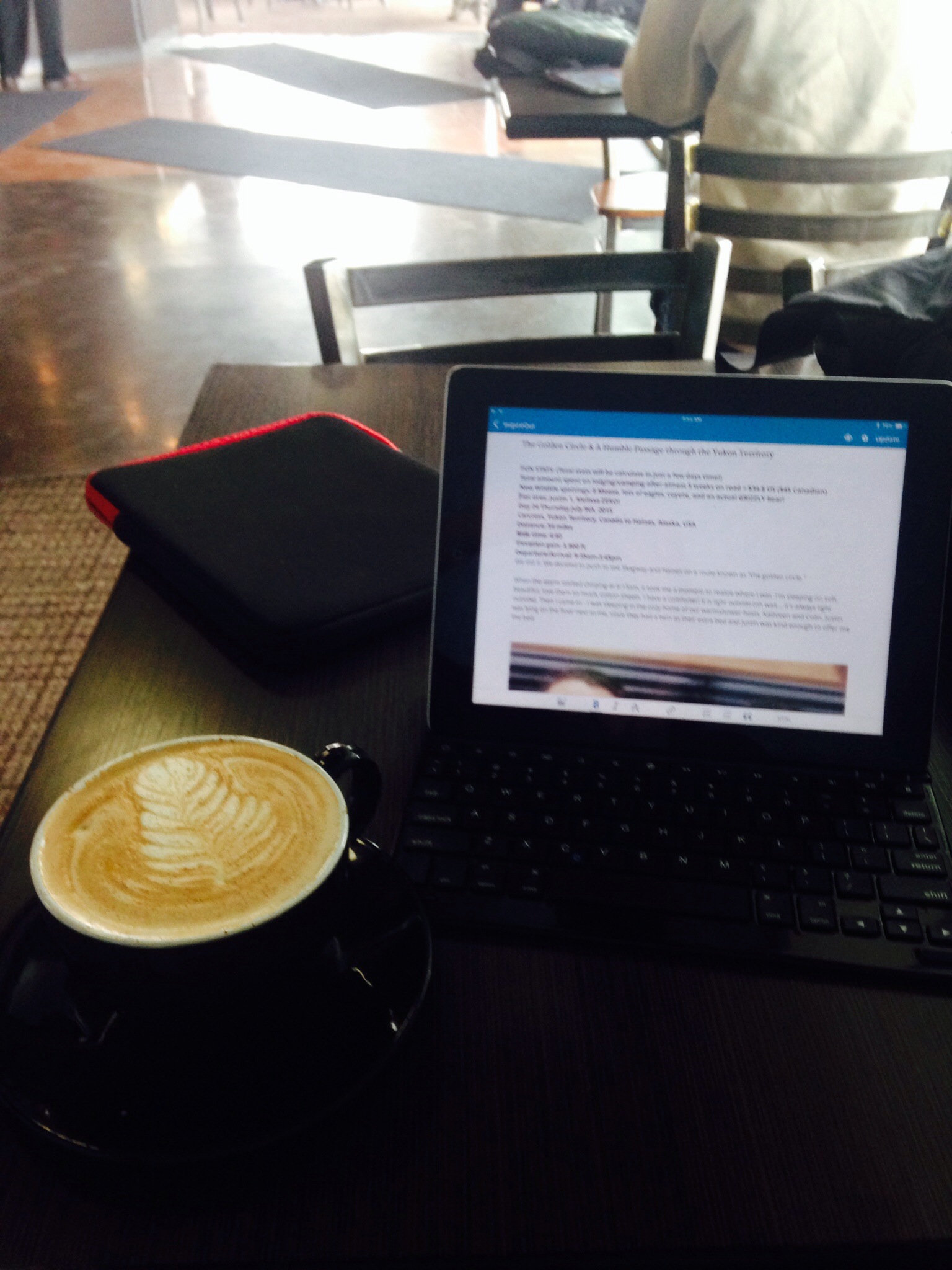 We are looking forward to a hike this afternoon behind their home with views of Anchorage before early bed time to catch our 6am flight HOME in the morning. We look forward to hugging our loved ones and hanging out once again in our tiny home.
By the way – check out FYI on Wednesday July 29th at 9pm to see us on the show TINY HOUSE NATION. I will be posting pictures of our new, lovely casa shortly after it airs!