FUN STATS: (Total stats will be calculate in just a few days time!)
Total amount spent on lodging/camping after almost 5 weeks on road = $34.8 US ($45 Canadian)
New Wildlife spottings: 8 Moose, lots of eagles, coyote, and an actual GRIZZLY bear!
Flat tires: Justin 1, Melissa ZERO!
Day 24 Thursday July 9th, 2015
Carcross, Yukon Territory, Canada to Haines, Alaska, USA
Distance: 54 miles
Ride time: 4:40
Elevation gain: 3,800 ft
Departure/Arrival: 9:35am-3:45pm
We did it. We decided to push to see Skagway and Haines on a route known as "the golden circle."
When the alarm started chirping at 6:15am, it took me a moment to realize where I was. I'm sleeping on soft, beautiful, love them so much, cotton sheets. I have a comforter! It is light outside (oh wait… it's always light outside). Then I came to – I was sleeping in the cozy home of our warmshower hosts, Kathleen and Colin. Justin was lying on the floor next to me, since they had a twin as their extra bed and Justin was kind enough to offer me the bed.
We ate a quick meal of eggs, a rare treat on the road since oatmeal (bleck!) is the easiest to make on the road. During our zero day in Whitehorse, we hiked along the outskirts of town on one of hundreds of trails and ended up circling back into town for another yummy sit down meal at a restaurant. When we had stayed with our warm showers host, Peter, who lived on Marsh Lake, we had met his friend Shannon, a biologist in the Yukon Territory studying rare species (how cool is that!? She gets paid to go backpacking and canoeing in one of the most remote gorgeous areas of the world!). Shannon offered us a ride if we needed it to help with our decision making about seeing Skagway and Haines since she, too, highly recommended it. Justin and I had crunched the numbers and realized that in order to see the golden circle, we need an extra day of cycling – as it stood, with an extra day needed, we still would have to push 75+ miles days to make it to Anchorage in time for our flight on the 23rd.
Working up the courage in downtown Whitehorse, we sent a text Shannon to which she replied excitedly that she was happyto help us by giving us a lift to Carcross (backtracking miles we had already down to get to Whitehorse and resupply/check out the town). Elated, we skipped home, enjoyed homemade dinner by chef Colin, and resupplied in town with a fun grocery store trip with both Kathleen and Colin.
After packing our gear this morning, we said our goodbyes to our terrific hosts for the last two nights, and rolled, I kid you not, less than a quarter mile to Shannon's house in the same neighborhood. We put our bags into her awesome, right-hand driver side toyota camper van and hung our bikes on her bike rack. She told us all about the history of glaciers and wildlife in the area, explaining how rare species are found throughout since the glaciers never reached the area surrounding Whitehorse. Interestingly, we also mentioned our hosts from Denmen island, Wendy and Ken, and Shannon not only knows them, she house-sat for them (when they lived in Whitehorse) while they bicycle toured from Whitehorse to Florida!
After a few stops at gorgeous lakes, spotting three brown bears (!!), and a warm cup of coffee at the cafe in Carcross, we hugged Shannon goodbye for now (we are definitely coming back!) and rolled onward toward Skagway, about 60 miles down the road.
The jagged peaks of coastal mountains occasionally broke through the heavy clouds giving us a moment to gasp at their stature, and while eating a few more gummy bears. We pushed through the tough, cold spells of rain while slowly climbing to Skagway summit.
At the Canadian border, we were confused by the process of simply leaving without checking out, as there was no one to greet us. After further investigation, we learned that when we scan our passport to enter the states, Canada confirms we have left through this scan. Onwards we climbed in the rain and as we reached the summit we saw the "Welcome to Alaska" sign! Excited, we snapped a few photos of the gorgeous surroundings before kicking off for one of our best downhill rides ever on the Klondike highway. 12 beautiful miles filled with massive waterfalls and steep jagged rocks above us, down, down, down back to sea level from 3,300ft. Halfway down the road was the American border patrol. We stood in a line of vehicles to check-in, the odd men out amongst the river of engines. When the car ahead of us left the guard, I started to roll up to him and Justin followed my lead. He yelled, "ONE at a time!" to which I stopped and started to back track because Justin had my passport. He sighed heavily and then said we could both come up, "but next time WAIT for the red light to turn to green, you hear??"
Great. I pissed off the border patrol. Oops. He saw our bear canister and asked what it was. One, I was surprised he didn't know what it was and two, I was shocked when he asked why we had it with us… perhaps he was new to this station?!
After our bumpy entrance back into the states, we rolled down again into Skagway. We noticed not one, not two, but THREE massive cruise ships in the harbor. When we came into Skagway proper, we realized this was a tourist town built for cruises, with almost a Wild West theme park feel to it. What a culture shock from riding amongst the vast wilderness all these miles.
When we got to the harbor, we immediately hit it off with the harbor master. Justin chatted about cycle touring while I sneaked off and found a massive burrito for only $10.50 – a steal in this area as most meals start at $12. We split the burrito excitedly, both happy for the large quantity of food and the harbor master giggled at us. The ferry to Haines arrived about 20 minutes later and after waiting for the many cruise ship tourists to disembark, we rolled our bikes onto the ship. Being the only folks who weren't locals onboard for this evening ride, the crew chatted with us about the area and made us feel right at home.
The views were spectacular, seeing the clouds break over the massive, snow-covered peaks in the distance. Forty-five minutes later we arrived at Haines, and an eagle sat on the pier to greet us. The town of Haines has a peaceful glow to it. Everyone smiles and greets you with sweet kindness. I felt at home in the quiet village surrounded be behemoth peaks and enjoyed cruising around town taking in the atmosphere. We arrived at Gina and Dan's home (our warmshower hosts for the night) at about 5:30 and Dan greeted us with a warm smile. He asked if we were interested in trying out their sauna that he built from wood scraps (Dan is a very talented wood worker in Haines who makes Japanese bath tubs) and we could not pass up the opportunity. Now, Justin and I are trying to figure out how we could build our own! Gina was on the road coming back from Whitehorse for an orthodontist appointment with one of her kids. Could you imagine driving from San Francisco to LA for a dentist appointment!?
After an amazing sauna and shower, as well as another delicious dinner, we hit the hay and slept like logs. What an incredible day!
~ Melissa
Day 25 Friday July 10, 2015
Haines, Alaska, USA to Haines Summit (Nadahini Green hut), British Columbia, `Canada
Distance: 62.6 miles
Ride Time: 6hr 28min
Elevation gain: 5,695 ft (Haines Summit, 1,070m)
Departure/Arrival: 8:35am/5:45pm
The alarm startled me as I woke up in Dan & Gina's home. We packed our belongings, ate an apple with peanut butter to start the day, and thanked Dan graciously for another terrific warm showers experience.
Off we went from Haines up the only road that leads to this tiny town. For 40 miles we cycled along flat road following the river flowing from the mountains in a bald eagle preserve where 3-4,000 eagles come each fall. As we took in the sights, an eagle soared along side us to check out our rides! We reached the Canadian border right around lunch time and watched as a group of men worked on cutting down two tall trees!
Next up, a massive climb from sea level back up to 3,400ft. The road was smooth and the sights mesmerizing as we chugged along. Our legs have definitely strengthened since starting this journey, and with the heavy loads (We have food for a week plus at this point since there is little to no stores until Alaska) we worked our way up the mountain.
After celebrating reaching the summit, we started to keep an eye out for a famous green hut used by travelers near and far. Both Shannon as well as Dan & Gina told us about the shack, and with strong, cold winds and rain, it sounded more than inviting. Lo and behold, a green shack appeared not a few minutes later on our downhill, and we pulled over to check out our home for the night. A table! Wooden flat for mats! And best of all, a wood stove and dry wood! Happiness all around.
Grateful, Justin started a fire while I prepared rice and curry lentils with fresh veggies for dinner. The warmth dried us off immediately and we quietly stared out the window at the mountains that surrounded us.
As I write to you, I am tucked in my sleeping bag, listening to the crackling fire in the wood stove and the rain dancing on the roof. It is pretty amazing – every time I am backpacking or traveling in the rain, I always dream of snuggling up with a great book next to a fire. Tonight, I will do just that!
~ Melissa
Day 26 Saturday July 11, 2015
The Green Hut near Haines Summit to Haines Junction
Distance: 87.5 miles
Ride Time: 6hr 21min
Elevation gain:
Departure/Arrival: 8:15am/4:40pm
The morning mist and clouds blanketed the peaks while the smooth line-less road meandered into the thick cover. We began the day with another fire to fight the chill and set out to descend into what we hoped would be a change in the weather. We passed another cabin down the road and were happy that we hadn't arrived there as someone else, with a vehicle, had called it home for the time being. Small lakes spotted the valleys and I kept my eyes out for sheep and other signs of wildlife. We began a gentle descent that eased the heavy legs from the prior day and made some early miles zip by.
A section of gravel slowed the going but we eventually crossed the border back into the Yukon from British Columbia and took in the beauty with a snack. As we rolled over the gentle grades we stopped at a trickling spring for water that I heard. Not long after Melissa pulled out the filter, a day road cyclist rolled up and started chatting with us. He was camping 20 km down the road and he and his wife lived in Whitehorse. He was out for a day ride and said how he loved to return to his camper and take shelter during weather like we were having (spitting rain from time to time throughout the day). He kindly offered us to stop in for a visit to his campsite if need be for water.
We ate lunch and were both saddened by news he shared of a swan that was killed by someone on the nearby lake. He said that this was the first year any had returned since they mate for life and were clearly shattered by the death. Later on, we learned that swans are starting to populate these northern areas more and more with climate change, as longer, warmer summers give their offspring a better chance of surviving.
The afternoon began to warm up and we were now bordering Kluane National Park, the Yosemite of the Yukon. We passed a larger lake and a few cycle tourists from Australia and Alaska as we approached the final descent into Haines Junction. We had covered some ground today and were both excited about this small crossing on the Alaska Highway as it was home to Village Bakery. We bought some day olds to compliment our pasta, which was a bit too fishy, due to clams added for a bit of protein, but we hesitantly consumed the calories.
We slept behind an RV park which gives free camping to cyclists on their lawn. Two Asian cyclists, who had battled some headwinds heading south from Alaska the past few days, joined us camping and Melissa and I crossed our fingers that we would be in the opposite predicament heading north.
After a reflection on the day, we turned in early (around 7:45!) for a well deserved early night of sleep.
~ Justin
Day 27 Sunday July 12, 2015
Haines Junction to Burwash Landing First Nation Site
Distance: 77 miles
Ride Time: 7hr 00min
Elevation gain: 3,685ft
Departure/Arrival: 8:15am-4:45pm
For some reason, sleeping on a lush lawn behind an RV park seemed to be my best sleep on the trip thus far. The on-guard feeling of being in bear territory seemed to disarm for the night, and I found myself passing out at 7:30pm after eating one too many cheese bread sticks from the Village Bakery.
I packed my sleeping bag and silk liner before Justin even woke up, but since we have a tent with only one door, I woke up Justin as I tried to sneak out (I think this will be the last time we have a single door tent as we have both learned we prefer two vestibules and entry ways). He was surprised to see I was already up and ready to roll at 6:10am but I was ready for a warm, fresh cup of beautiful coffee at the Village bakery that opened at 7am!
We packed and rolled up to the bakery at 6:55am. First customers of the day, I got a breakfast burrito and large, gorgeous hot coffee. I love love LOVE coffee. Justin happily ate three warmed-up chocolate chip muffins from the day-olds shelf as we chatted with other travelers eating breakfast.
Around 8am, we hit the road ready for a climb. The sun was glowing over gorgeous bright green rolling hills. A heard of horses ate their breakfast with the sun glowing on them, a rare sight to see in a land where horse feed is very hard to come by most of the year.
With a magnificent tailwind (Wahooooo!) the miles FLEW by effortlessly. As we climbed to the top of a short hill from a river crossing, my lungs tightened as I saw a heard of vehicles pulled over on either side of the road with their hazards on… Had their been another accident? Was everyone alright?!
Justin was a few feet ahead of me and rolled up to the first motorhome and asked the man in the driver seat what happened. He shrugged his shoulders and said, "I dunno."
Just then, as we continued our forward movement in the middle of the road, a massive 350+ lb. grizzly got up onto his two hind legs and stared at us at the edge of the pavement. WHAT?! I yelled to Justin that there was a grizzly and started to piece together that the herd of vehicles were there to simply take pictures and cause a scene around this bothered mass of fur with sharp teeth. Clearly he was ignoring his new fans until Justin and I rolled up.
Justin pushed past a motorhome for protection and took a quick picture, in awe like a 12 year old boy, giggling at his first grizzly sighting. I stared at the mammoth while staying in motion, jaw-dropped, and proceeded to the end of the line of vehicles on our side of the road, confirming that I would be close to last in the chain of humans to be charged. Justin rolled up less than a minute later, completely jazzed and jumping for joy. "Did you see that.. I mean, DID YOU SEE THAT? He was huge! So cool.. Just so so cool."
Very cool. And terrifying. I will admit they are very cute, "bumbly creatures" as our cycle friend Tom would say, but their massive size and potential for harm encourage me to respect them from afar.
After lunch, we started our passage along the edge of Kluane Lake, the largest lake in the Yukon Territory. The winds were wild and we went from having a tailwind to a vicious headwind, destroying our average for the day and drastically cooling our core temps.
Our milepost guide for campgrounds stated that we would find a campground in Burwash landings, a First Nation community for the Kluane band. When we arrived, we quickly realized that this community no longer catered to the Alaskan highway travelers for lodging or camping. An old tourist lodge was abandoned and the community had an odd "ghost town" feel for entertaining predominantly white tourists.
We rode around the community and asked for a place to camp for the evening. Many folks had been drinking quite a bit on this Sunday afternoon, and I realized I was becoming more concerned about an interaction with an intoxicated human than a bear for the night. The drinking, coupled with an air of sadness in the community, made my heart sink as I reflected on the hardships and destruction the construction of the Alaska highway did to this native tribe, not so long ago.
Justin and I cooked lentils and rice for dinner under the shade of the abandoned lodge. I sighed during the meal and said to Justin, "If only two other people were here, like Sophie and Tom, then I would feel much more comfortable about sleeping here tonight…"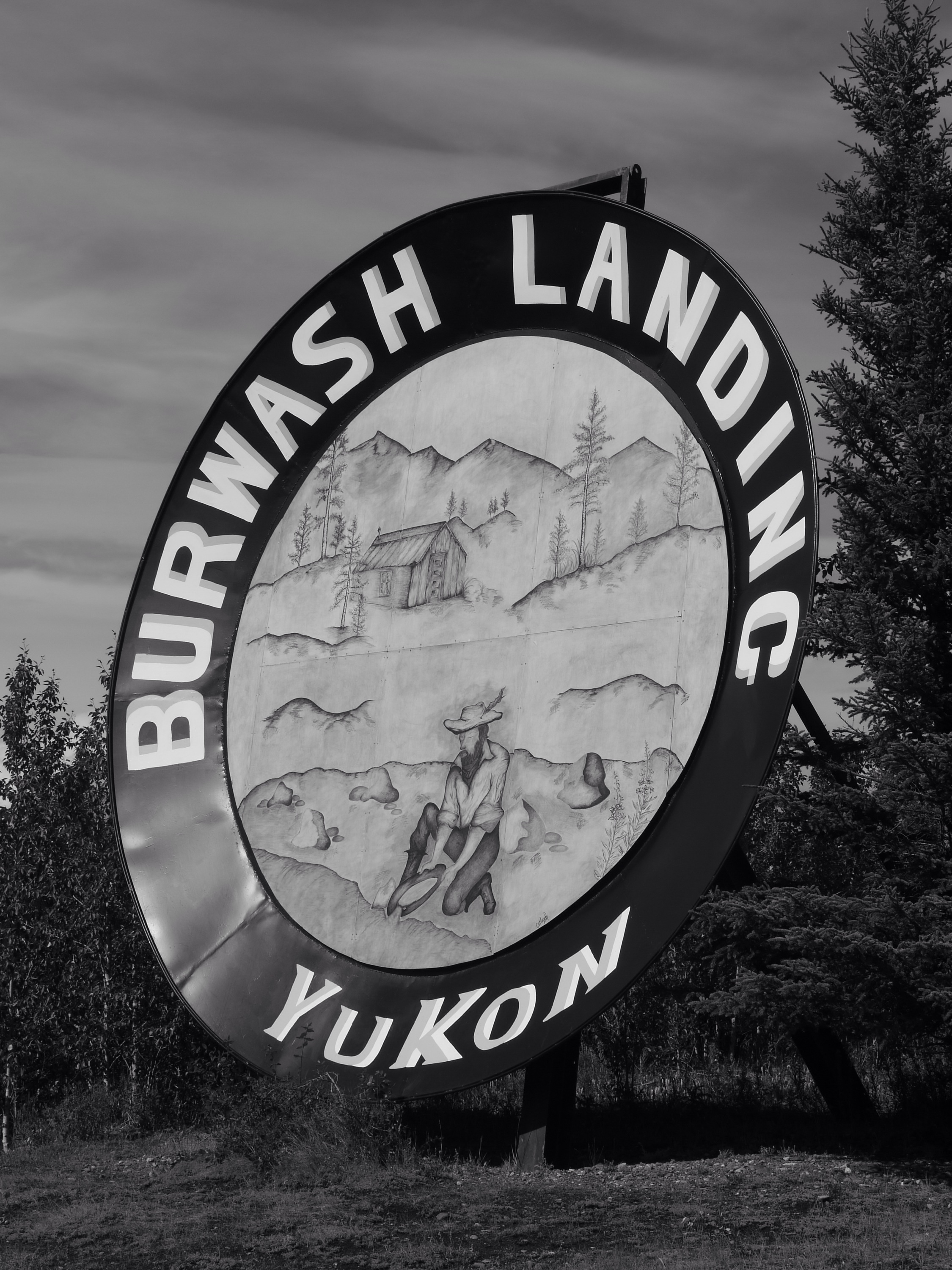 Moments later, a white truck pulled into the deserted lodge and two folks circled us with looks of confusion. I waved my hand to them and the woman in the passenger seat rolled down her window. "Looking for a campsite?" I asked.
She nodded her head. "Us too… looks like they don't offer one these days but a woman in the community said we are fine to sleep over there" pointing to a plot of grass near a creek. "Care to be our neighbors tonight?" I said smiling, half-jokingly and the driver, who I later learned was part of the U.S. Coast Guard in the process of changing bases, agreed on joining us.
It is truly amazing how trusting in the journey has worked out for Justin and I during this wild adventure. As the creek sings us to sleep, I am settling in comforted knowing we have fellow travelers nearby and a truck to store our food in (from bears, but also determined chipmunks) for the evening.
~ Melissa
Day 28 Monday July 13, 2015
Burwash Landings to Snag Creek Campground
Distance: 86.9 miles
Ride Time: 6hr 30min
Elevation gain: 2,859ft.
Departure/Arrival: 7:40am/5:05pm
Heavy rain during the "night" left me wondering what morning would bring us, and I was excited to see the sun shining brightly on our tent at 6am. Justin and I ate canned beans and left over Village bakery bread for breakfast before wishing our camping buddies safe travels and catching the tailwind express north once more.
As we hit the infamous pothole section of the Alaska highway, due to permafrost year round shifting the roadways, we recalled our travels in South America, and giggled as we darted bumps and muddy bogs.
Right before lunchtime, we noticed a clean young man riding south in the distance. He smiled brightly and came right up to us, excited to see other cycle tourists. He said, in the best year 1 English class way possible, "Hello! I am Tomas. Nice to meet you. I am from Japan!"
We loved his enthusiastic spirit and shared stories of what was ahead for him. He took lots of pictures of us and our bikes and explained he was on a three year journey which just started in Anchorage. We wished him the best of luck and set out to find a serene lunch spot near water.
In the afternoon, we ran into a 6 mile stretch of road under construction where bicycles were not allowed to ride. Instead, we loaded our bikes and bags into the truck bed of a pilot car, and were driven by a 19 year old young lady to the other side of the site. We sat in awe as she talked with a fast-pace, leaving very little room for reply, about the drama of working with her crew while Taylor Swift blared from her radio.
As we parted ways with her on the other side of the construction, Justin turned to me and asked, "Did that ride just make you feel really old?" to which I laughed loudly and shook my head in agreement.
We made it to a quiet campground just 30 miles shy of the Canada/Alaska border for the evening, sold by the site having a covered wooden shelter for tents to hide from rain. The weather here changes frequently, and even though the sun was shining, we both knew rain could come at any moment.
Again in bed by 6:30pm, Justin and I read our books for over two hours, quiet and immersed in our stories. I highly recommend the book Dream Singer by Frank O Smith, as it shares the many facets of adventure and the heart-wrenching depths of beauty in forgiveness.
Our eye covers on by 8:15pm, we tucked in for another early night of sleep to recover from repetitive long days of riding.
~ Melissa
Day 29 Tuesday July 14, 2015
Snagg Creek Campground, Yukon Territory Canada to Lakeview Campground, Alaska
Distance: 66 miles
Ride Time: 6hr 20min
Elevation gain: 3,000ft
Departure/Arrival: 7:15am/3:40pm (adjusted for time change from Canada to Alaska)
The rain's pitter-patter awoke me around 5:30am as my body was feeling the hardness of the ground beneath the old, worn-out thermarest z-lite with one too many nights sleep on it. We had decided to skip Melissa's favorite breakfast of oatmeal (she actually despises the stuff) and cruise the 12 miles into town for some "real" food in Beaver Creek. The morning air had a real bite to it and we passed a section of road that was being studied for the perma-frost in this region. We arrived at the most Westerly town in Canada, where the tractors blades touched as they finished the Alaska-Canada highway in 1942 (this according to Sid, a living legend of 50 years in Beaver Creek who works in the visitor center). We ate at the only cafe in town, and I wasn't that impressed with the scrambled eggs, but enjoyed the pancake and bacon.
From here we had a mere 30 km (18 miles) remaining in this fine land of happy folks. We cruised along as Melissa was saying her goodbyes to Canada when all of sudden we spotted a female moose and her two babies! Mama moose stood along the edge of the road as if she was looking both ways before taking her prized children across. We immediately stopped and without a second to remove a camera, we just enjoyed the nature moment as she moved quickly and the two babies skipped behind. These are some of the most amazing creatures we have seen thus far, and at over 7 feet tall, with her babies standing as big as us on our bikes, we watched them slip into the thicket on the other side of the road, not to be seen again. Melissa commented how this was Canada giving us one final wildlife encounter before we parted ways for the time being.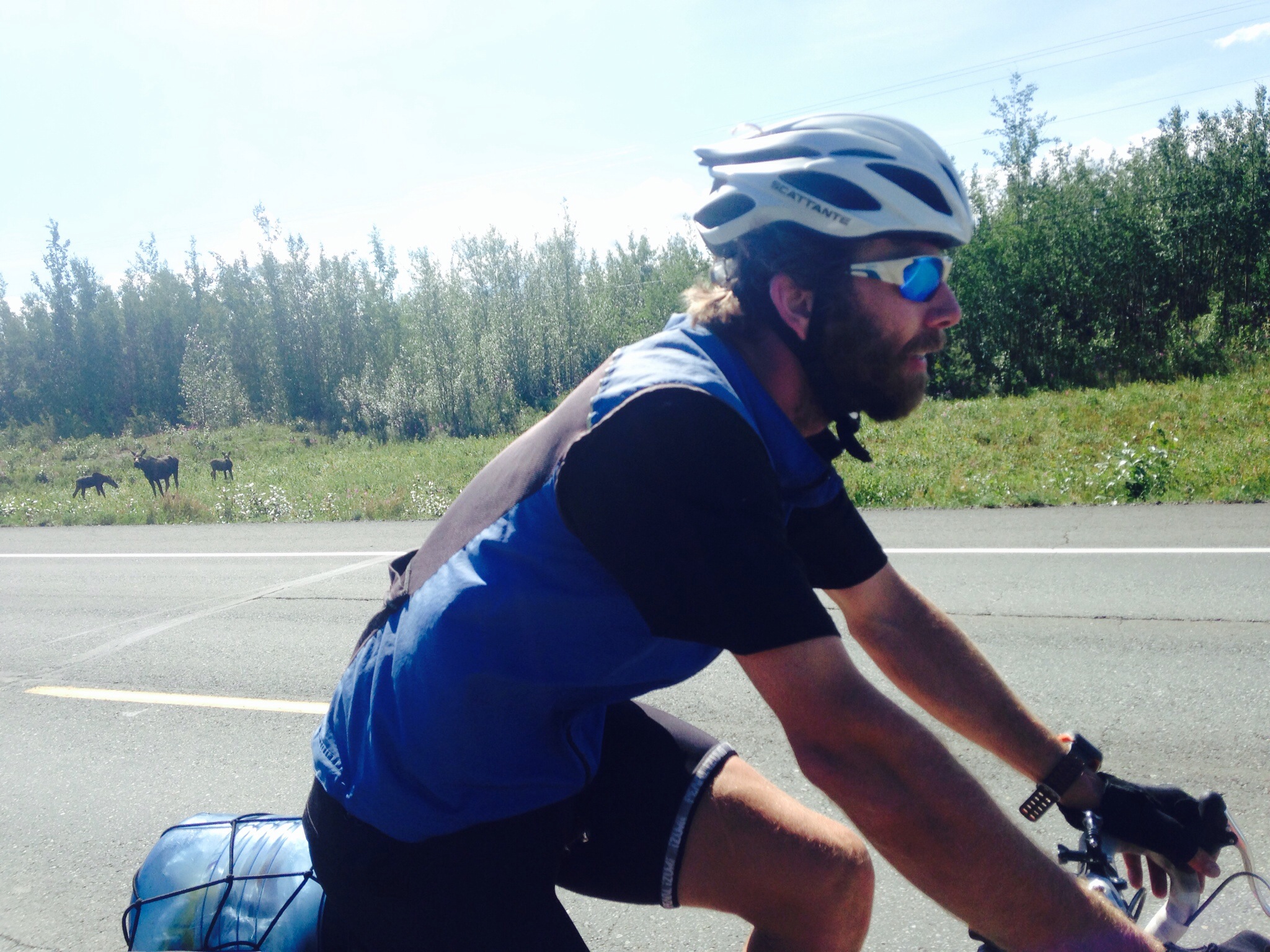 We inched closer and Melissa spotted the cut tree line from a distance before we officially approached the longest unprotected border. We snapped some photos and continued through customs before making our first stop in Alaska at a gas station/ resturant.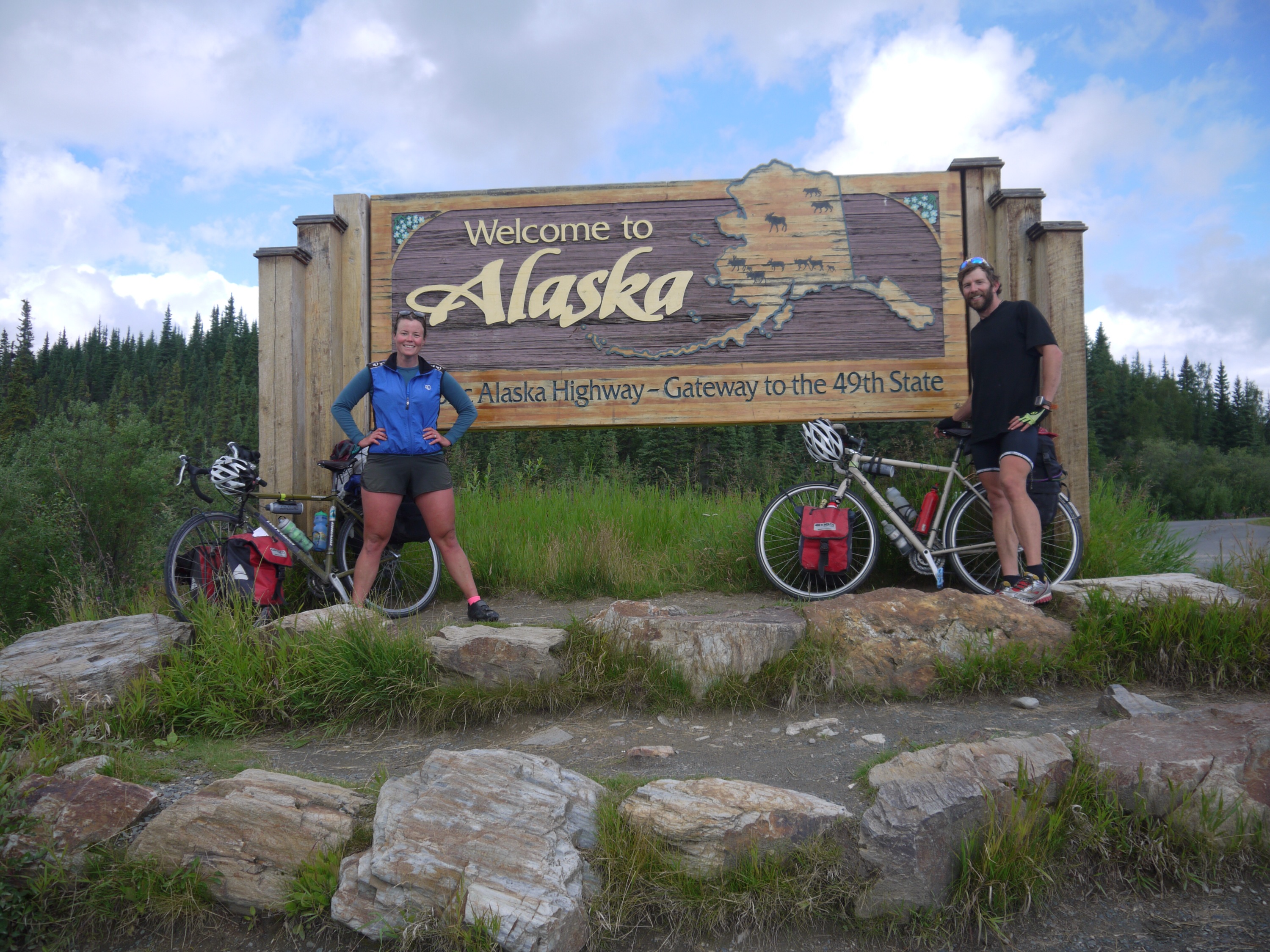 A few snacks and some air in the tires, aided us as we cruised on the smooth tarmac alongside the Tetlin National Wildlife Refuge. We stopped in the visitor center and Melissa came out elated as she got a stamp in her USA National Park Passport that was given to her by her mentor teacher Megan. The clouds made for a dramatic sky but as the wind direction began to change and the color shifted to a dark grey, we began to wonder if we were going to get drenched.
We stopped at Deadman Lake Campground and debated going 1.2 miles off the main road to camp, or continue further up the road with the clouds and headwind looming. We laughed as neither of us could make a decision. When we checked the time and learned that it was just 1:45, we decided to continue, for the sake of not consuming the remainder of our grub as our appetites might get the best of us.
Another hour passed and we couldn't help but call it an early day when we arrived at Lakeview Campground. This public campground is free, and is nestled along the shores of a pretty mucky lake, but pretty nonetheless. The clouds shifted directions, and the faint distant peaks make for an awesome horizon.
We enjoyed conversing, reading, reflecting, and of course dinner of pasta with our remaining cheddar cheese. After dinner, I chatted with a couple from South Dakota who are in the final stages of their trip and our conversation got me really excited about catching some fish outside Anchorage. The gentleman was a pilot and also captivated my attention about the thought of getting a pilot's license in the future. Melissa has been talking about how she wants to work on getting one for herself as well.
While I was away chatting, Melissa was quietly chipping away on crunching numbers and researching potential pathways from Tok onward during our last week of travels.
We polished off our simple meal with some chocolate chips atop a spoonful of peanut butter and placed the food in the bear proof bins before covering the bikes and tucking into the tent. The bugs tickle the tent fly and the sun is still high in the sky as usual as we get comfortable after another day filled with wildlife sightings, beautiful vistas, and friendly conversations.
~ Justin
Day 30 Wednesday July 15, 2015
— IN PROGRESS —
Hello! We are quickly resupplying in Tok, Alaska for a couple hours before heading on to get about 15 more miles in for the day (currently ridden about 60miles). We have not seen a grocery store since Whitehorse over a week ago and we were to our last crumbs last night for dinner. We have decided to keep up our fast pace of 75-90 miles a day for just a few more days until we reach the town of Valdez!!! I am SO excited I convinced Justin to take this route as I heard from my friend, Philip, that the highway to Valdez is one of the most beautiful in Alaska. Onward we go to make the most of this last week on our trip!
We will reach out again when we take a zero day in either Valdez or the Kenai Peninsula.
~ Melissa