GPS CHECKPOINTS (for the last eight days)
OVERALL STATS
Distance: 1,388.25 miles
Ride Time: 119hrs 49min
Elevation gain: 78,165ft
New wildlife spotted: A Porcupine!!
In the days we write about below, we are now rolling along the Alaska-Canada Highway which has a fascinating history from World War II. Worried about Japanese invasions, due to Japanese military making their way onto the Aleutian Islands, the United States decided to build a 1,700mile highway to connect two key cities within Canada and make a thorough fare for military to get through from the states. Completed in its infancy stages in just one year, the road is quite a feat and we are in awe as we roll along it surrounded by vast wilderness, thinking of the men who dedicated so much blood, sweat, and tears to its construction in this remote part of the world. You can learn more about the Alaska highway here.
In addition, I wanted to note that we use a service for cyclists called "Warmshowers" (yes, I find the name odd too) but is a magnificent way to connect cyclists around the world. Similar to the concept of couch-surfing, we reach out to couples and ask if we can spend a night at their home for free. Often, we cook meals together and share stories from our travels. You can write a review of your visit on warmshowers and get a great feel for the people prior to your visit. We have loved every one of our warm showers host and our visits always strengthen our love for humanity and fellow adventurers.
Day 19 Saturday July 4th, 2015
Watson Lake to Rancheria (gas and camping station on ALCAN)
Distance: 73.75 miles
Ride Time: 6hr 41min
Elevation Gain: 3,719 ft
Departure/Arrival time: 10:00am-5:20pm
Today was filled with sad emotions as it began by saying goodbye to our wonderful traveling companions. Tom and sophie have a great energy and could always make us laugh. Best of all, they were strong cyclists who were up for any challenge and we logged some big days together. Sophie was an awesome cook and her and Melissa worked well along side each other prepping meals in town as we enjoyed some awesome feasts on our zero day in the rusty town of Watson Lake.
After teary eyes as we parted ways, us heading North and Tom & Sophie headed South, we rode silently for a while and reflected on the past week before diving into some of our favorite funny moments. The Alaska highway is chip seal (gravel covered in oil) which makes for uneven pavement and lots of vibrations on the hands and ears as cars whizzed. We managed to catch up on stories from the past few days as we hadn't ridden alongside each other since before meeting our British buds in Terrace.
The first half of the day had nothing spectacular as far as scenery goes – simply rolling hills and vast views of the incredible ALCAN highway for miles and miles. After lunchtime, the peaks began to rise up and the clear water slowly meandered on a few gorgeous rivers.
Even with a consistent mild headwind, we made it to the next sign of human life, a small gas station/camp site/restaurant called "Rancheria" at about 5:30. The food was too expensive to order, but the sweet lady at the register gave us a "cyclists discount" on homemade treats for our evening "pudding" as we now call desert (learn from Sophie & Tom).
The lows for the day came as my feet and knee began to really seriously cause me some trouble in the final miles. I have had some nagging foot pain on my right big toe for years and saw a physical therapist before departing who gave me some exercises to do. Despite being consistent and stretching, it seems the big toe joint is just the source of too much pressure and pain. The left foot had some serious rubbing in my cycling shoes and so $12 Canadian scored me some plastic platform pedals in Watson lake so I can now bike in my tennis shoes. All this to say that the toe and shoe change may be contributing to some irritation behind my knee. Thank goodness for an amazing wife who massaged some blue oil (Thank you Toni for gifting it!) on it after an awesome feast of mushroom, zucchini and pesto pasta followed by some chocolate bread.
We are both quietly wondering what the future holds if my feet can't keep it together. Melissa likes to push 75+ mile days to make good progress but my feet seem to start struggling towards the end of days… We are focused on getting to Whitehorse and will re-assess there.
Onward and upward we roll.
~ Justin
Day 20 Sunday July 5, 2015
Rancheria (gas and camping station on ALCAN) – Dawson's Peak Resort (or what seemed like an abandoned campground…)
Distance: 81.25 miles
Ride Time: 7hr 03min
Elevation gain: 3,859ft
Departure/Arrival time: 9:10am-5:30pm
After a quick cup of coffee for me and milk for Justin's granola in the Rancheria lodge, we had a later than usual start bumbling along to get on the road. We were not sure of our final destination for the day, but I was hoping to make it to the next nearest campsite within reach for the day called Dawson's Peak Resort.
As we rolled back onto the highway, we were greeted by our dear friend, the headwind, once more, although it starts out gentle in the morning hours. A porcupine waddled across the road giving us an exciting view of its massive needles and making us giggle at its silliness.
The ride was beautiful for the day, taking pictures of creeks and enjoying views of massive mountain peaks surrounding us. There was a haze in the air from nearby fires, a common theme throughout the Yukon during this dry season.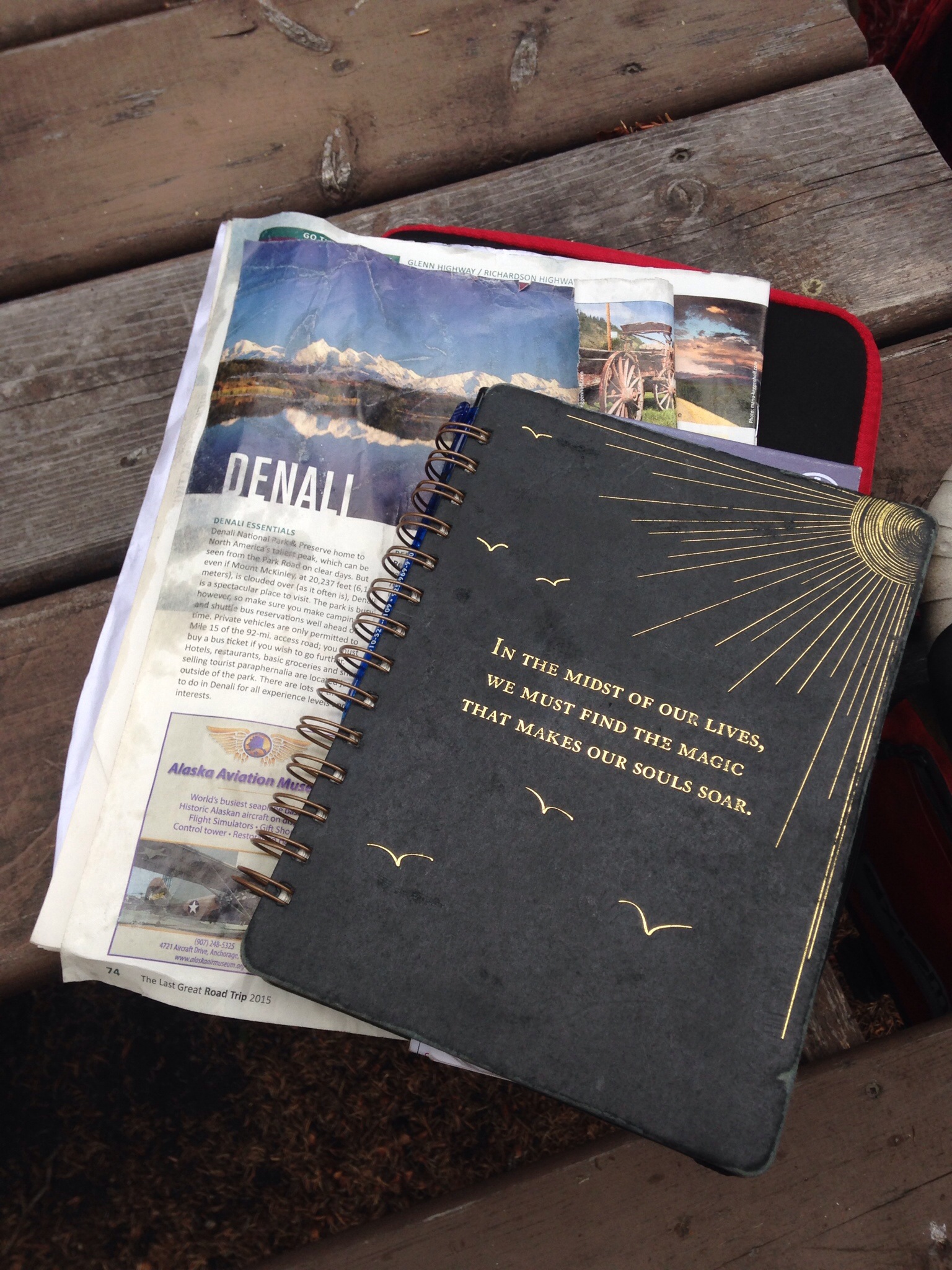 The heat of the day wore on us in early afternoon. With a strong headwind and the sun beating down on us, I started to wain in my energy levels. As the temps peaked to 28 Celsius (83 Farenheit), our water bottles started to get low. With dry mouths and low energy levels, Justin and I started to look for a stream to filter water and started to become nervous as we realized we were on a higher plateau and had not seen a stream in quite some time (a very unusual experience along this stretch of highway).
As we descended down to a shallow lake, we slowed our bikes down to a crawl as we looked over the bridge's edge. Justin was gung-ho to filter from the dark brown water, but I was hesitant, hearing of stories of illness one could get even after filtering water in these bogs.
All of a sudden a road worker walked up from under the bridge, waved with a smile and walked over to us. He laughed and said, "I started hearing voices and got worried thinking it may be due time to take a break in this heat."
The worker, who had an uncanny resemblance in facial features and voice to Mike Rowe, said he would not recommend drinking any of the water in the area, even filtered, and encouraged us to push on to Dawson Resort "just about 35 clicks (15 miles) down the road."
Argh – digging deep, we battled the headwinds in the late afternoon sun, thirsty but only wetting our pallets to help soothe our dry scratchy throats. To make matters tougher, Justin's foot was hitting its max for the day, making us stop numerous times to give him momentary breaks. I pulled us the remainder of the distance at a very slow pace and the kilometer markers finally clicked to our final destination… A closed down building with a few dry campsites, no trash cans, and a very rustic outhouse. Hmm – "Resort" does not have the same meaning in the Yukon as it does in California…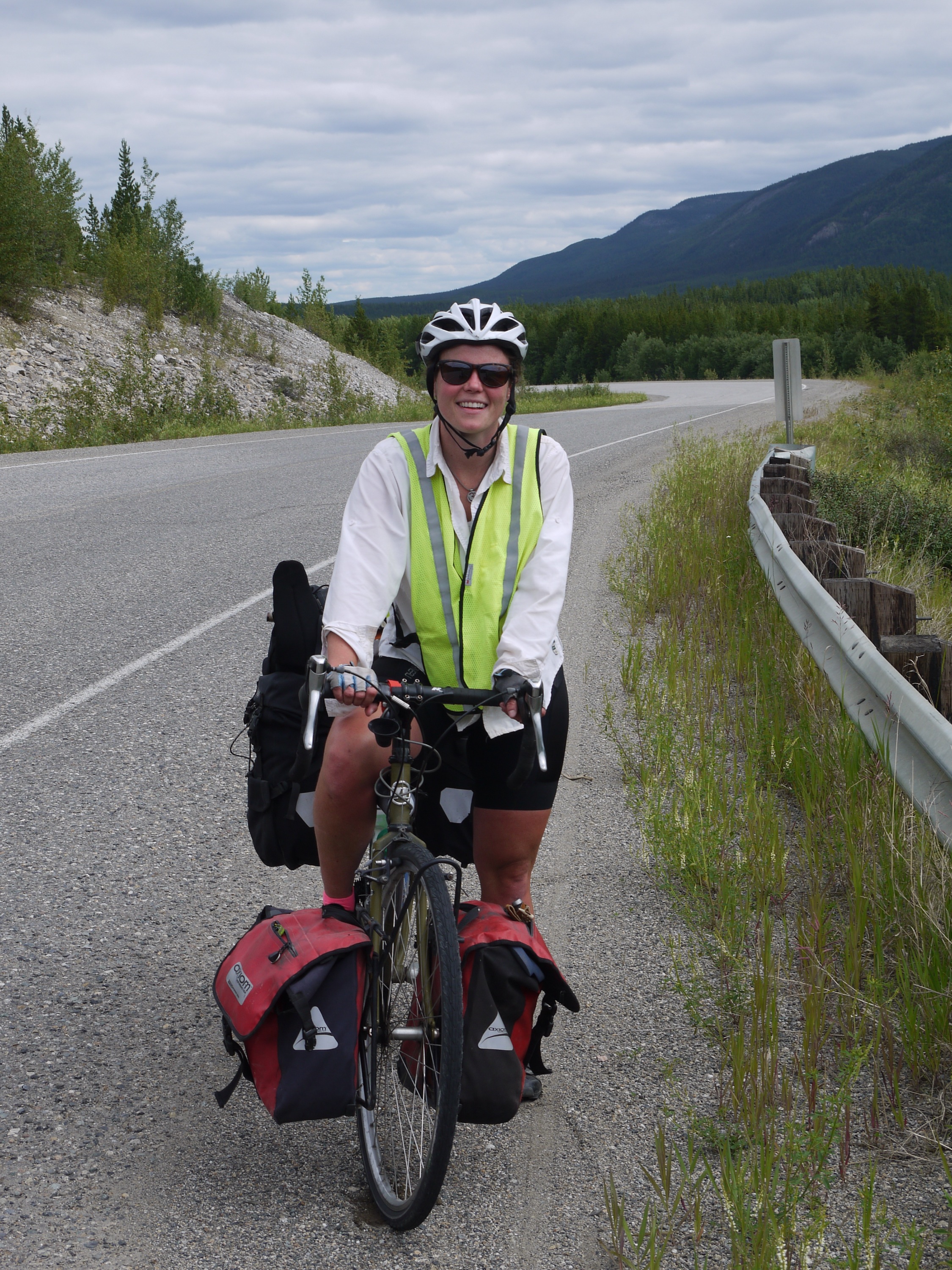 We guzzled water from the faucet and made a quick dinner of couscous with onions, zucchini, carrots, and cheddar cheese before diving into our tents for a reprieve from the mosquitos and an early bedtime to recover for a tough day of cycling.
~ Melissa
Day 21 Monday July 6, 2015
Dawson's Peak "Resort" to Marsh Lake warmshower's host (PARADISE!!)
Distance: 93.5 miles
Ride Time: 8hr 21min
Elevation gain: 4,096ft
Departure/Arrival time: 6:45am-6:30pm

Knowing we were just 14km (8 miles) from Teslin (a pretty "big" town of population 484), Justin and I decided to eat a quick granola bar each and pack up camp quickly so we could roll to Teslin for a delicious sit-down breakfast.
By 6:45am, we were on the road and the cool air and low sun were happily welcomed after such a hot and dry day prior.
The ride to Teslin had a short climb and then a blissful downhill with little wind to get in our way and a gorgeous view of the longest bridge on the Alaska-Canada Highway.
When we reached town, we stopped at the main hub where the scent of bacon wafted from the restaurant doors. After we both enjoyed a traditional breakfast of eggs, toast, hash, and bacon (well, Justin was able to convince the server to trade the hash and toast for pancakes), we set off North with our next stop being 20 miles ahead – Johnson's Crossing, home of "the best cinnamon buns in the world." Yes, please.
It was a quick ride to fix our craving for sweets – one massive, delicious cinnamon roll, two giant chocolate chip cookies, and a blueberry scone later… we ate a little bit of cheese, sardines, and crackers for lunch to balance us out and set-out for another 60+ miles to Marsh Lake.
With just speckled tiny lakes surrounding us along the road, we weren't expecting much at Marsh Lake. To the best surprise possible, Marsh Lake was a gorgeous, crystal blue body of water where a warm shower's host, Peter, lived along the western shore. We were just a little over 30 miles outside of the capital and main hub of Whitehorse now, and my phone had international service! So we sent Peter a text asking if we could swing by, since we were a day early, having cut our riding time from 5 days to only 3.5 days to arrive in Whitehorse.
Peter welcomed us with open arms to his home in paradise. In 1972, he left Wisconsin and walked to the border and asked to be a Canadian citizen, a request that was accepted right at the border. As an avid back country skier and explorer extraordinaire, he found himself gravitating to Whitehorse at a time when you could simply stake a claim to land along Marsh Lake and the Yukon River! 43 years later, he couldn't be happier, enjoying cycle touring and skiing from his beautiful home on the lake front. A carpenter by trade, he built a homemade house boat that sat on his dock.
After arriving, Justin and I ate a quick snack, explored the property, and jumped in the warm lake for a quick rinse. Peter has a limited water supply and so water is a rare commodity to use at his home. Peter took us out on his boat with friends for an evening float and we watched the sun start to arc over the Yukon River. Justin and I decided in that moment that we will canoe the entire Yukon River, which is 1,980 miles, at some point in the future.
We chugged back over to Peter's dock about 10:15pm, and by this time, Justin and I had empty pits for stomachs, hungry from a big long day of riding. Fighting seeing cross-eyed, we looked at maps and heard stories from Peter as friends from Belgium and France cooked a magnificent feast of spaghetti with homemade delicious tomato/pesto sauce.
We decided to set-up our tent on the cushy grass along the edge of the property over-looking the lake, and at 11:30pm, our latest bedtime yet, we fell into a deep, peaceful slumber.
~ Melissa
Day 22 Tuesday July 7, 2015
Marsh Lake Paradise to Whitehorse cozy home (warmshower's host)
Distance: 30 miles
Ride Time: 2hr 32min
Elevation gain: 1,570ft
Departure/Arrival time: 8:45am-11:30am

Oliver, Peter's dog with the most epic life, slept right next to our tent in the grass, stretched out looking at the view. Oliver explores all throughout the area, swimming across the lake to visit dog friends every day on his own while Peter is off to work. His loyalty and happiness was contagious.
We woke up from a great night's sleep and quietly packed our belongings, giving Peter a huge thank you and goodbye before setting off around 8:45. I was SUPER hungry for yummy food in town, and the 30 miles to town seemed to just slowly putter along.
We were amazed by the amount of cycle tourists coming the other direction – throughout our trip we stop to chat with southbound cycle tourists to exchange information about the road. In fact, that is how we found out how amazing Peter and our upcoming hosts Kathleen & Colin are.
Peter recommended entering town from Miles Canyon highway, so we swung right off the road and followed the massive, teal waters of the fast-flowing Yukon river to town along the canyon's steep edge. I had a weird feeling come over me as we moved along the stretch of road, as if I was riding home.
We saw the S.S. Klondike ship in the distance, who plowed along the yukon river to connect Whitehorse with the world before roads, and smiled at our welcoming site of Whitehorse.
First things first, as with any town, stop in to the visitor center to get the scoop on yummy restaurants and town pamphlets. We celebrated our big milestone of reaching this "large" city by heading to the famous Ribs & Salmon where we gobbled up a bison/elk/boar burger and chicken smothered in Swiss cheese sandwich each with heaping piles of fries. I guzzled down a few cups of coffee, since I happily gave away my coffee filter to Sophie & Tom as a parting gift on their big adventure! Since they both drink coffee (Justin does not) and had a much longer adventure ahead of them, it just seemed right to give them a gift they could use every morning!
With full bellies, we visited cadence bike shop to complete some maintenance on our bikes (fix some spokes on Justin's rear tire), before heading over to Kathleen & Colin's beautiful home. We all chatted about how our lives had led us to sitting in the same living room before grilling up veggies, sweet potato, and homemade bison burgers for dinner!
In the evening (when the sun looks like 3pm California time at 8:30pm) Justin worked on bike maintenance while I typed away in their quiet, mosquito-free living room. Big smiles all around.
~ Melissa


Day 23 July 8, 2015
ZERO DAY IN WHITEHORSE
Finishing up the blog post and headed out from some exploring/hiking in Whitehorse! We have to make a tough decision about whether or not to head down to Skagway, ferry to Haines, and ride up to Tok, Alaska from Haines. It was not in our original plans and would leave no room for error or rest in making it to our flight in Anchorage on July 23rd…. but every single local we talk to swears it is a must-see and we are so close.
Think I can convince Justin?? I have been crunching the numbers over and over and think we can do it with a fast-clip, but my only concern is Justin's feet and their struggles…
More to come!