OVERALL STATS TO DATE:
Distance: 1,110 miles
Ride Time: 95hr 12min
Elevation Gain: 64,918 ft.
Wildlife spotted: 12 black bears, 5 black foxes (very rare!!), 1 brown fox, 8 bald eagles, and one fierce grizzly bear… oh wait no.. that last one was just my furry husband Justin.. 😉
Flat tires: 1 for Justin in Campbell River, Vancouver Island / ZERO for Melissa!
GPS CHECKPOINTS (From last 8 days)
Day 10 Thursday June 25, 2015
Terrace, British Columbia Canada to Nisga'a Memorial Lava Beds Provincial Park
Distance: 64.74
Ride Time: 4hr 50min
Elevation Gain: 3,504ft
Every day we ride, I am always shocked sitting with the ipad at the end of the day, trying to recall the days events to record and reflect on. This morning seems so long ago, as if it was another day all in itself.
This morning after a scrumptious breakfast of poached eggs, hollandaise sauce, potatoes, and homemade bread, we decided to set out on the open road with Sophie and Tom, our new British friends who also stayed at Cheryl's house. We were happy to spend the day riding with them, as it eases my worries about being in bear country on our own as well as helped the miles pass by quickly.
I am finding that every time I wish for something on this journey, it comes true. The other day, when we rolled into Campbell River, Justin and I laid on a manicured lawn for a while simply people watching while having a snack. Justin asked if I could eat anything right now, what would it be? I was having a moment of homesickness and no food is more comforting to me than chicken pot pie. Not ten minutes later, we stopped into a grocery store for a re-supply of food and the main attraction in their hot food bar was beautiful, delicious chicken pot pies! Just like this wish for a specific food, the wish for friendship and a larger group to travel with through the rough wilderness ahead has been granted with the presence of Sophie and Tom.
This lovely British couple from Cheffield started their bicycle journey in San Francisco, heading south along Hwy 1 before swinging over to the Grand Canyon and up the Rockies into Canada. They have been on the road for four months and plan to head to Toronto after cycling north on the Stewart Cassiar. From there, they will take a plane to Mexico (since they can no longer enter the states until leaving the continent apparently according to States rules!) and ride down to the tip of South America, similar to what Justin and I did in 2011-2012.
Follow their journey here!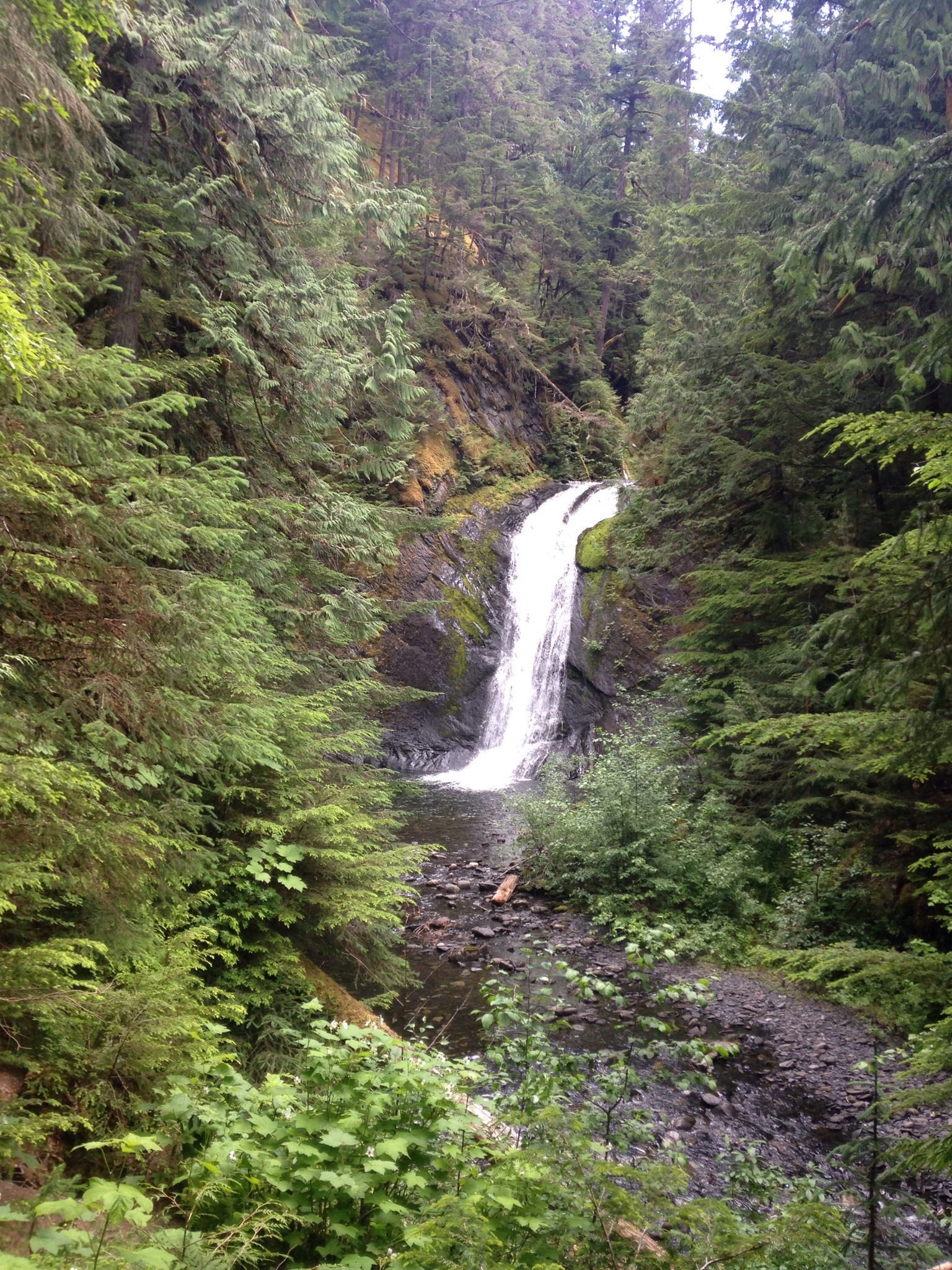 We rolled along the beautiful countryside together with intermittent rain showers cooling us off along climbs. Since the weather changes so quickly here and it is never very chilly, I never took out my raincoat, knowing I would be dry within the hour after the rain stopped.
Towards the end of our day, we reached Nisga's lava fields from a volcanic eruption that killed over 2,000 natives approximately 250 years ago – the site of the last volcanic eruption in Canada. This was Tom's first time seeing volcanic rock and we admired the crystal blue streams that bubbled from the lava beds right along the road.
As the day came to an end, we raced to a provincial park that seemed to not be monitored yet for the season and was therefore free. We set up our tents and cooked quickly as a storm lingered in the distance and the mosquitoes attacked in force.
~ Melissa
Day 11 Friday June 26, 2015
Lava beds Provincial Park to Meziadin Lake Provincial Park (BEGIN Stewart Cassiar Highway)
Distance: 90.84 miles
Ride Time: 7hr 53min
Elevation Gain: 5,187ft
A wet and buggy start to the day along with some oatmeal fueled the desire to cover some miles as a 50 km gravel stretch separated us from the Stewart Cassiar. The spitty rain continued as we trekked along a hard-packed dirt road which undulated through the trees and over rivers. The English couple (Tom & Sophie) made for great company as the miles seemed to pass quickly with laughter and conversation. We had our usual snack stop atop a bridge passing a swiftly moving current and Tom and Sophie raced some bark by dropping it off the bridge. Shortly afterwards, I posed the challenge of who would be the first to hit a log with a pebble.
Lunchtime came a tad later than usual for us as we stretched it to celebrate at the sign of pavement once more and had covered 40 miles. The enjoyment of fuel wasn't quite the same as the pesky gnats, mosquitoes, and noseeums caused all of us to stand while eating and do the not-so-relaxing bug shuffle.
The Cassiar is supposedly less traveled than the Alaska highway and has plenty of shoulder to sail smoothly. The first 25 miles were lined with the trees and scrubs and had very few stream-lets to collect water. The two we passed were named grizzly culvert and brown bear stream leaving us all a little too uncomfortable to filter water at their shorelines. As we cruised along, the desire for dinner grew within us all and after a quick filter we stopped at a pull out for some couscous and lentils. A delicious compliment of butter, crackers, and sardines served as appetizer.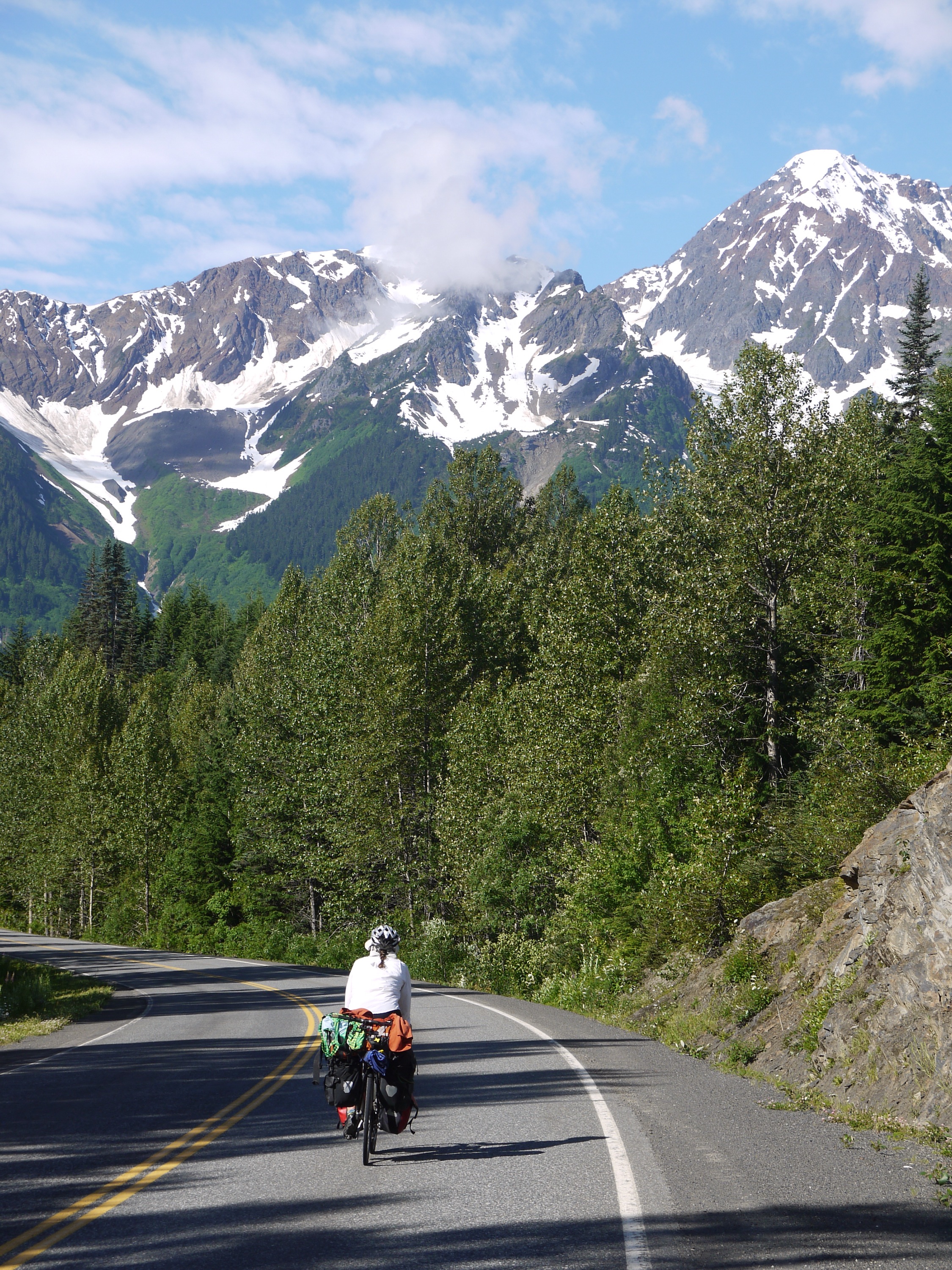 Each meal requires incredible self-control as the moment I dive into the bear bin and take inventory the appetite seems to rev up like a teenagers muscle car at a stop light. I withheld the urge to eat everything we had as 6 days lie ahead of us before Watson Lake, our next major town, and only a few small stations to fill in the gaps.
We arrived at a provincial park where we found a nice campsite near the water and settled in after some almonds and gummy bears. Our weary bodies endured some more beautiful miles in British Columbia and we may alter our original plans to deviate off the Cassiar to visit the town of Stewart.
~ Justin
Day 12 Saturday June 27, 2015
Meziadin Lake Provincial Park to Stewart (Stewart Cassiar Highway)
Distance: 40.52 miles
Ride Time: 3hr 11min
Elevation Gain: 2132 ft
During the evening at Meziadin Lake, Justin and I decided that we have absolutely loved the companionship of our new friends Sophie and Tom. With that, we have chosen to descend down to the small town of Stewart with them since they needed to resupply their food for the long stretch of wilderness along the Cassiar. While this is an unaccounted for day and a half in our plans, it will be well worth it for the shared memories our experiences together will provide. With that, we started what we thought would be a "short" day of riding to Stewart. Sadly, the "all downhill" roll to Stewart was actually filled with steep climbs and a strong headwind, causing us to feel exhausted even in just three short hours of riding.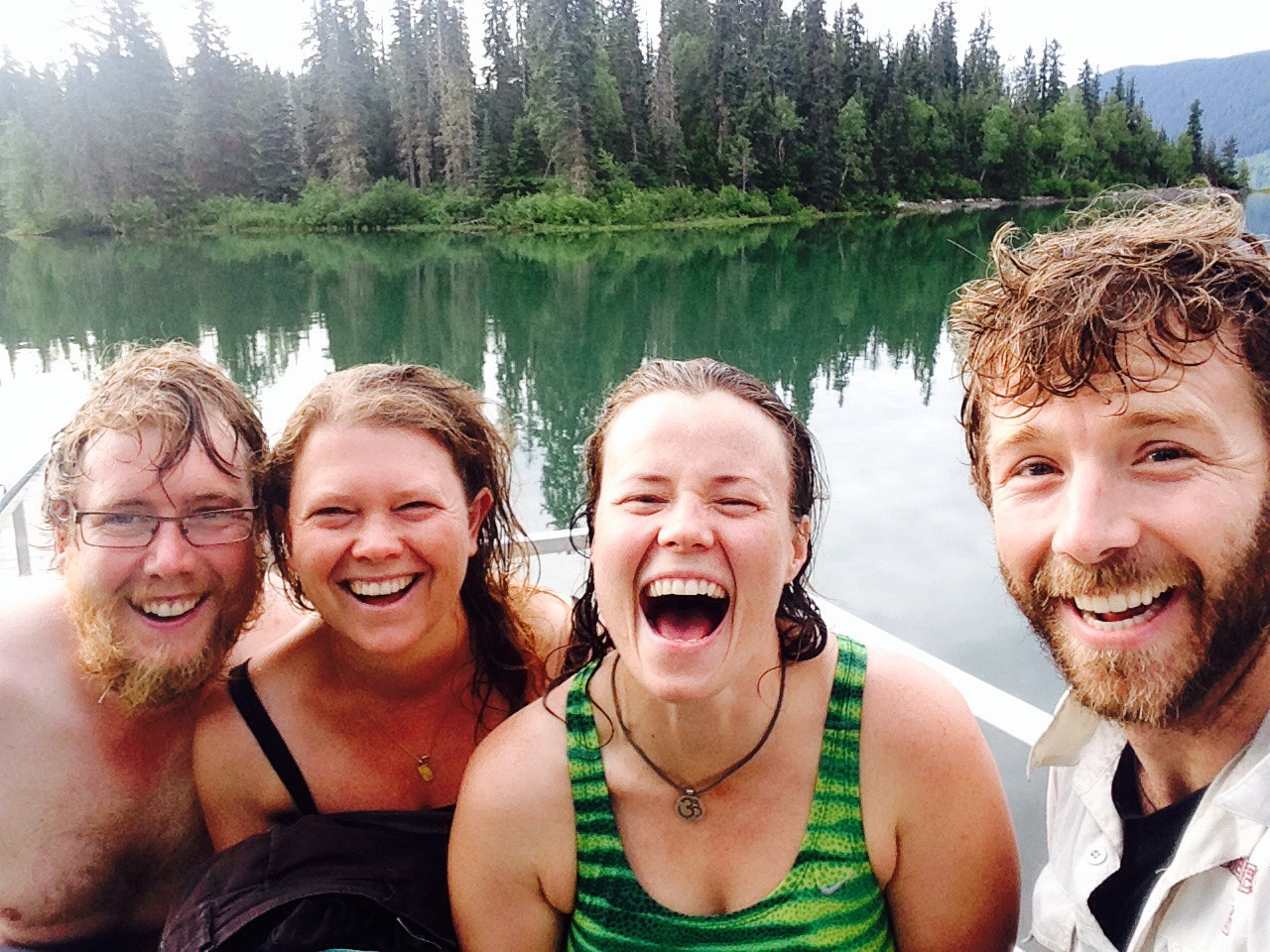 Justin often rides with Tom a little ways ahead of Sophie and I who take the climbs a tad slower. We spend the days chit chatting about life, laughing at each other's unique country phrases and customs. For example, Sophie was shocked by the size of American motel rooms and couldn't understand why each room came with two queen size beds.
I find myself now saying "Rubbish" instead of trash and "mozzies" instead of mosquitoes. Sophie now knows what the phrase "cut the cheese" means and we all get a good laugh we she asks for a glass of water with an American accent.
When we arrived in Stewart, we were surprised by how exactly small the town was! Stewart had one main strip of stores, with two little grocery stores, a bar, hotel, and a few knick-knacks. The town seemed to be battling becoming a ghost town ever since the ferries stopped arriving in their port. Stewart, B.C. and Hyder, Alaska use to be the single port town of Portland before the boundaries of Alaska were drawn right in the middle of the town. The bustling town of over 10,000 people in Portland were divided, and as industry waned, and the ferries declined, so too did the town's overall morale. Now Stewart and Hyder are mainly tourist towns near beautiful glaciers with visitors coming to see the ice, grizzly bears, and enjoy the scenic views.
To celebrate Tom and Sophie's four month-aversary of being on the road, we made root beer floats in the town's park. They had never enjoyed the pleasures of ice cream mixed in root beer and we laughed when Sophie commented, "Well that is an interesting mix of flavors…"
In Britain, any desert is called "pudding" and so after a meal, when we often crave a sweet treat to complement our re-fuel, they would discuss what pudding to eat for the night. While drinking/eating the root beer float, Tom asked, "So… is this suppose to be a pudding or drink??"
After our yummy floats, Sophie and I bought fixings to make steak and grilled onion sandwiches on rolls. We sat at the dock of Stewart, enjoying a peaceful afternoon while replenishing our souls with yummy food.
Since the provincial park's manager seemed to be a bit, for a lack of better words, warm or welcoming, we decided to take up the offer of one of the grocery store owners to camp on his lawn for the evening under the giant walls of mountain reminiscent of Yosemite towering above us.
A big climb awaits us to head back on track tomorrow on the famous Stewart Cassiar Highway!
~ Melissa
Day 13 Sunday June 28, 2015
Stewart to Roadside Wild Camp 40km before Bell 2 Station (Stewart Cassiar Highway)
Distance: 74.6 miles
Ride Time: 6 hr 29 min
Elevation Gain: 5,465 ft
Up up up and away we went from Stewart pushing forth into the great wilds of British Columbia. Amazingly enough, the climb was not difficult at all and with the chit chat of our friends, we seemed to fly up the hill. Intermittent downhills (that kicked our butt on the way to Stewart) in addition to beautiful scenery also helped to keep our engines moving steadily.
As we huffed and puffed up the hill, we cheered each other on and discussed how we have become a close-knit team. We decided to be called TEAM BABY BUNNIES after a funny story Sophie told us about a family they stayed with in Montana. The family had the most precious little girl who often asked to play with their cute baby bunnies with a high-pitched sweet voice. Sophie now calls their peanut M&Ms (a precious commodity on the road for them) baby bunnies and we giggle every time, saying baby bunnies in the high-pitched baby voice as well. The things you come up with when you are in the wild…
We celebrated the return to Meziadin junction right around noon and parked our bikes at a gas station with chips and soda to enjoy lunchtime in the shade of the station's deck. Three young cyclists came from the North headed on the popular journey to South America and we swapped stories and information about the roads to come for each of us.
The road was steep after lunch and we made much less progress than we expected. Around 6pm, with the nearest provincial park still 20 miles away, we decided to camp near the road by a bear bin (these are sporadically on the road to store items in a bear safe container). Having already cooked dinner 10 miles prior, we simply set-up our tents and jumped in for shut-eye, hiding from the awful mosquitoes swarming us in the humid heat of the night.
Sophie struggled to sleep, nervous about the prospect of bears, and in the middle of the night heard rustling in the bushes next to us. She quietly opened the door to see a rabbit staring back at her. Startled, it jumped into the bush and away into the night (although "night" here is now simply dusk…). We all took that as a good omen for TEAM BABY BUNNIES :-).
~ Melissa
Day 14 Monday June 29, 2015
Roadside Wild-Camp to Kinaskin Lake (Stewart Cassiar Highway)
Distance: 94.48 miles
Ride Time: 8 hr 11 min
Elevation Gain: 5,632 ft
We awoke feeling fairly rested despite the loud cars passing while sleeping on a knoll alongside the road. We had discussed eating a second breakfast at the cafe at Bell II when we got there so we got a jump on the morning by waking up 30 minutes earlier than usual around 6am. Upon getting out of the tent to get a groove on the day, the flies and mosquitos were so atrocious that it was all we could do to get our stuff packed, remove our food from the backside of the trash bin and begin pedaling while munching on a protein bar at 7am – a record start for all of us.
The miles felt labored without fuel in the tank, but the thought of buying some eggs, or eating something different for breakfast aided the push. We arrived to a nice lodge with folks sitting down eating a proper meal! We couldn't find a seat quick enough, before we gazed at the menu and decided upon the traditional breakfast of eggs, bacon, potatoes, and toast, along with a side of pancakes. We all agreed that was the best bang and upon ordering the waitress stated, "Just so you know the pancakes are a full order as a normal size meal…" and we couldn't help but smile at her in anticipation for the quantities of food to come. Melissa decided to hold out on the pancakes but when we each received our orders before the main course, the lady asked, "You didn't order any right?" to which Melissa said, "Yes, and I am sadly regretting that decision."
X
Tanesha, our server, smiled and said, "Well there was an error and we made four orders instead of three so I'll bring you a plate too, free of charge!" Melissa smiled with joy and devoured the extra order of pancakes right along side all of us (a rare sight to see as she often declines pancakes back home). The "full order" of 2 fluffy, delicious pancakes was merely a wonderful light snack before, before we gobbled up our toast,eggs, and bacon.
With mostly full stomachs, we headed North. The miles came fairly slow as there was plenty of little rollers. The grey clouds began to drizzle, and mentally I began to really struggle. The previous 5 days had put 365 miles on the legs and I was really feeling fatigued. The wet roads make for risky crossings of the metal grate bridges, and it felt like my legs were sandbags on each uphill. My right hand has been having some carpal issues (since before the trip) and that combined with my toe feeling cramped in my shoe, made me a bit discouraged. As I battled through the miles, we passed a brake check station and a sign showing a steep descent followed by a climb up the other side. We enjoyed the quick downhill, but after crossing a river we faced a wall. The road was certainly a steep pitch and with loads of gear, there never seems to be a low enough gear to spin it out. The overcast weather made for some humidity, which combined with the climb made the charge challenging and sweaty. Just when I started to find my rhythm on the grind the mosquitos came in full force. I am talking about swarms covering my legs and buzzing around my face. It became obvious that I was not the only one as Tom, just up the road, was busy swatting too. I could bear it no longer and flipped around the descend a couple hundred meters for repreave. I descended below Sophie and she thought something was wrong with Melissa, until I hollered I just need a break. She laughed and continued to swat and curse the bugs. I flipped around with a fresh start and kept spinning, the bugs were back. I repeated the process and then stopped for 30 seconds to pull out the lemon scented bug juice to help with the issue. Little help it was, as I passed it off to Melissa. We continued to swat, and swerve while carrying our heavy bikes up the hill. Five kilometers have never been so difficult.
I finally started to come around by mile 80 ish and enjoyed the final stretch to the lake. The rain returned as we pulled off the road, and fortunately let up after we gobbled up a family size Annie's macaroni and cheese. We laughed and conversed while doing our "Happy, Silly, and Sad" moments of day, and reminisced about the mileage we covered. There is a great feeling of accomplishment between us all and we each congratulated each other as I know in my heart of hearts that it was honestly one of the tougher days mentally that I have ever had.
This journey certainly has been a sweet one, as the steep snow-packed peaks, combined with the bear sightings (we average at least 1 per day), and wide open vistas make this landscape a true gem. It makes sense why folks come from all over the world to drive this stretch of road and see true wilderness, but to be on a bicycle and truly experience the elements, makes it a whole different beast. May the miles continue to be amazing and memorable.
~ Justin
Day 15 Tuesday June 30, 2015
Kinaskin Lake to Dease Lake (Stewart Cassiar Highway)
Distance: 76.91 miles
Ride Time: 6hr 34min
Elevation Gain: 4,285 ft
I really struggled to leave Kinaskin Lake this morning. The campsites are right along the beautiful water's edge and the gentle breeze, absence of mosquitoes, and lovely campground ranger made this place high on my favorites from the journey so far. I can see why families continually come back to Kinaskin Lake each year.
We hit the road around 8am with knowledge that we had a big climb for the day over Gnats Pass. We hoped this pass did not promise what its name hinted at and set off with high hopes for a speedy day of riding.
Around 10am we pulled into Tatooga Lodge, where we witnessed a full size stuffed moose and all its grandeur while gulping down egg sandwiches and countless cups of warm coffee. The owner of the lodge kept telling us how insane it is to ride a bicycle and how it costs more than driving a car (which we could easily argue the other way on but we all decided it was not worth it and smiled politely).
Justin:
Here we stopped and had a tasty breakfast sandwich and some cookies (well when I say we, it was mostly me on the cookies :). I opened the plastic and offered Melissa as she was snapping photos of the taxidermy animals and she replied "Nah, I'm ok now…" as she sipped her coffee. I interpreted this as "Go for it!" When I opened the final pair of cookies later in the afternoon and she asked about the other, I restated what she had said and to my surprise she had thought I would kindly pack them away and save them for her… hahha this hungry bear had different intentions.
We had an interesting interaction with the owner as he continued to inquire about why we would bicycle tour instead of purchasing a toyota prius and "saving lots of money." It was a bit uncomfortable as we enjoyed our sandwiches and we had laughs for miles as it was obvious we weren't interested in driving.
At lunch, we stopped at a rest area with picnic tables for our usual lunch of salami, apples, crackers, and cheese. A fire rescue truck broke the quiet mountainside meal with loud sirens as it sped past us. We looked at each other in silence, surprised by the odd event of a truck flying by in such a remote area but our curiosity shortly waned as we set out to finish the 40 miles left on the day.
Gnats pass reminded me of the peaks just east of Truckee in the Sierra, with tree-less smooth peaks speckled in snow. When we arrived at the top, we were celebrating not having been attacked by gnats when a cyclists arrived at the pass coincidentally from the opposite direction as well. He warned that the road was closed after Dease Lake due to a severe car accident with one casualty. This information did not sink in until we rolled the last few gorgeous miles to the tiny town at about 6:30pm.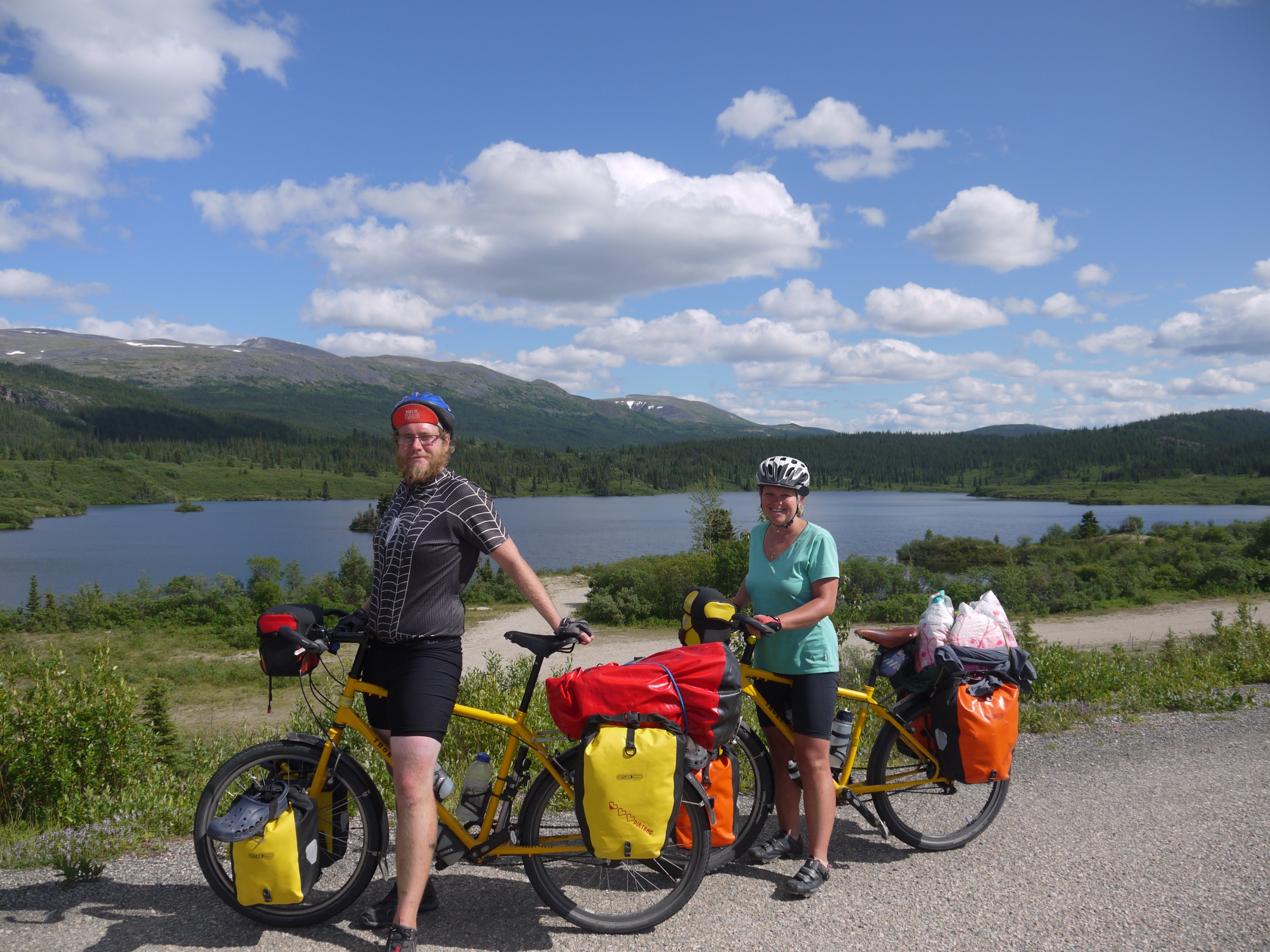 The one and only gas station/restaurant/grocery store was filled with trucks, motor homes, cars, and motorcyclists. A note on the station's door stated that the road was not scheduled to open back up until 3am. A woman at the doorway explained that a motor home had crashed on its side into a ditch after over correcting and zig-zagging across the road. Five children and a few adults were uninjured, but tragically one passenger, from California, who was sleeping in the back was launched from the car and killed.
Due to there not being service in the area, it took some time for a car to report this incident to the town and for the town to call for emergency services. The coroner had to drive from Prince George, 10 hours away, so the scene of the accident and body were left untouched until the proper people arrived to the accident.
I told Sophie, Tom, and Justin I would watch the bikes as they went in to decide on the evening's dinner. I sat on the steps and wiped tears from my eyes, greatly saddened by how another family's travels could be so abruptly turned tragic.
We all rolled our bikes to a nearby ministry where Sophie and I cooked chicken curry with broccoli, carrots, and rice noodles for dinner. We soaked up the yummy sauce with naan bread and continued our tradition of talking about our happy, silly, and sad moments from the day.
I miss home more today than I have in a long time. Hoping for brighter spirits and new sunshine tomorrow.
~ Melissa
Day 16 Wednesday
Dease Lake to Boya Lake (Stewart Cassiar Highway)
Distance: 95.75 miles
Ride Time: 8 hr 8min
Elevation Gain: 4,950 ft.
The tent top had been keeping us a bit warm with the high evening sun while tucking in so we decided to have a night without the rain fly. We awoke to discover the temps had reached dew point and our bags and the tent walls were soaked. Fortunately, the sun was already up and it didn't take long to dry.
We began the first of July (Canada Day!) by rolling out of town before the pancake breakfast and festivities began to get a jump on the nearly 100 miles we planned to cover. We had been told Boya Lake was spectacular and worth the short side trip and we wanted to camp alongside this beauty.
The road was smooth and at this point on the Cassiar there were no painted lines for lanes as the width of road varied. We began the day with our "Bear Sweepstakes" in which we would each guess a number for the amount of bears to be spotted. As we made our guesses, we spotted a sneaky brown fox with a lengthy bushy tail hunting for some morning food. Not a mile later I caught glimpse of a black fox darting through the forest off the roadside.
We had a gradual descent to Rabid Grizzly rest area, where we paused for the ladies to catch up and say "Did you see the bear?!? It was so close we could almost touch it!" Tom and I laughed as we had totally missed it. This particular rest area was where a solo cycle tourist from Massachusetts had told us a story of how he stashed his food in the trash can, awoke late the next day and found the trash had been taken out as well as his food bag hiding in the back of the bin. He was forced to ride 18 miles (mostly uphill) into Dease Lake and meandered all over town to locate the missing food.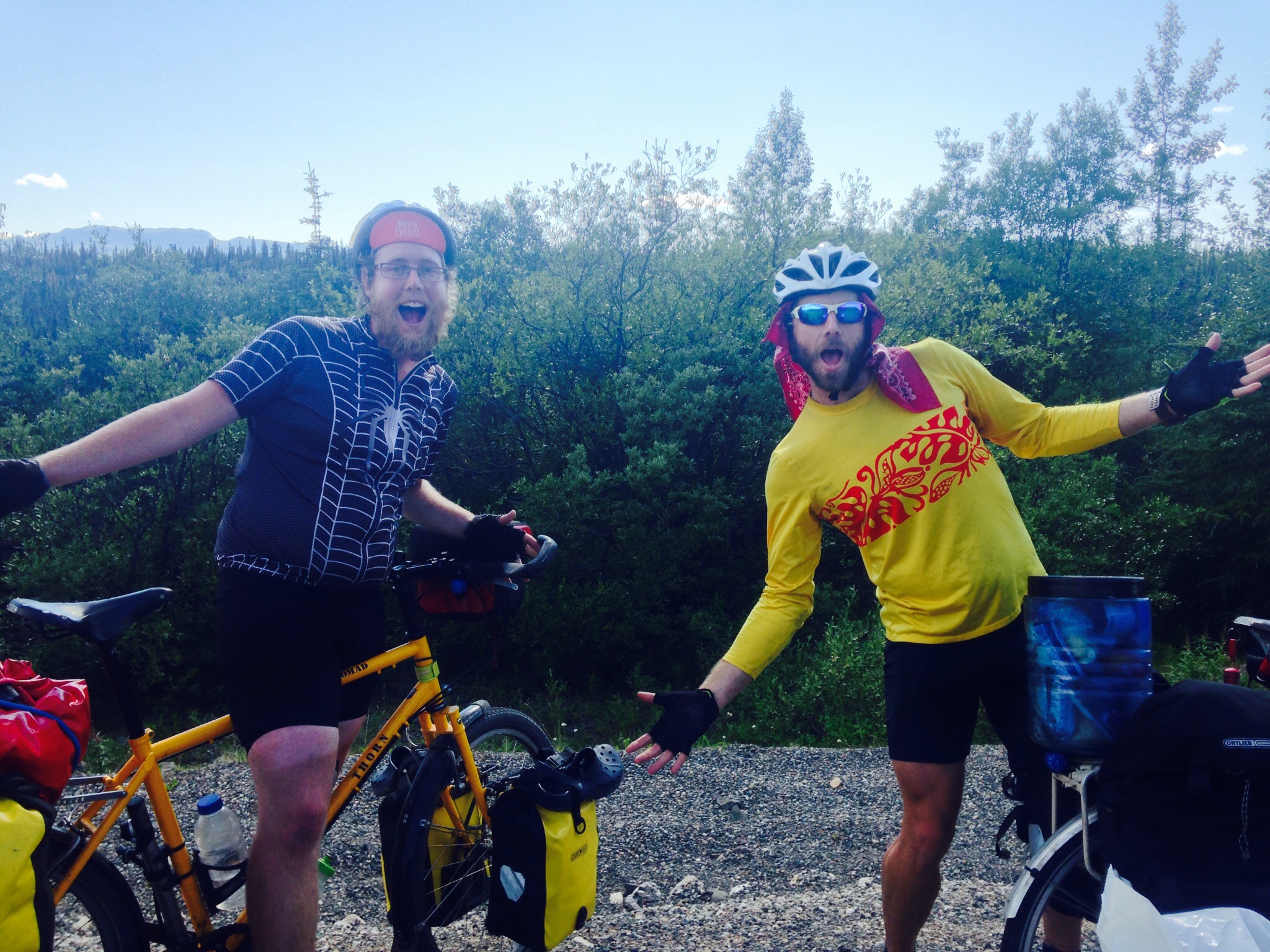 Our lunch spot had a frigid stream (as they all are) but felt great to have a foot soak. Melissa has been incredible bold in the chilly water, and in this particular instance literally laid down face first in about 9 inches of water for the complete body numbing experience. A great relief to the pesky insects and bites.
A pit stop in the iconic town of Jade City (soon to have it's own TV show!) was well worth it. Randy, the restaurant waitress/ server/ cook/ cleaner/ housekeeper/ mother of a 1 year old, ran the place and talked about how her father founded Jady City in the 80's. They were about to have powerlines installed after all these year of running off a generator. She described summers when tourists would be trapped in town due to fires on either side, and how stressful it was to run a restaurant when the nearest Costco was in Prince George over 8 hours away (they recently got a food truck to stop about 2 hours North and they shuttle food in).
I did some serious damage on a loaf of homemade bread (had a little help in the end after deciding the remaining bits weren't worth toting) and Melissa enjoyed some chicken soup. Randy had an awesome heavy hand and split a double scoop of peanut butter ice cream for us to top off the event. In the end she commented on our journeys and wished us safe travels.
Less than a mile later Tom flatted for the second time in two days and we all could hardly resist the urge to turn back for more ice cream. Tom replaced his tire with his spare as he had a sizable slice in the Schwalbe that the tire boot from a day earlier just didn't repair.
This time of day always gets us excited as we near the end of the day and the sun begins to fall (slightly) in the sky. We quickly descended into Boya lake, but not before the gals spotted some wild strawberries. They began picking as quickly as they could, and when we reached the campsites, the park manager directed us to the lawn alongside the water with picnic tables and a campfire. We had literally scored the best site in the area, within a stones throw of the dock, with picnic tables and a tree for hanging the towels after a refreshing splash in the aqua marine water.
The fish teased us as they leaped to snap up the few mosquitoes and the occasional passerby inquired about the miles we had covered. Our bellies were full, bodies semi-clean, and muscles tired as we did our "Happy Silly Sad" on the days events. We fell asleep with smiles on our faces, mine a smidge bigger as the winner of the bear sweepstakes. Just another lovely day in British Columbia, as this would be our final one sleeping in this great province.
~ Justin
Day 17 Thursday June 2, 2015
Boya Lake to Watson Lake (END of Stewart Cassiar Highway)
Distance: 69 miles
Ride Time: 5 hr 35 min
Elevation Gain: 3,773 ft
I woke up this morning and stared out at Boya's crystal blue lake as I sipped my morning coffee. The trees along the shoreline reminded me of a Boss Ross – "Trees don't just grow straight, they grow however makes them happy. Happy trees." 🙂
The signs leaving Boya lake LIED to us which kicked off a day of disappointments. When driving in a vehicle, 5-7 miles may not seem like that big of a difference, but on a bicycle, they can feel crippling when extending your distance to a piece of pizza or chocolate milk.
We officially exited British Columbia today, now entering the Yukon Territory. The vast Yukon territory has a population of approximately 40,000 people, with 32,000 of them living in the town of White Horse!! Watson Lake, our destination for the day, was the third largest town in the Yukon, with a population just over 1,100 people.
Sophie and I were having a tough day mentally, hungrier than all the days before. All of us were drained from the big push from Terrace six and a half days ago and we were ready for a motel room with clean sheets, showers, laundry, and massive amounts of pizza.
When we rolled into Watson Lake, our hearts were shattered. The highlight of Watson Lake is its sign post forest where "Signs go to rest." Started in 1942 by a lonely, injured American soldier missing home, people passing through this truck stop town putting up signs since, with over 70,000 signs hanging to date.
Yet, as we checked out the motel rooms in town, we found that $140 got you a musty, dark and creepy room. That's $140 dollars worth of delicious food I rather be eating. A storm was rolling into town around 4:30pm as we stared at each other in despair and disappointment. We decided to roll to a restaurant recommended by a gas station clerk that served hand pressed burgers and fries for $16 (yikes – everything is expensive here!!).
With our boosts in blood sugar levels, we rolled to the grocery store for our evening pudding – Justin purchased cookies to share with the gang while Sophie and I enjoyed tapioca and Tom had rice pudding. Justin had a lead on a gas station across from the visiting center that had laundry mat, showers, and a RV park.
Sophie and Tom chatted with the owner and he offered us a place to set-up our tents with power and water for only $10 a night – $5 per couple. We were elated and set-up quickly, rushing for our first showers with hot water since Terrace over a week ago and a load of laundry to refresh our smelly cycle clothes.
Clean and happy with a full belly, we look forward to sleeping in tomorrow and taking time to catch-up on in-town errands. As I finish typing this at 10:30pm, you can see how the sun has just began to set slightly, while Justin sleeps peacefully beside me.
~Melissa
Day 18 Friday June 3, 2015
REST DAY @ Watson Lake!!
We are currently enjoying not packing up our items and hitting the road for a day, enjoying the bustling metropolis (read that truck stop town) of Watson Lake.
After cooking a dozen eggs for yummy breakfast sandwiches at our campsite, we walked to the local library where we are all currently enjoying the wifi, cozy chairs, and a peaceful view of a lake outside.
After a re-supply of food and a few more big meals to help re-build our muscles, Justin and I will sit down to plan the remainder of our journey to Alaska.
We miss home dearly but are loving being back on the road, having so many stories from each day and learning more about the world that surrounds us.
Sending our love from the road and we will check-in again soon!
Melissa & Justino