Overall Totals Thus Far:
Distance: 400.85 miles
Ride Time: 32.5hrs
Elevation Gain: 26,380ft
Falt tires : Justin =2 & Melissa = 0 (whoo hoo!)
Bear sightings: 2 nerve-racking ones
Wooooooo hooo!! We have completed our ride of Vancouver Island and have lots of stories to tell below.
Quick shout-out to our Folsom Village friends for taking care of the garden! And thank you so much Toni for the chapstick – It has come in hand so much thus far!

Day 3 Thursday June 18, 2015
Cowichan Bay (Providence Farm) outside of Duncan to Lantzville, Vancouver Island B.C.
Distance: 47.7 miles
Ride time: 4hr 16min
Elevation gain: 2,504ft
Last night we found a nook in the woods at Providence Farms, that a passerby suggested based on the music festival crowds who do the same. We enjoyed rice and lentils, courtesy of Cynthia, and tucked in before sunset… which isn't that hard to do here.
I awoke around 5:30 am to Melissa hanging over my head stating sillily that, "We should start moving now before the bird watchers come! I'm just sure there are bird watchers here!" Hahahahahaha I couldn't help but giggle as I was sure no one would be going bird watching, but indeed hustled along and we were riding by 6:00am.
The miles clicked away along Hwy 1 Trans-Canada route and the vehicle noise began to set in. I couldn't wait to get to the coastal route and be off the main drag.
We arrived Nainamo and dropped into an information kiosk in an old lighthouse along the shores edge. The traditional questions began from the young attendant excited to see me, "Where yah from?" "Where yah headed?" "Where are yah coming from?"
Then came my usual questions, "Where can I score some healthy, hearty food that doesn't drain the pocketbook?" He responded with 3 choices and Food Koma sounded like a winner to me. I also asked about a coffee shop with some wifi as Melissa and I had discussed a blog posting. As we made our way to Food Koma, we enjoyed cruising the streets, people watching, and taking in the laid back vibe.
Melissa worked busily on the iPad, posting our journal entries and adding picture, while I did some bike tinkering and chatting with folks who inquired about my awesome yellow safety vest (not really but Melissa hasn't stopped giving me a hard time about wearing it EVERYWHERE!). I did find a fella who grew up in Northern BC who gave me a serious adrenaline shot of excitement in the arm as he described some of the landscapes and roads we were sure to pass through.
After Melissa finished posting, we started to meander out of town and enjoyed a quick dip at a local watering hole before racking up a few miles.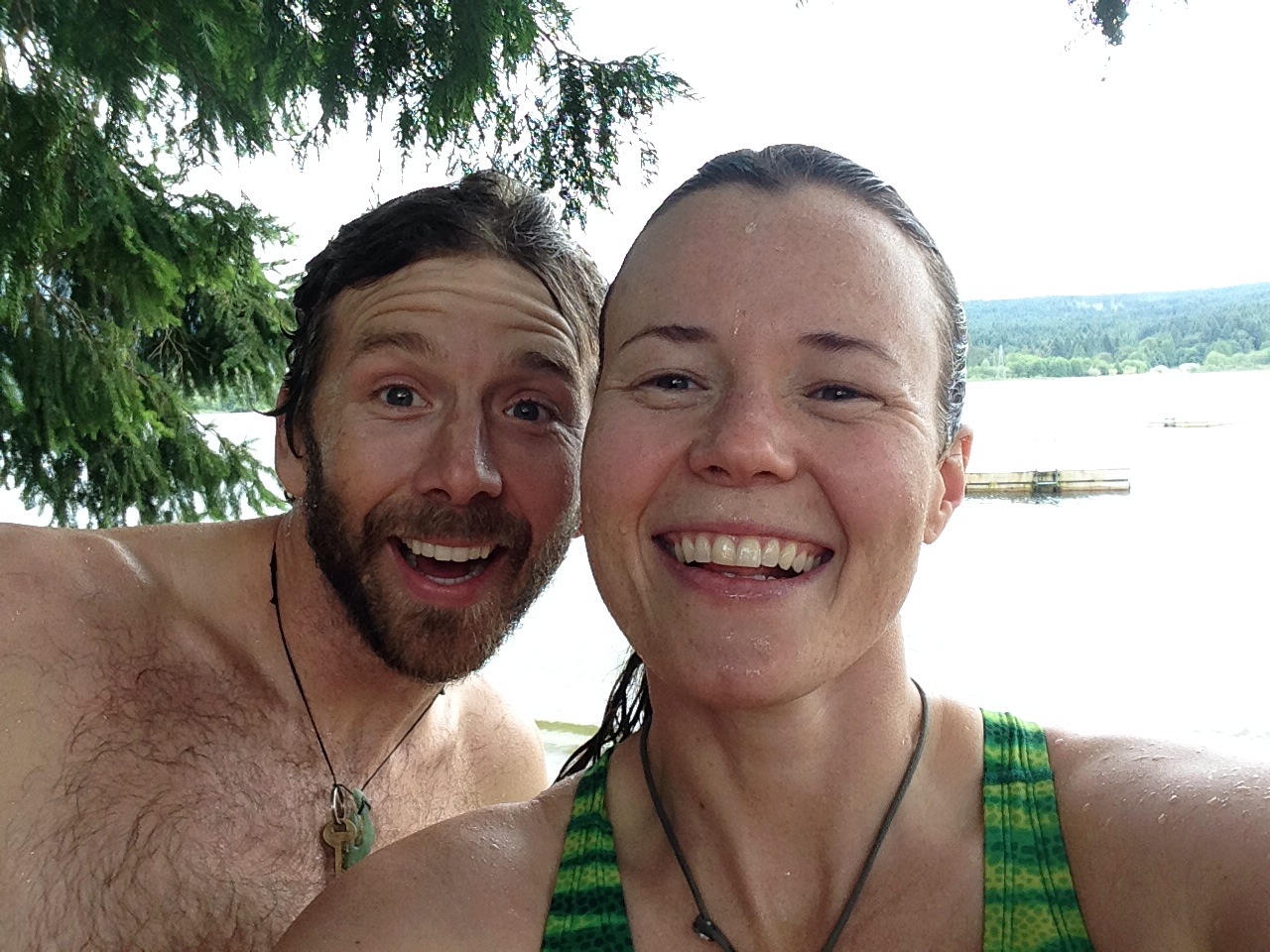 The rain began to drizzle, and we made a few more stops to pick up some fishing lures at Cabellas, a slice of Costco pizza, and a dipped cone. We were now heading for the edge of town but not before a very scary mishap.
On a gentle climb up a residential street, I peered over my should and saw Melissa closely following. A car approached a stop sign to turn out and I made a swooping turn behind it and proceeded up the road. Melissa mistakingly saw me turn right and somehow followed the right hand turn while I advanced another 1/3 mile to a stoplight where I pulled out a map and waited for Melissa to pull alongside. Moments passed and I turned around to look down the length of the street expecting to see my smiling wife and her bright yellow vest but there was no sign of her. I panicked! I rolled back to a parking lot thinking maybe she pulled in for a second to adjust something on her bike – not there!!!! Ahh!!
I honked my air horn and yelled her name. Now I was riding down the bike lane looking both ways. Another loud blast on the horn. I stopped at the next intersection and yelled at a car "Did you see a cyclist down there?!" I hollered at a jogger the same question. I blasted my horn repeatedly now with thoughts racing through my head… where will I find a device to check the internet (both of ours were in Melissa's bags)? Do I retrace the few miles back into town to the coffee shop? Oh my goodness where could she have gone? How will I find her?! Did someone take her?!
Fortunately as I peeled around the corner at the next intersection, she was waiting there with a puzzled look. "Where did you go??" she asked. It was obvious she thought I turned and we were both equally scared by the situation. She then stated, "My Boy Scout instincts told me to stay put where I last saw you since if we both moved around we would never find each other! I figured you would start backtracking once you figured out I was missing." Thank goodness my wife is amazing and it all worked out.
As we started to roll back up the street together, Melissa asked, "How the heck did we roll down the continent of South America and this never happened before?! That was so terrifying and lonely feeling!"
The rain continued to spit and we linked up with the coastal road with fewer cars as we entered the small town of Lantzville. We were talking about finding a place to put up shop and I saw a fella making a cut on a table saw in the side yard of his property. The smell of sawdust lured me in and I stopped and waited for him to finish. He looked over and I raised my hand to say hello. He removed his hearing protection and I asked if he knew of a place we could set up a tent. Without hestiation he stated, "You came to the right spot!"
Turns out Pat was a contractor who recently moved back to this town where he was raised after living in Vancouver for 6 years. He invited two hard working construction friends over and built a fire as we shared stories and laughs with the locals. Joe, who recently celebrated seventy trips around the sun, told stories of his days as both a logger and architect. He even walked us down the street to show off a beautiful home he designed and was quite proud of. Kevin was also a sweet guy who made us laugh as he rolled up to the campfire and saw Pat splitting wood with a small axe. Without skipping a beat he said, "I have a smaller axe in the truck if you would like Pat."
The evening wound down and we turned in about half past 9 – the sun just starting to head toward the horizon. Pat was such a kind hearted host who offered up showers and tea, before we packed up and rolled along down the road the next morning.
~ Justin

Day 4 Friday June 19, 2015
Lantzille, Vancouver Island B.C. to Denman Island, B.C.
Distance: 56.3 miles
Ride time: 4hr 52min
Elevation gain: 3,564ft
As we waved goodbye to Pat and kicked our heels off the pavement, getting the blood flowing once again in our legs, I looked up to a familiar call and shouted to Justin, "Hey look! A Canada Goose! And we are in Canada"
Justin replied "Guess that makes it just a goose." Hardy har har!
The Eastern coast of Vancouver Island is studded with snow capped mountains on the islands and mainland just across the waterway. We admire the spring flowers in full bloom, tried a taste of thimbleberries which neither of us much cared for, and rolled to the ferry for Denman and Hornby island which Canadian friends met along the way recommended.
Hornby island is home to a sandy beach similar to those found in Hawaii. However, as we paid for the two ferries from Vancouver island, we started to hesitate in our choice. It was 1pm and the ferry would not depart until 3:15pm (Each ferry is only about 20 minutes to cross a small channel). We would not make it back to Vancouver island the next day until 10:30am with the schedule set-up for weekends and we have started to fall behind in making it to Port Hardy at the Northern part of Vancouver Island for our 7:15am Ferry on Tuesday (already paid for).
We rolled up to the end of the ferry port where passengers without cars waited for the ferry and saw another touring bicycle rigged with a bag. Justin went into the seating area and started to chat with Wendy, who was headed home to Denman Island after a day of strawberry picking in the nearby town of Courtenay. She offered for us to stay at her lovely home with her husband, Ken, where they have a large garden and peaceful oceanside home. Three years ago, they moved down to Denmen Island from White Horse so that they could grow food, with rising concerns of global warming.
Wendy explained that Hornby is very touristy and busy now that kids are out of school and families from Vancouver island are going on vacation. So we chose to take her recommendation, and after dropping off our luggage at their home, road our bikes along a paved and then dirt path to a fresh water lake tucked in the hillside, all to ourselves.

Wendy cooked up delicious lentil curry with rice for dinner with an assortment of veggies from their garden. After a lovely meal at their outdoor picnic table, we brushed up our skills in a couple of games of hearts while hearing stories from Ken and Wendy's cycling adventures across the states. With our souls nourished, we headed into a deep slumber in the meadow of their home, serenaded by the lullaby of thrushes.
~ Melissa

Day 5 Saturday June 20, 2015
Denman Island to 20 km outside of Campbell River (Bear Road)
Distance: 62 miles
Ride Time: 5hrs 42min
Elevation gain: 3,196ft
We awoke feeling refreshed after a wonderful slumber. We enjoyed our evening of conversation about gardening and sustainable living, followed by a home-cooked meal of curried lentils, fresh greens, and homemade cookies.
We departed Wendy and Ken's house with enough time to cruise the Western road on the island toward the ferry and planned on catching the 8:20 am ferry. We both read the paper and thought this as the first departure. To our surprise, as we rolled down the hill to port, the ferry was in the middle of the straight and no cars were cued up. We both looked at each other and Melissa re-read the paper to learn that ferries had been running since 6:45 and the next was 8:40 am. No sweat as we enjoyed the light on distant tree covered slopes and watched the clouds build up in the distance.
We were on the road and moving along towards Courtenay where we stopped for a some goodies. We have been popping into grocery stores for some quick calorie boosts of deli meat on a roll, apples, trail mix, and the occasional baked goodie. This town was home to a huge bulk food store with over 500 bins! We felt like we hit the backpacker's lotto. We spent about 20 minutes meandering the aisles, sampling, and of course buying too much.
We arrived at Campbell River and stopped for our photo with the 50th parallel sign on the waters edge. Just before we stopped, we caught 3 bald eagles soaring above us. I have probably only seen a half dozen or so in my lifetime, so 3 in one sighting was truly spectacular.
Campbell River is a nice port town with some shops, parks, and really nice beach front rentals and hotels. Hundreds of nicely dressed high school aged kids littered a green plaza square on the water front for what looked like a graduation celebration.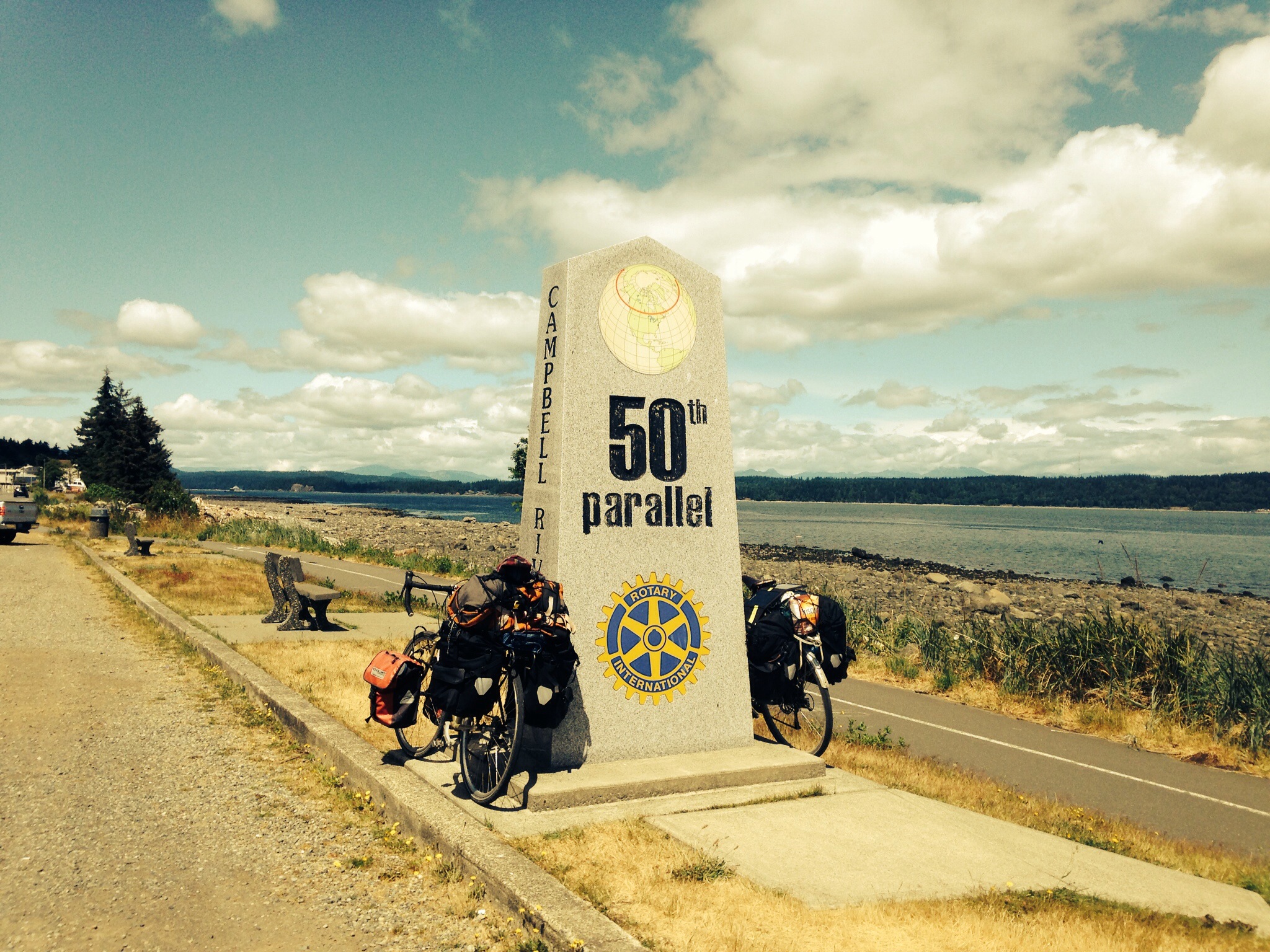 We continued out of town with heavy bags as the remaining 240 km to Port Hardy are much more remote and officially considered the North part of Vancouver Island. There are no more major towns or tourist destinations and the road is more in the interior versus on the coast.
Around 5:30 we began searching for a place to hunker down. We scouted an old logging road, and a day hiking trail for a place to set up shop as many folks have said anywhere is really fair game, but didn't like the feel of either so continued up the highway. We found a dirt road that had a camping sign that said 7km, so we headed down the bumpy gravel. It didn't take long before we realized that if we descend 7 km we will have to flip back and climb out in the am so we stopped a car and asked about camping elsewhere. We learned that camping is $35 and folks have been known to camp at pull-outs and turn-offs anywhere since all land North of the 50th parallel on the island is considered public. We negotiated back and forth for a bit, and both being tired and hungry we settled on an abandoned road up a hill behind a closed fire gate.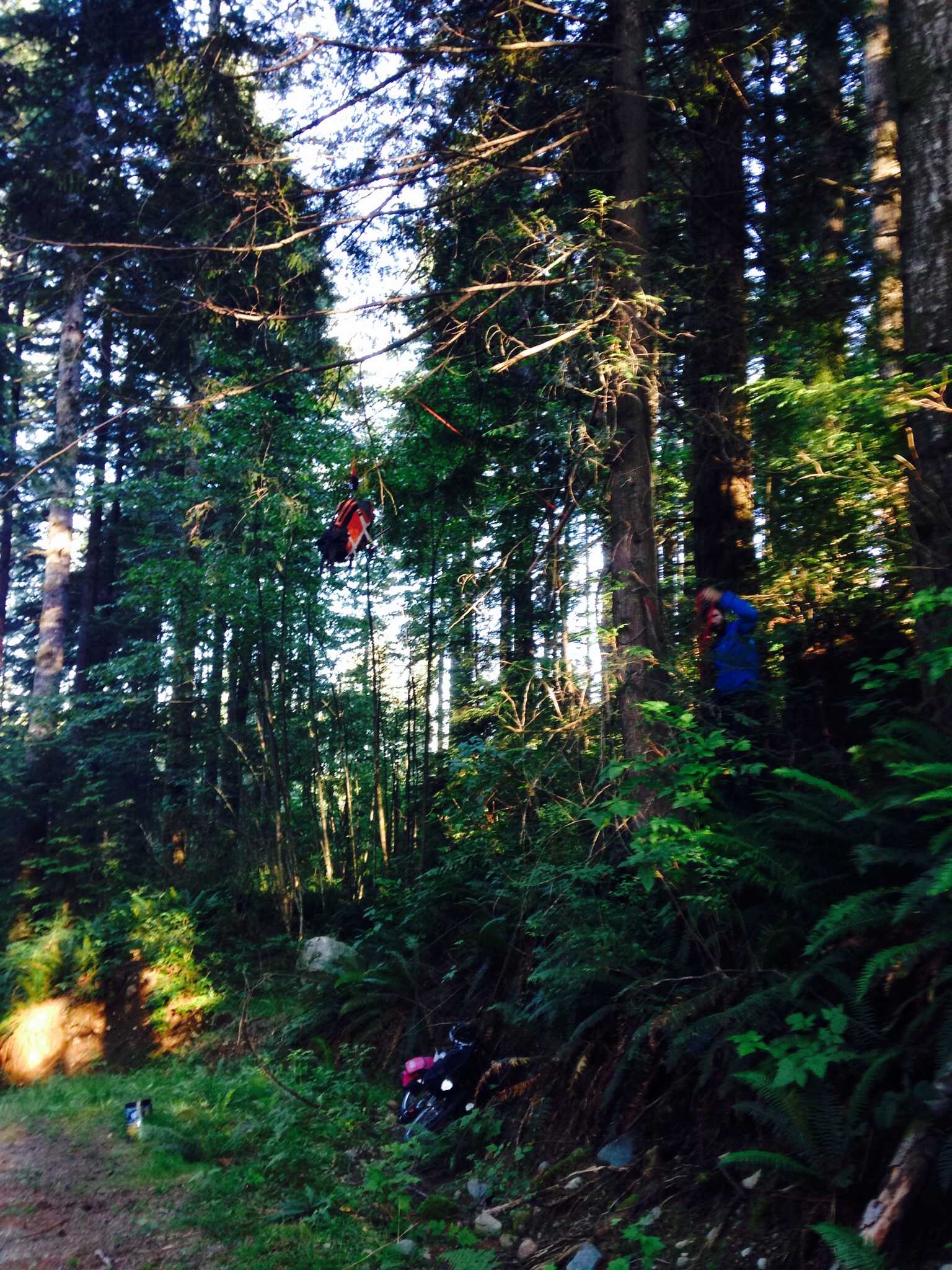 We both agreed that cooking wasn't the best idea as we were "dry camping" which meant we had no water near by, and we didn't want to invite company (the bears). We started heating some water to put a pack of lentils in and since we had some sourdough bread and loads of butter (they only sell 1 lb blocks!!) so I thought some toast sounded awesome.
We grubbed and as we were cleaning up and organizing I look down the road about 100 yards and saw a bear probably over 6 ft tall standing on its hind legs sniffing up towards us. I hollered to Melissa and she said "see I knew toast was a bad idea!!" I told her to blast the air horn on her bike and within no time, it shot into the forest.
Of course, I haven't heard the end of it since the toast incident… but we now know for sure we cannot eat and sleep anywhere near the same place. We have officially entered bear territory.
~ Justin
Day 6 Sunday June 21, 2015
20 km outside of Campbell River (Bear Road) to wilderness camping next to Nimpkish Lake
Distance: 94.49
Ride time: 8hr 30min
Elevation gain: 6894ft
Today was filled with rolling hills, mountain views, and crystal clear rivers. We hit the road at around 9am after brewing some yummy coffee and filtering water at the stream near our bear sighting camp the night prior.
We jumped into a few streams for swim breaks throughout the day to cool off from the warm temps. Such a refreshing feeling to swim and enjoy the water's edge in this vast wilderness.
We enjoyed mac n' cheese for dinner at one of only two gas stations between the 100+ mile stretch between Campbell River and Port Hardy. After an ice cream treat, we decided to push farther to a wilderness campsite located on the map to perhaps have bear boxes to help with the bear population.
Little did we know that Northern Vancouver Island is bare-boned when it comes to signs about what is around you. We ended up passing the wilderness site located on our map since there was no sign of it.
We were shocked to be chasing daylight scrambling to find a place to put our tent off the road. It didn't help that we ran into another black bear, this time a baby, walking along the side of the road.
Each time we pulled off to examine a possible sleeping area, I would notice something that made me uneasy – a rat's nest, bear scat, heaps of trash, a rail road track…
Finally, at 9:30pm with the sun just setting on the mountain side, we found a high perch with a lake view, where bears would have difficulty accessing due to the cliffs and we were tucked away off the road.
Hallelujah. And with that, we set up our tent, stored all of our food and smelly things (besides my husband of course) into our bear canister, and quickly dozed off to recover from our close to our unexpected long day of riding.
~ Melissa
Day 7 Monday June 22, 2015
Wilderness Camping next to Nimpkish Lake to Port Hardy Campsite
Distance: 41 miles
Ride Time: 3hr 30min
Elevation gain: 2150ft
We arrived to Port Hardy with an afternoon to relax! With our unexpected 20+ mile hunt for a place to sleep last night, we found ourselves rolling into town early today. A deli sandwich, chicken pot pie, and cup of coffee later, we are relaxing in a cafe along the main drag of Port Hardy, excited to head to a campsite near the port tonight, and wash our clothes, shower, and gear up for mainland Canada coming up next.
We can't say enough how much we have enjoyed the many Canadian friends we have met up here. Many conversations about travel and exploring, learning about the history of Canada and their impressions of America, and simply just sincere acts of kindness.
While I am nervous for the Grizzly bears to come, I am facing my fear with ever growing courage each day.
Tomorrow we board a 16+hr ferry to Prince Rupert and then start rolling again Wednesday!
Sending our love to everyone!!!
~ Melissa