Hello everyone!!
I love British Columbia. Clean air, fresh water, spectacular views, environmental conscientious communities, and sweet people who end almost all statements with "eh?"
We are in awe with how peaceful our journey has been thus far. We can drink water from any spigot we find, people communicate with us in English, I recognize almost all brands of food in stores, and the countryside is reminiscent of my home as a child along the peninsula of the Bay Area. This trip thus far has made us acknowledge how much more difficult our South America ride really was – especially at the start of it. If you have yet to see our documentary about South America, you can check it out with the link below.
For now, we'll recap the last three days as we currently take a break from rolling along for a wifi check-in on our fourth day today.
TO CHECK OUT OUR PROGRESS CURRENTLY (WE CHECK-IN VIA SATELLITE DAILY) CLICK HERE.
– ZERO DAY –
Tacoma to Cynthia's in Seattle
Distance: 7.25 miles
Ride Time: 1hr 1min
When the alarm went off at 3:50am, I had a "where am I?!" moment. We had coordinated with a friend, Meghan, to get a ride from the Hubbard's house to the airport on Monday morning at 4am. The Hubbards are dear friends who are currently out of town but offered to let us stay at their home to get a ride with Meghan who was house sitting.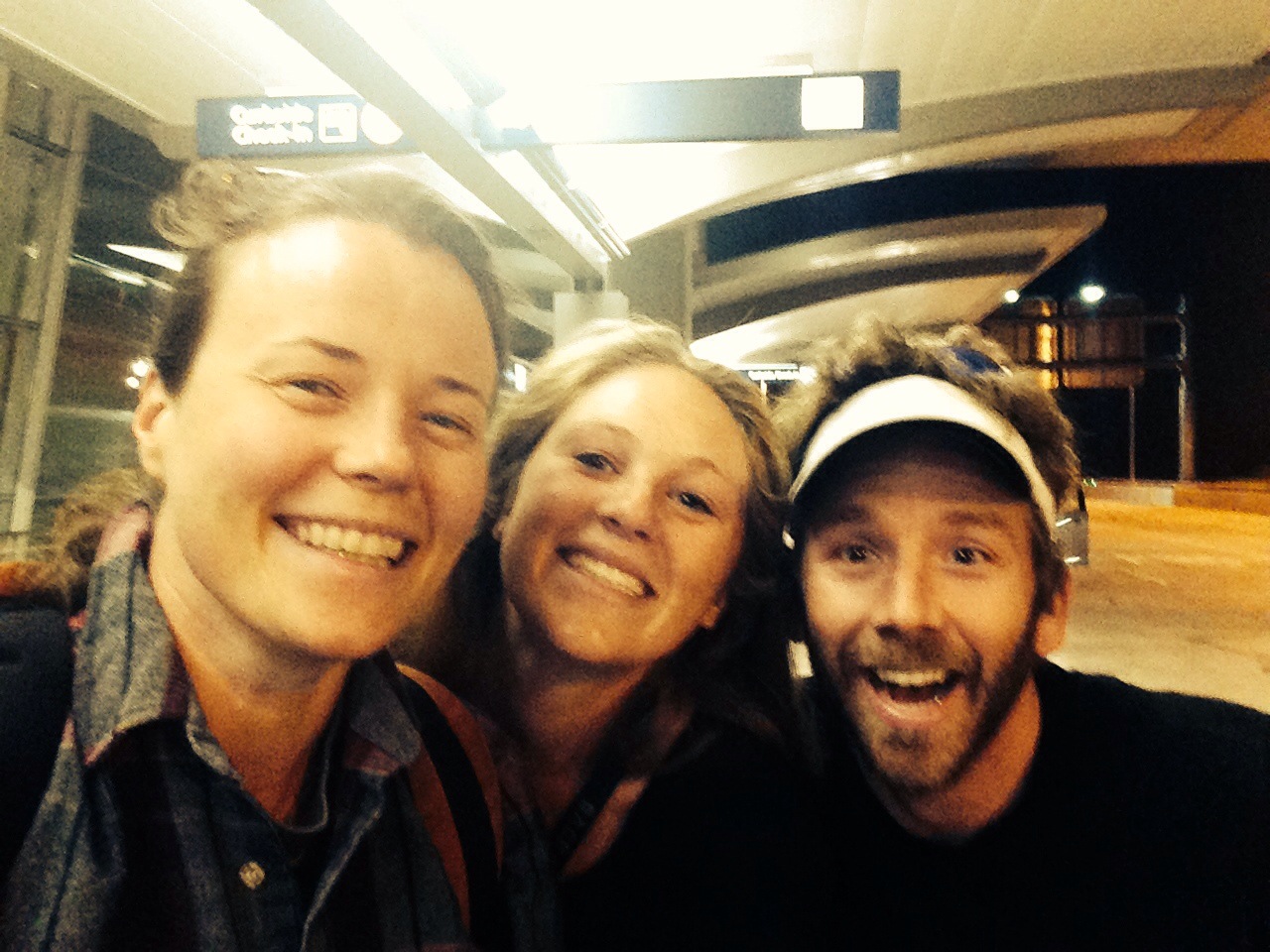 Meghan is such a bubbly, loving soul, and had no problem waking up before the world did to get us to the airport. As we unloaded the car, we exchanged hugs of gratitude and pushed our bikes packed in cardboard boxes up to the Alaska airline check-in. There was no line and the service desk greeted us with smiles. After helping us label all of our boxes, they made check-in smooth and simple and we were on our merry way. Alaskan airlines has never let us down and we truly appreciate their amazing customer service.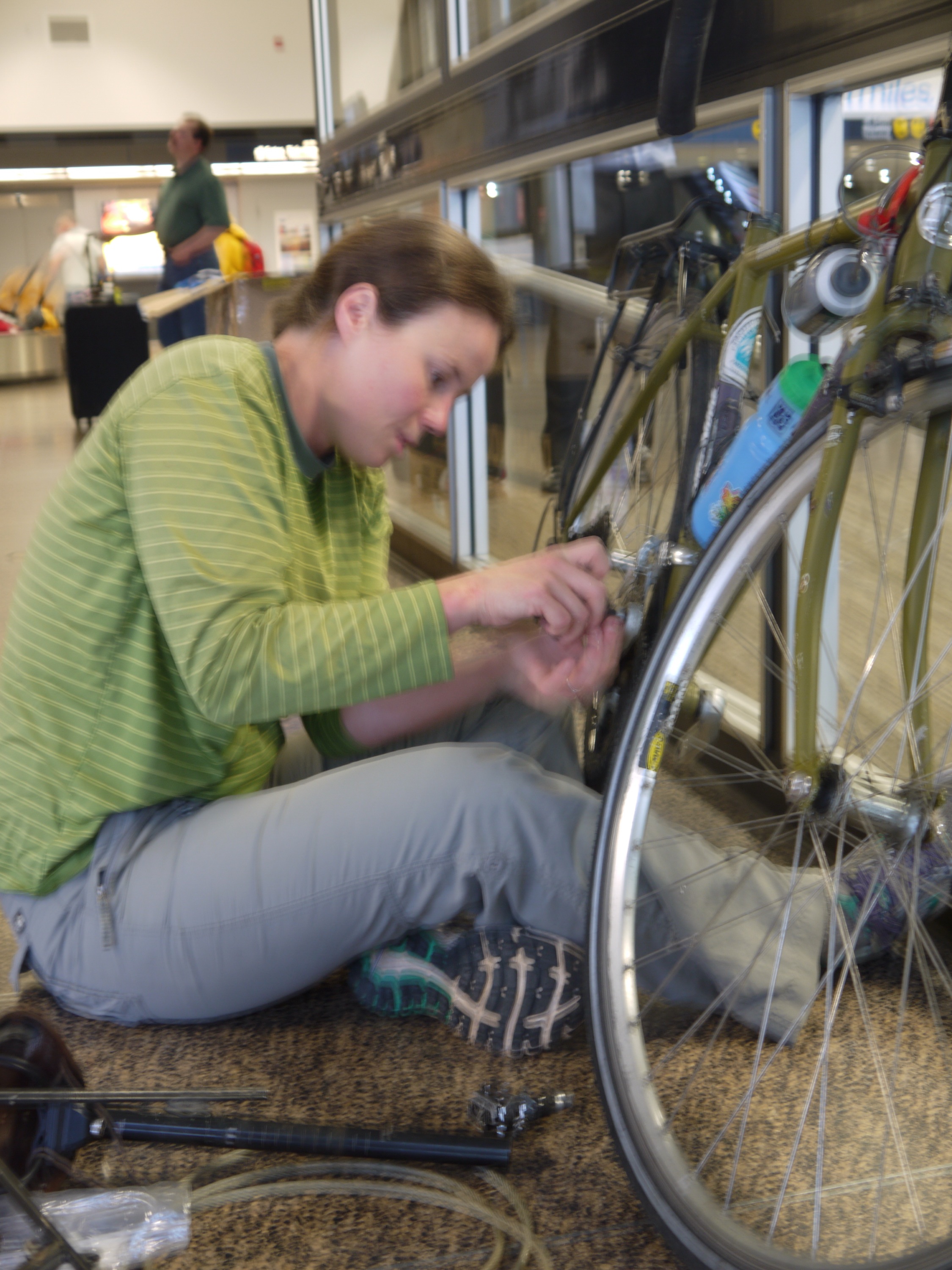 Upon arriving in Seattle, our boxes beat us to the baggage claim. We pushed them to a corner in the airport arrivals area, and started to put our bikes together. About an hour later, we were off to the light rail station to get a ride into town. I couldn't believe my eyes, sitting down to see Mt. Rainier just hanging out in the distance. The Seattle area is such a spectacular place!
We rode the light rail to University Avenue, where we took a quick stroll to Pike's Market. It had been five years since we last visited this famous market, right after we had completed the Pacific Crest Trail! We reminisced and people watched before grabbing a bite to eat and heading to our friend Cynthia's place in Northeast Seattle.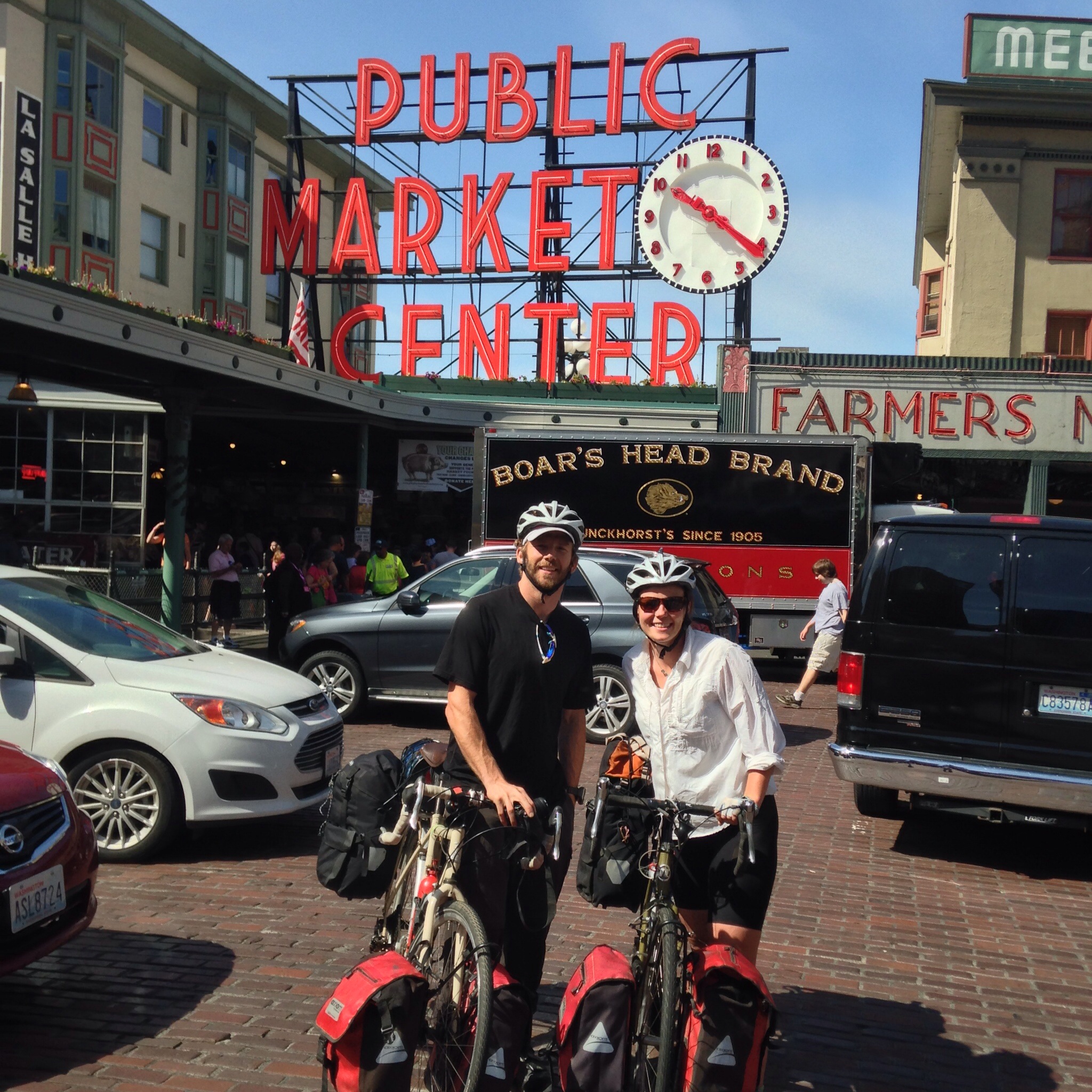 The ride was somewhat steep but short and upon arriving, we made ourselves at home, watching the lion king and taking a nap while waiting for Cynthia to get home from work. It was terrific to see Cynthia, and after a $5 burger and fries special at her favorite pub, we all took a tour of the local Target (I believe it is pronounced "Tar-jay").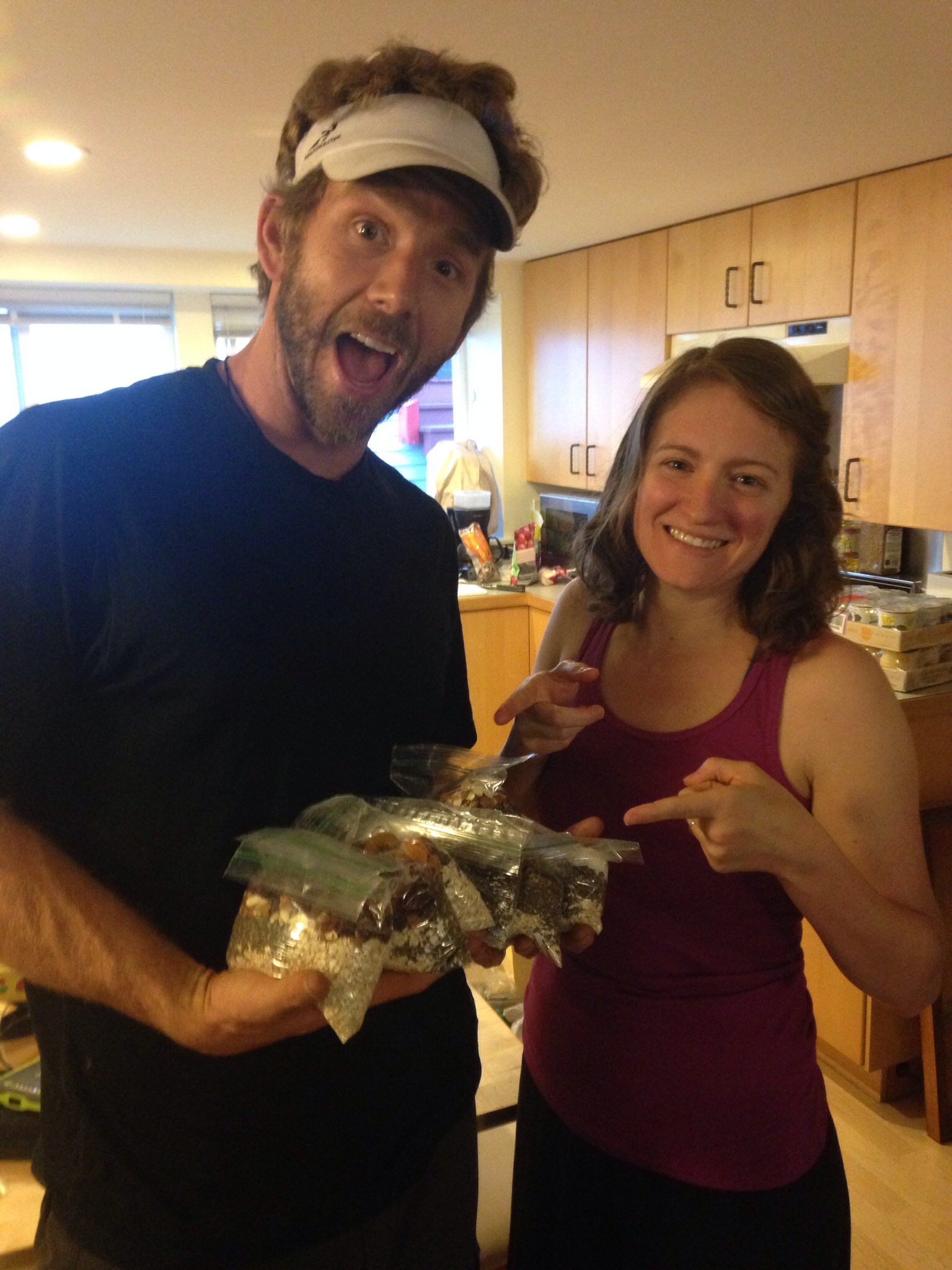 After an exciting outing at Tar-jay getting last minute items, we packed our bags at Cynthia's and she gifted us large amounts of delicious meals! Cynthia has extensively studied nutrition and has an uncanny ability to create delicious backcountry meals! Each one has been SO yummy so far!
Lights out came quick after a brief hello to her hubby who currently resides in England and had just woken up for his day to begin when it was 10pm our time.
~ Melissa 🙂
DAY 1: Cynthia's in Seattle to Sooke Potholes Regional Park, Vancouver Island B.C.
Distance: 38.8 miles
Ride Time: 4hr 5min
Elevation gain: 3,800 ft
Another early wake up to catch the clipper ferry to Victoria.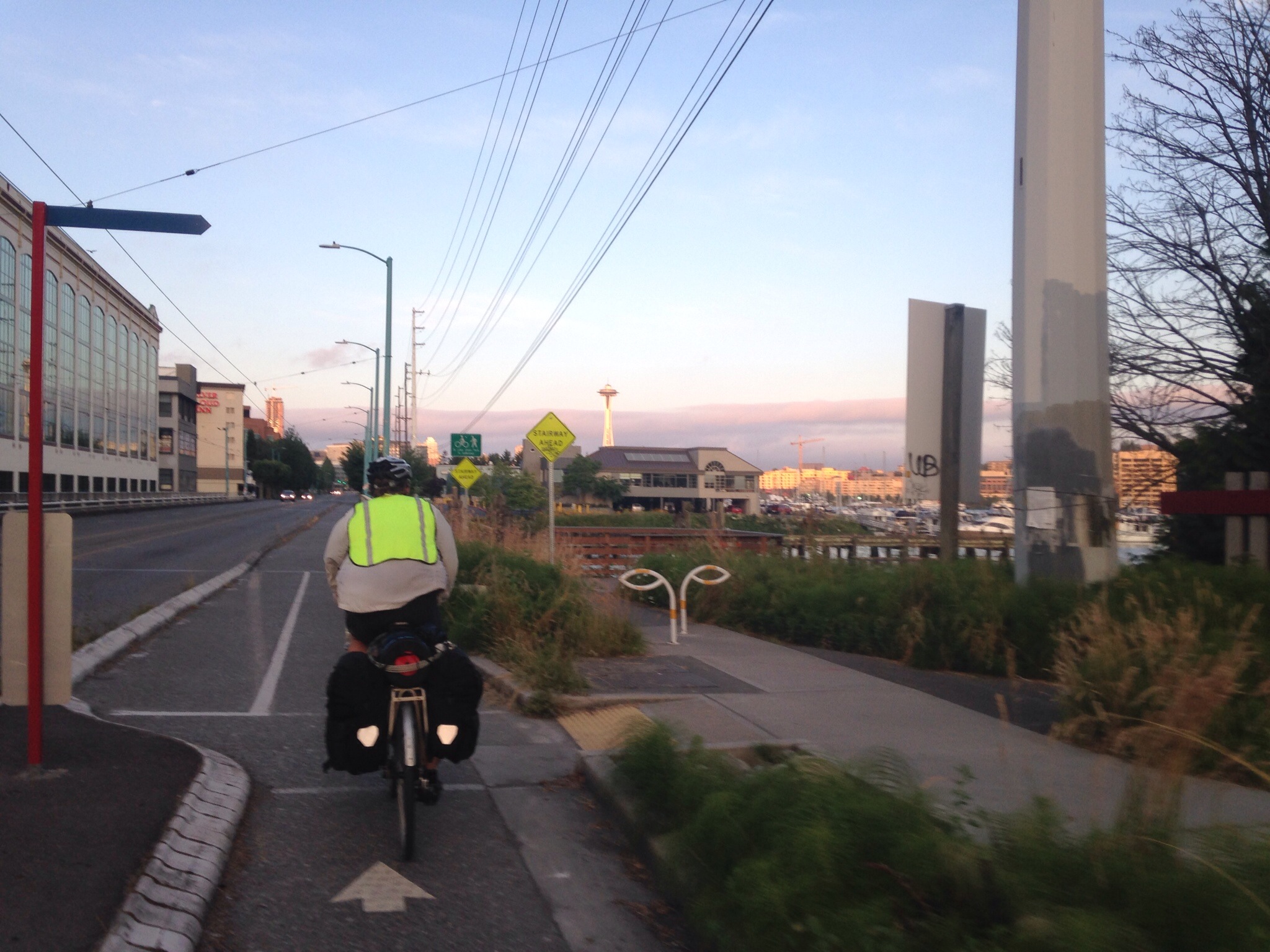 We were surprised to see the sun up at 4:30am and the 58 degrees felt amazing. We chose the early departure to avoid rough seas as we are both prone to motion sickness and I have done my fair share of unforgettable boat journeys. Of course on this occasion there are gale wind advisories and 4-6 ft swells. The first 90 minutes seemed to pass quickly as we conversed with a young couple from Daytona Beach, FL. As we entered the Juan de Fuca Straight the swells picked up and the Bonine (motion sickness medicine) set in. We all zonked out for about an hour before waking up to some bumpy rocking.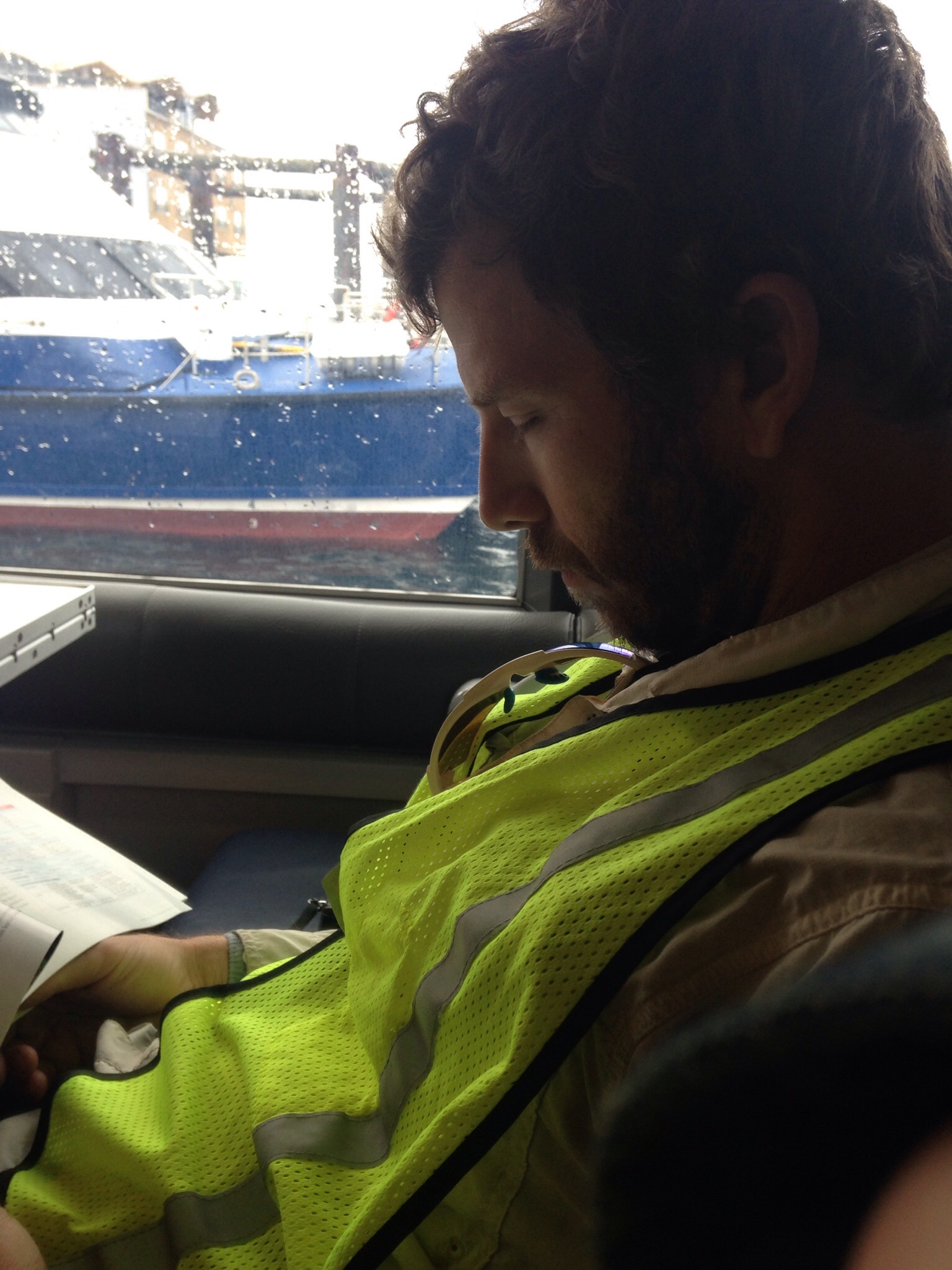 I couldn't be more happy to pull into port and await the disembarkation process. We loaded up the bikes and approached customs. Honesty on the forms landed us in the questioning room where they inquired further about the bear spray we were carrying, and didn't bother confiscating the trail mix with nuts and seeds. One of the guards even asked Melissa to demonstrate what our blow horns sounded like just out of pure curiousity.
Blown away by the beauty of downtown Victoria, we cruised the streets and found an incredible vegetarian restaurant called Green Cuisine (our highest recommendation!). We made a stop at MEC (Canada's REI) to ask some questions and then decided on taking the Galloping Goose Bike Trail west towards the Sooke Potholes, a regional park known for limestone rock formations along the Sooke River.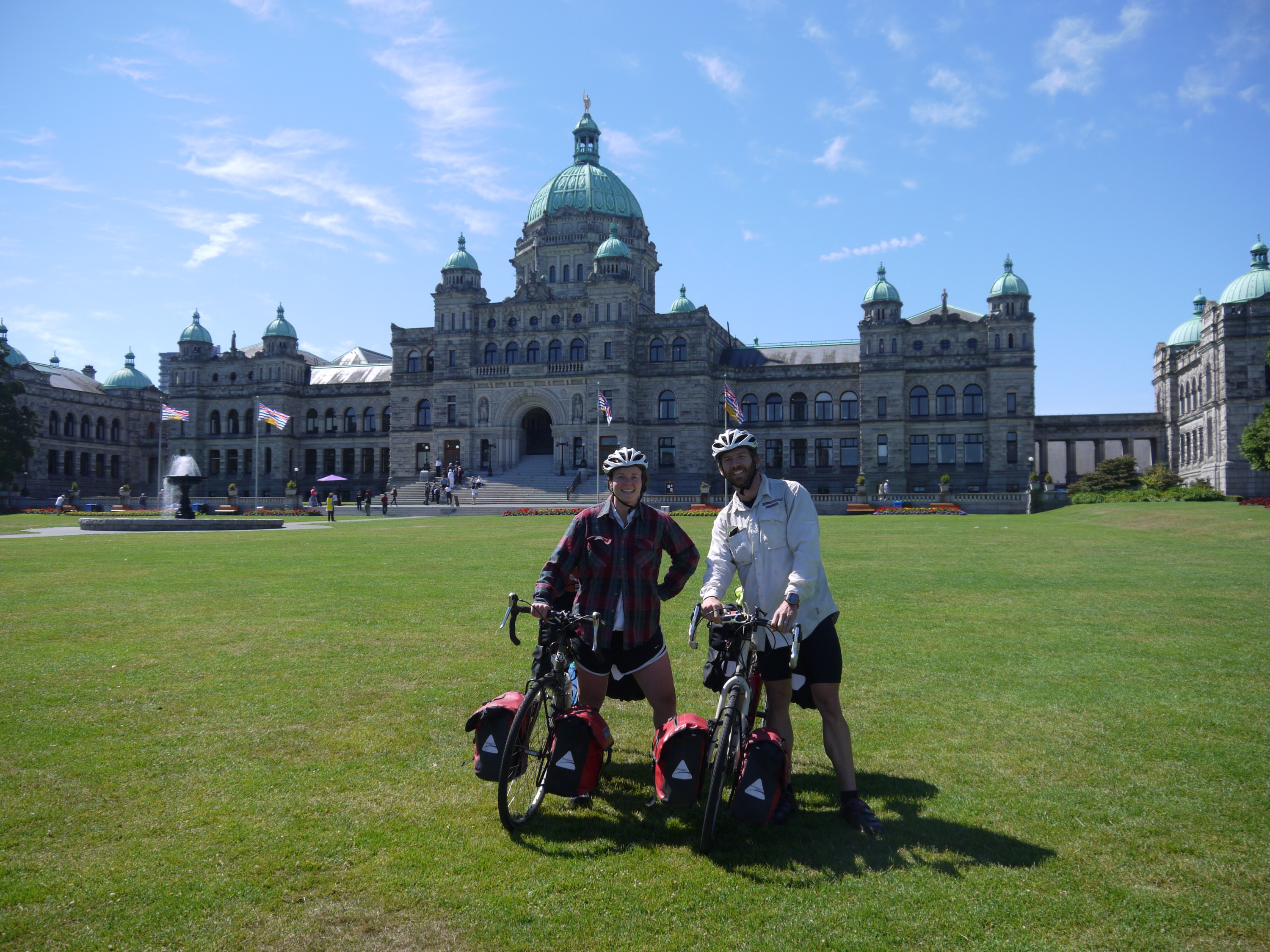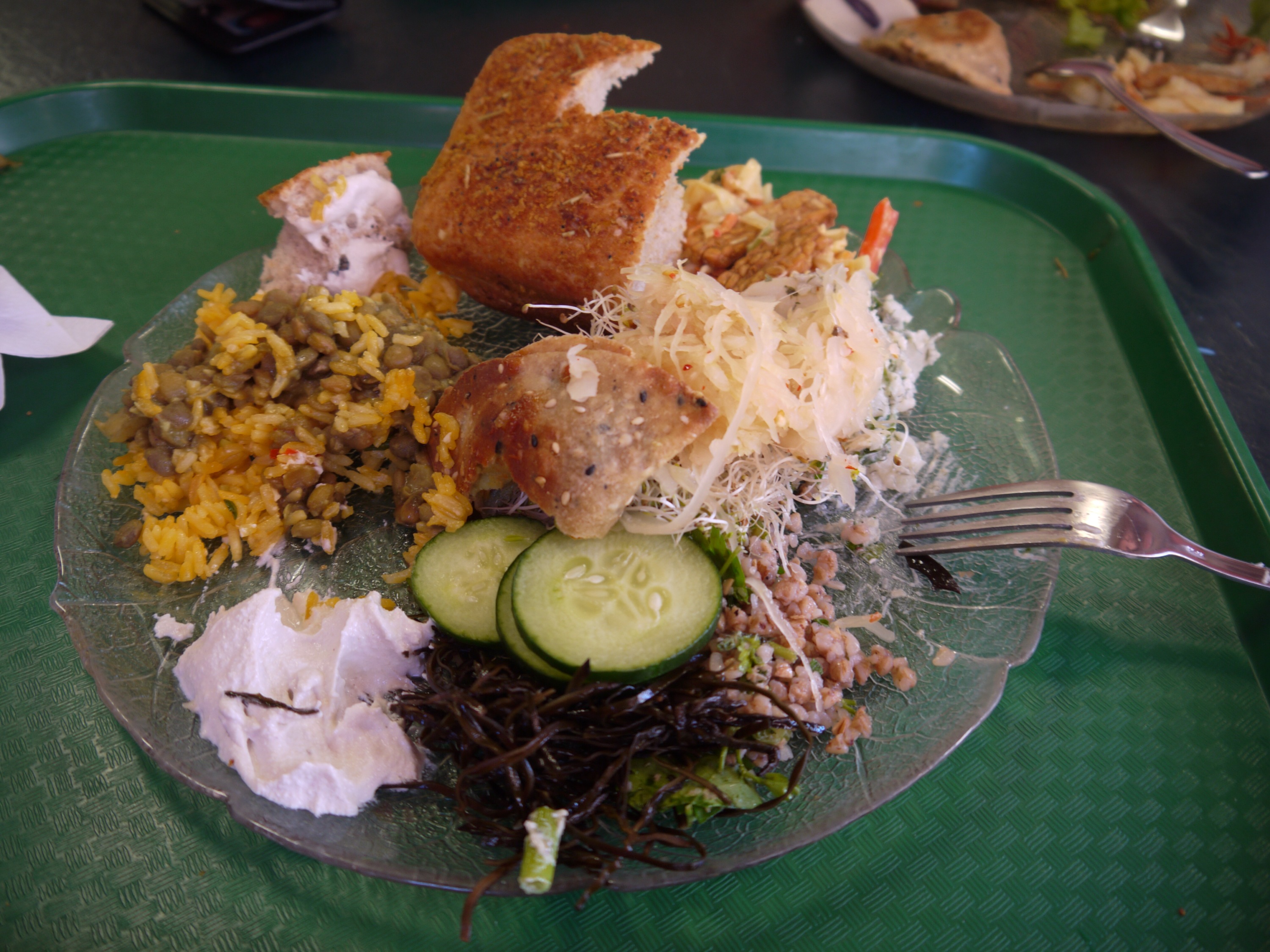 The trail began as a standard paved bike trail, with clear signage and green yield arrows. It weaved along the water, behind industrial and residential areas, and then became hard pack dirt. At first we were unsure we were on the right trail, but upon seeing a large parking lot and sign, it became obvious again. The gentle gradient and incredible folliage made this trail a one-of-a-kind. Ferns, Oak, Aspen, Douglas fir, every shade of green imaginable made the kilometers click away. The bikes still felt heavy, but around every turn was another breathtaking vista. We stopped alongside a lake that sat beneath a steep slope with a house probably 2000 ft above, and enjoyed water fountains and bike racks built by local donations.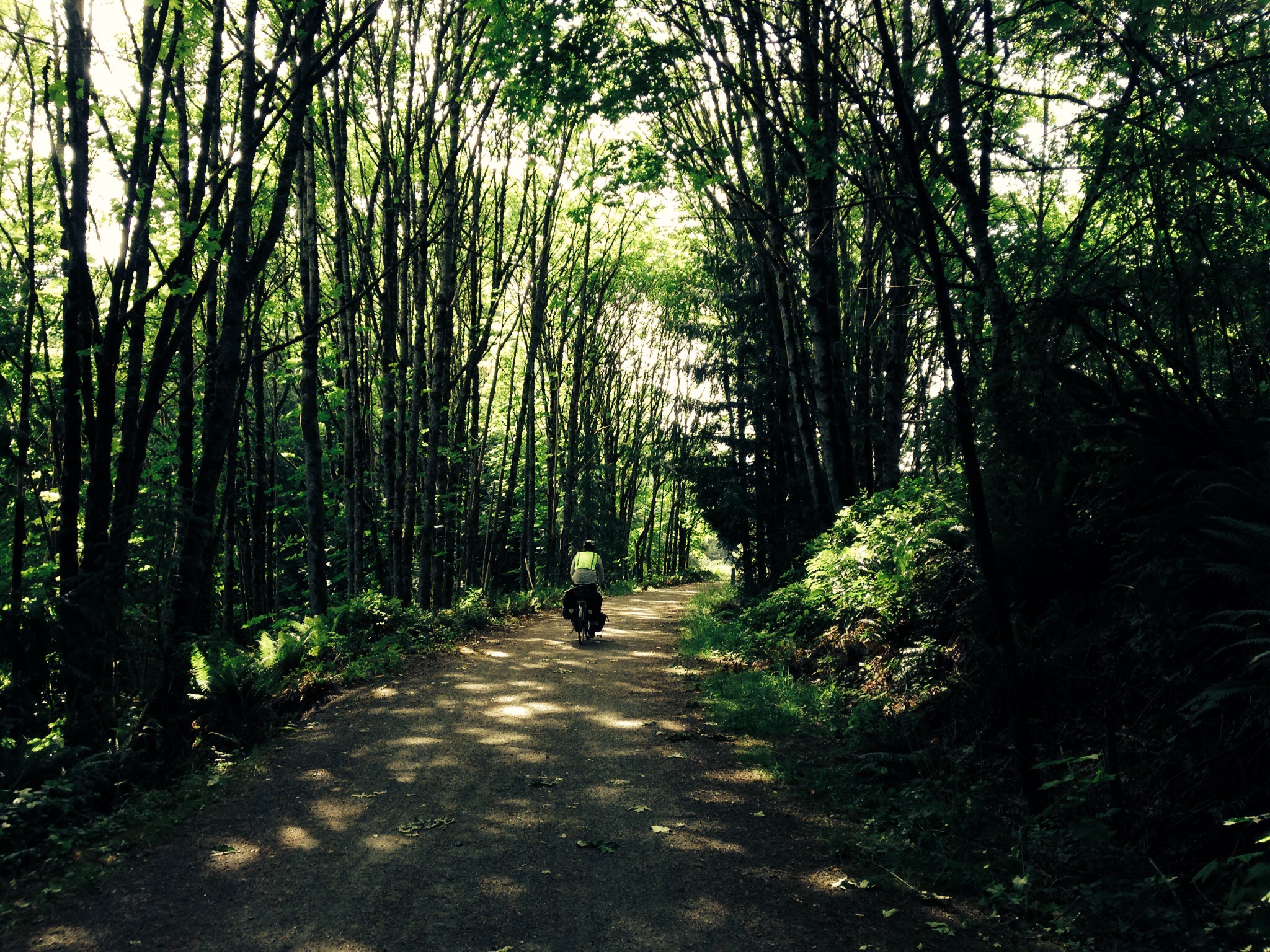 As we entered the Sooke Potholes Regional Park I was surprised to see that the number of trail users didn't increase. The traffic on the roads was light and when we finally reached the lookout to see the limestone falls below, we were only joined by another couple. We rode the remaining 5 km to the campgrounds and to our surprise they were yet to be opened after closure last year for maintenance. All we could see left to do were signposts that awaited placement. We had the entire place to ourselves, and of course took top choice of placement along the waters edge. We didn't delay eating Oriental Ramen, sardines, and some organic cheese crackers.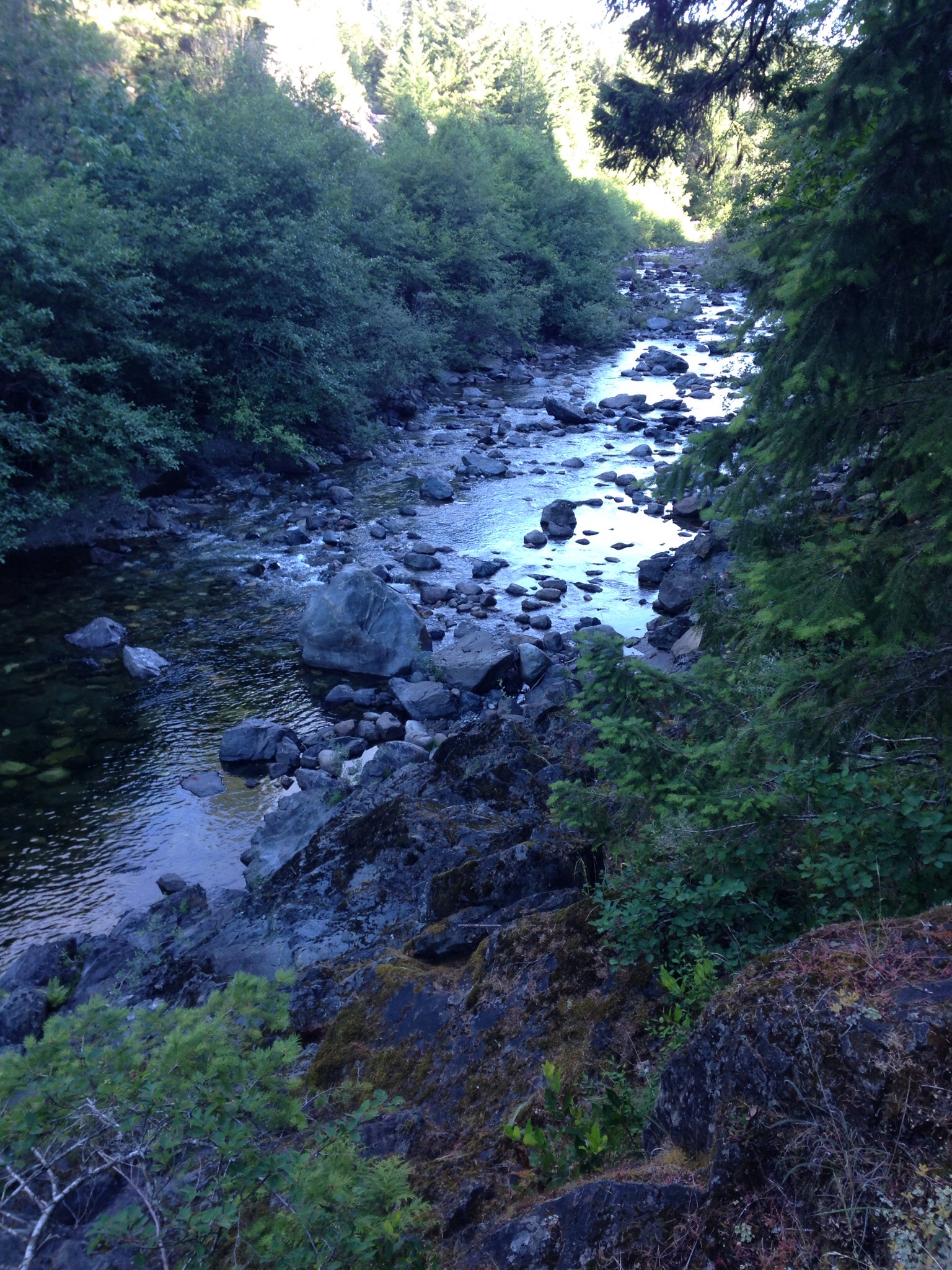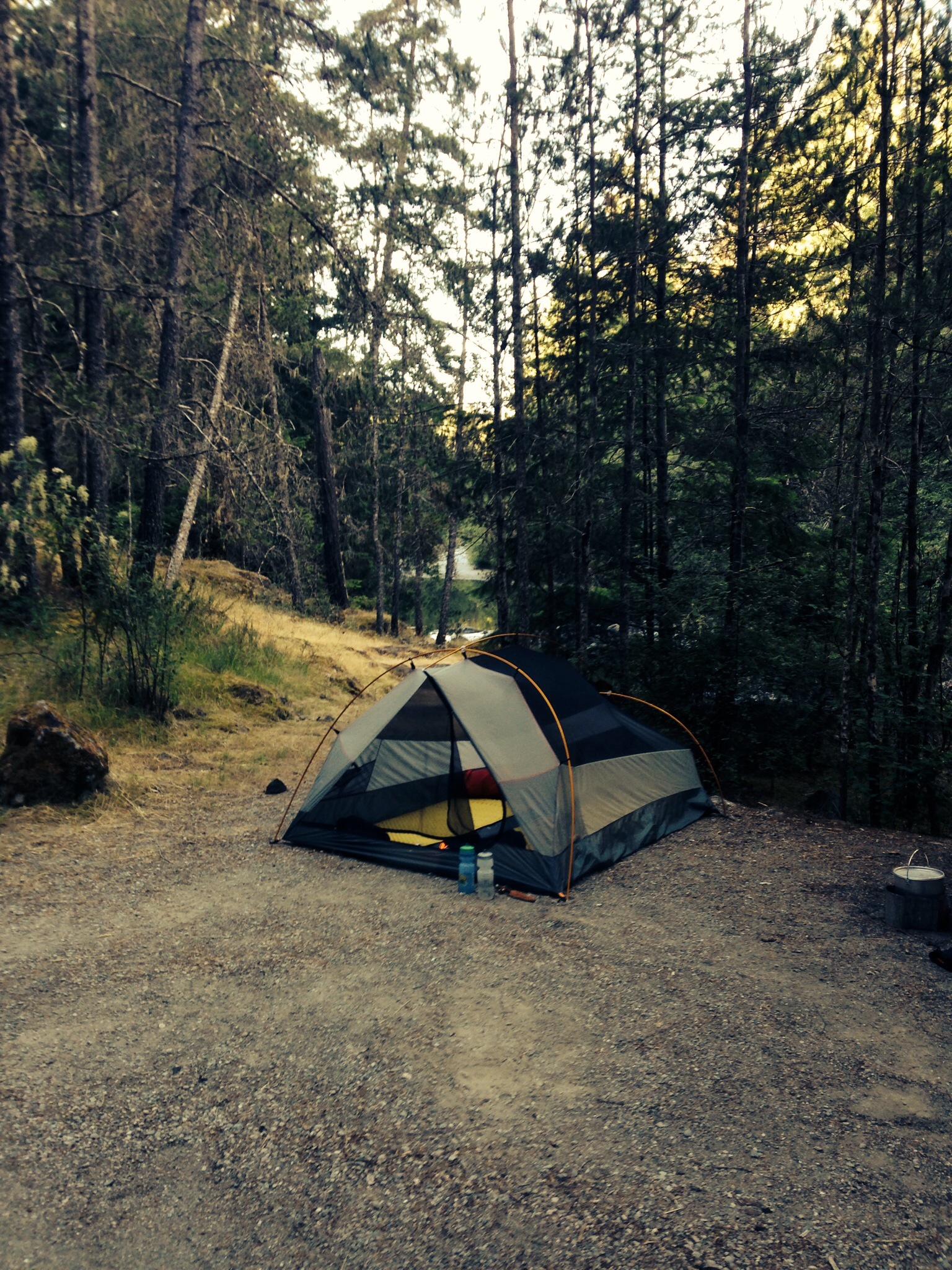 This has to be one of the most epic opening days to what is sure to be a memorable adventure towards the last frontier.
~ Justin
DAY 2: Sooke to Cowichan Bay (Providence Therapeutic Community Farm)
Distance: 55.3 miles
Ride Time: 4hr 52min
Elevation gain: 3,934 ft.
Oh man… where to begin?! This place is absolutely breathtaking and very bicycle friendly!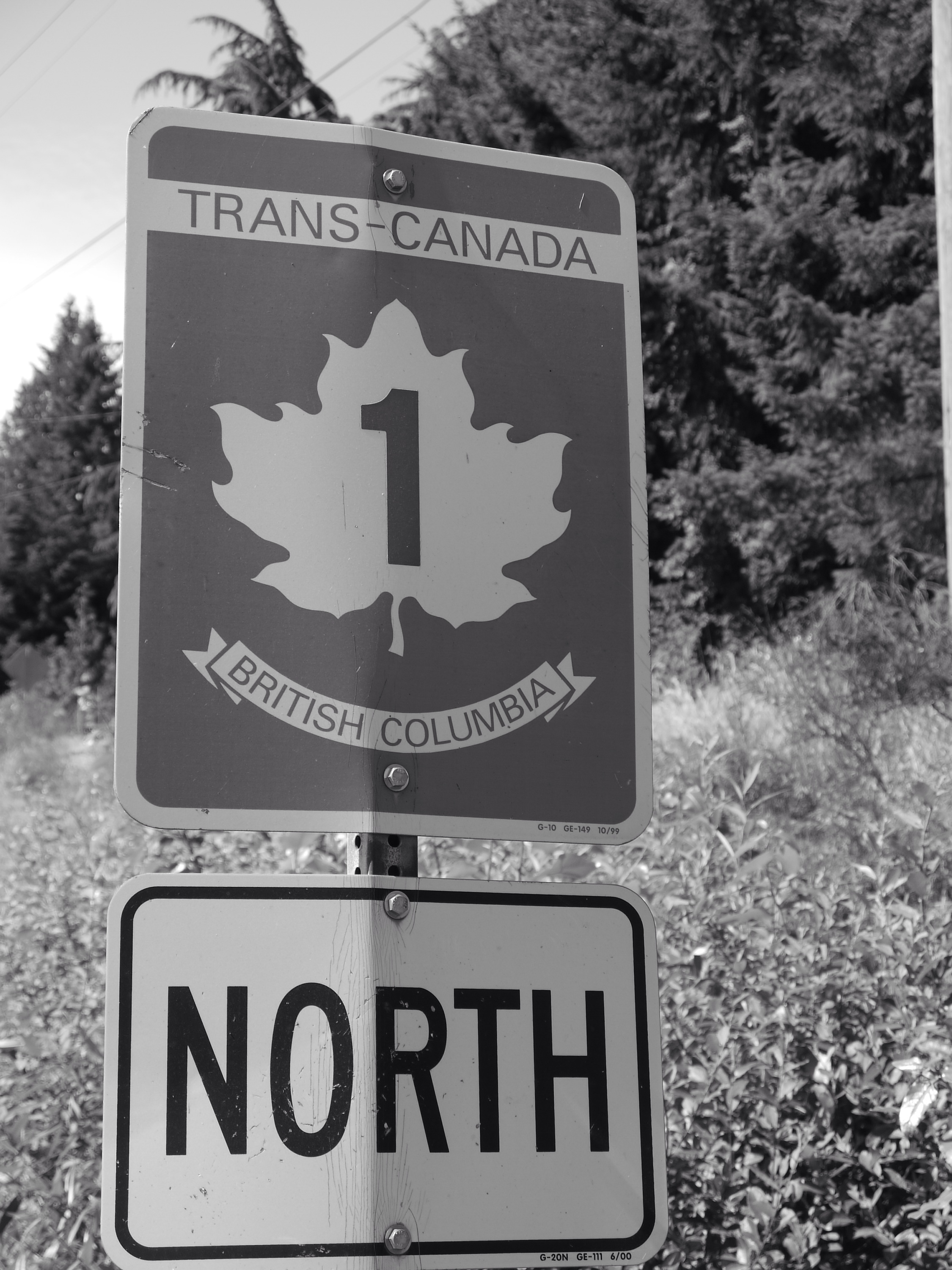 We set out from Sooke with the plan to circle around the western side of the island for a bit to an old logging road leading back to the main eastern highway. However, after meeting with two young moms, who were enjoying coffee while their kids played, we were convinced otherwise. They told us how the road to Port Renfrew had no shoulder and sharp turns. It was as though both of us heard our moms saying "NO! NOT SAFE! DO NOT GO THAT WAY!" so we chose to back track a few kilometers and take the main bike friendly highway 1 North (See, I listen sometimes mom). 🙂
As we climbed up our first pass, Justin and I questioned everything we were doing. The weight of our bikes and our rusty touring legs compounded with each pedal stroke. But then a shimmering glimpse of downhill ease would present itself and "WEEEEEEEE this is the best idea ever and I'm so happy!!!"
At every viewpoint we would stop and chat with locals, learning cool roads to take further up the way and great places to camp. Every twist and turn reminds s of somewhere we have been, whether in southern patagonia, or cllimbing what felt like Highway 17 on the way to Santa Cruz in the San Francisco Bay area.
As we rolled along the ocean shore, we spotted a cute bakery adorned with bicycles so of course we had to stop for a fresh baguette to go with our lentils and rice for dinner. In the bakery, we bumped into a couple with a little one and had a momentary small talk about the weather.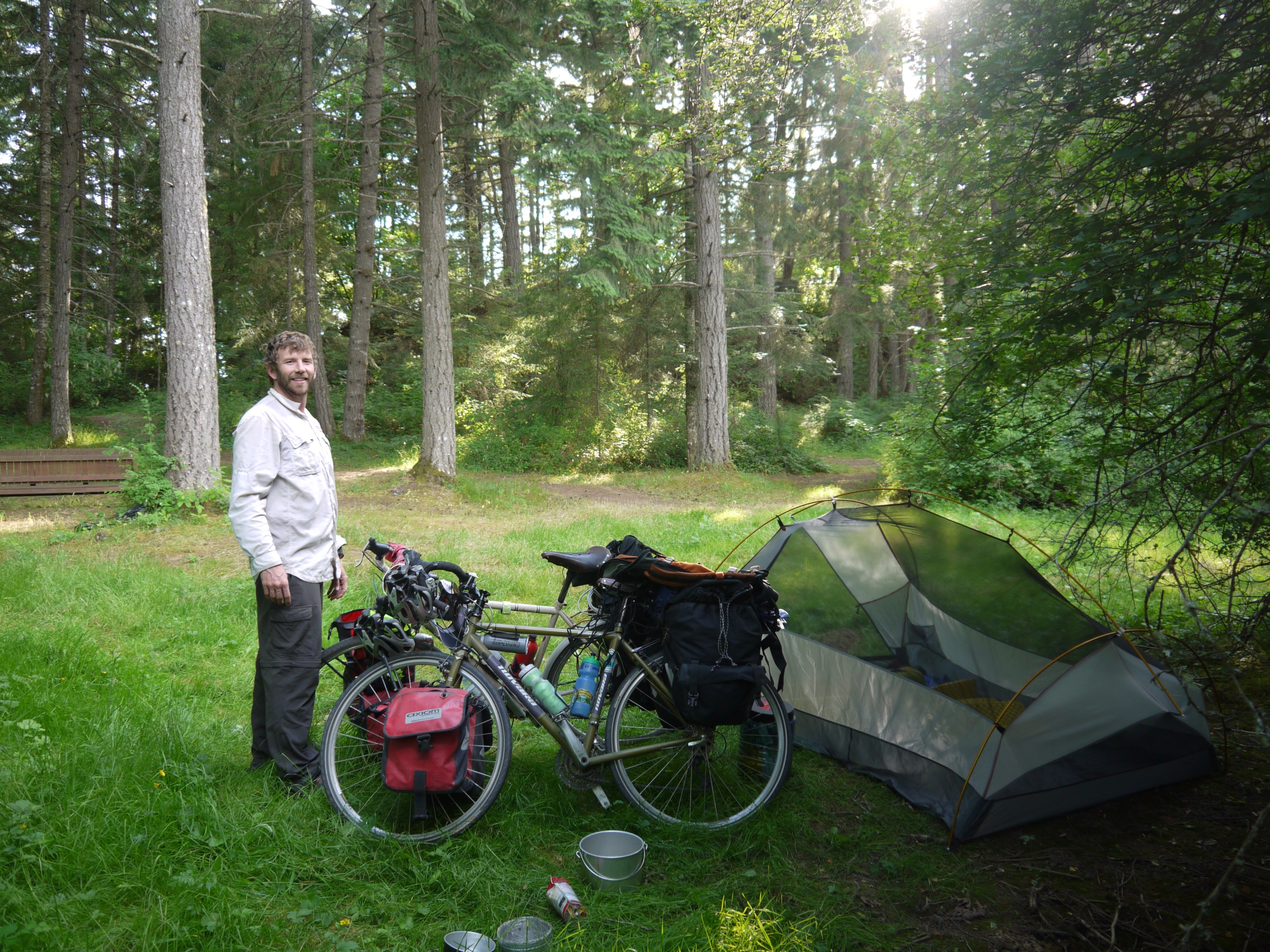 A cup of coffee and relaxing moment later, we took off again searching for our next home for the night. Providence Farms looked inviting so we rolled up to the grdaen to see a cook cutting fresh flowers for the evening's meals and asked if it would be possible to pop a tent on the property. He was unsure, but as we chatted, a car rolled up and the couple from the bakery in the town prior greeted us once more! When we asked aboutcamping, they quickly replied this community is totally ok with that! "Enjoy the woods in the corner and if you want dinner, come check out the retaurant inside!" I noticed a group doing yoga in the field and felt right at home with the peaceful,inviting feel of this countryside farm. We rode to the camp grounds, poset up our tent, and enjoyed yummy lentils and rice (THANK YOU CYNTHIA) before lying down and falling asleep without a hitch.
Because the sun does not set until 10pm we also wear these snazzy sleeping masks Justin bought us!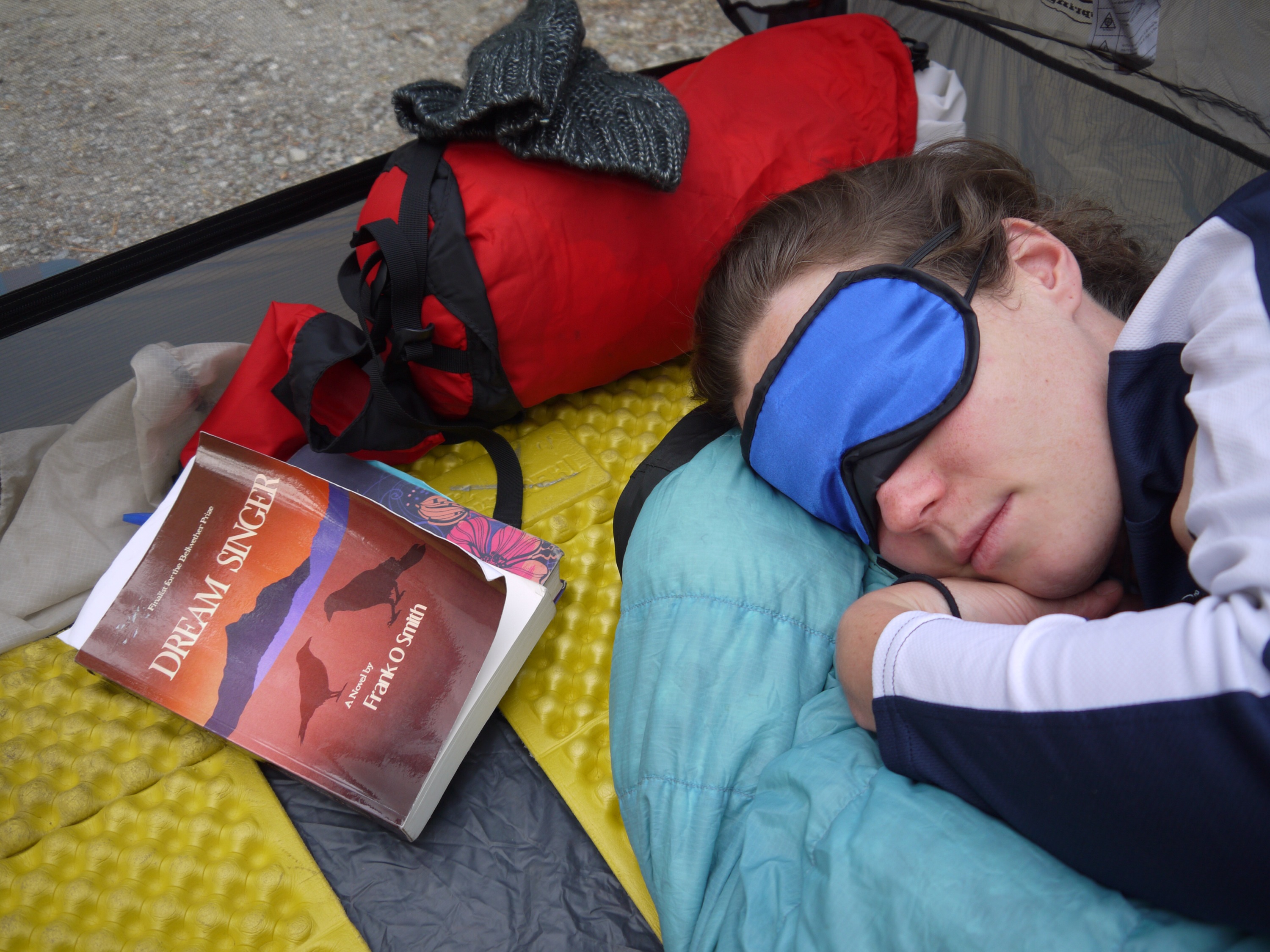 ~ Melissa
————–
*It's currently day 3 and we are moving quite quickly now, getting our touring legs back underneath us! We will post again soon and wish everyone a lovely day! You can check out more photos on my facebook album (Melissa Buckeye Joy Amacher)